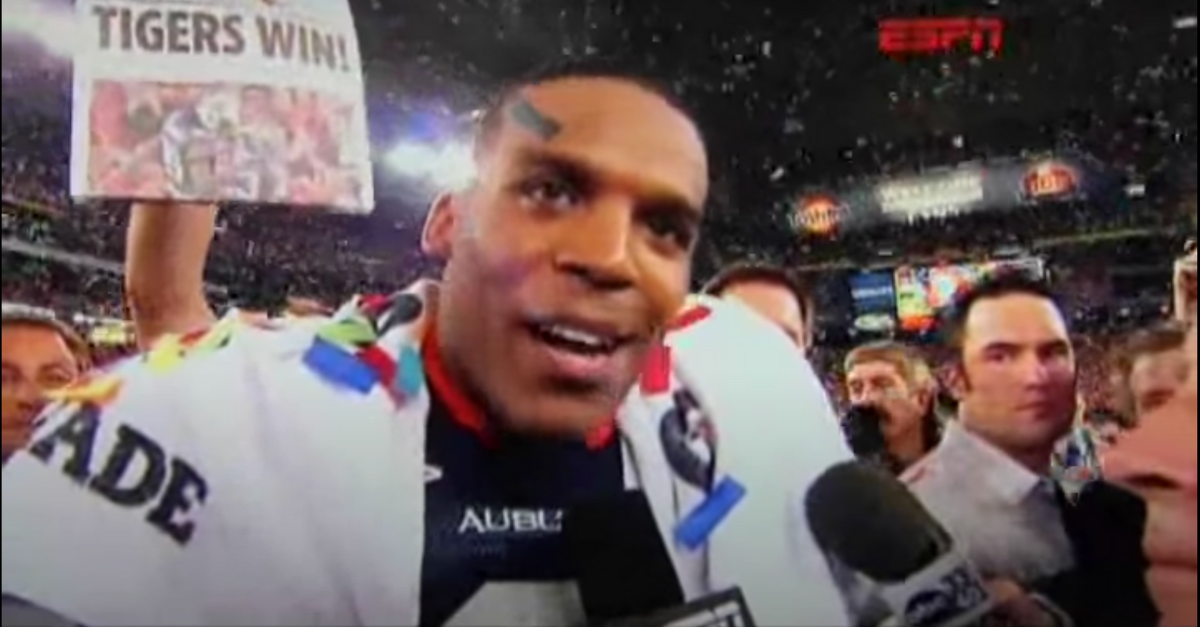 Screenshot from YouTube
Cam Newton never lost faith. The one-time top recruit from Atlanta, Georgia, accepted a scholarship to play for the Florida Gators and back up Tim Tebow before a laptop-stealing scandal forced him to transfer to the NJCAA's Blinn College.
The 6-foot-5 quarterback's path to the SEC and Auburn University included a few speed bumps and pit stops, but it concluded in glory. Newton led the Auburn Tigers to a BCS National Championship victory the same year he won the Heisman Trophy in 2010, and he garnered enough praise to earn the No. 1 overall pick in 2011 by the NFL's Carolina Panthers.
No stranger to the spotlight, Newton has quite a way with words. The devout Christian has served as a motivational speaker and been back to speak to players at his alma mater.
However, he might not utter more iconic words than what he said following Auburn's win over Oregon in the 2011 BCS National Championship Game.
After Newton led a late, fourth-quarter drive down the field and Wes Byrum kicked the game-winning 19-yard field goal, Auburn players and fans celebrated the 22-19 victory.
What gets lost in the Tigers' second ever national title is Cam Newton's unforgettable post-game interview.
Cam Newton's "It's Just a God Thing" Interview
RELATED: Cam Newton Fell In Love With a Stripper And Named His Son "Chosen"
The ESPN reporter asked Newton about his journey to where he was standing, confetti and all, and he gave some thoughtful incite in front of more than 27 million pairs of eyes.
"It's just a God thing. I thank God every single day. I'm just his instrument and he's using me on a consistent basis daily. He's using me to extend his word. I'm a prime example of how God can turn something that was bad into something that was very great."

"Anything is possible."
Even those not religious can appreciate Cam Newton's inspiring words. He turned his life around and went from "just another highly-touted bust" into a touchdown-throwing, Heisman Trophy-capturing, national championship-winning first overall pick who won an NFL MVP and played in Super Bowl 50 against the Denver Broncos.
Other Cam Newton Interviews
Of course, that interview wouldn't be the last of Newton's memorable Q&A sessions.
In Charlotte during one press conference, he answered a reporter's phone for them. He caught flak for telling a female reporter for The Charlotte Observer it was funny to hear a woman talk about routes. He often turned his press conferences into fashion shows with elaborate scarves and hats that former head coach Ron Rivera and teammates like running back Christian McCaffrey likely didn't understand.
Cam Newton will land with an NFL team at some point after he and the Panthers parted ways. His new team, including the NFL players in the locker room and everyone on the sideline, better prepare for the entertaining spectacle that he is.