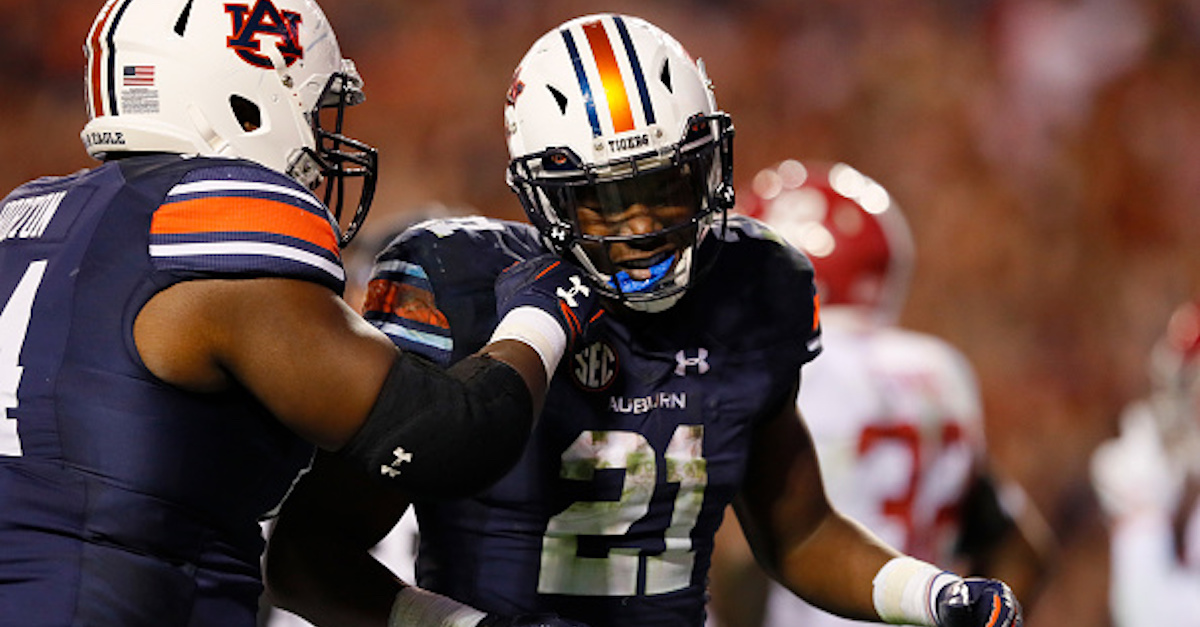 Photo by Kevin C. Cox/Getty Images
The Auburn Tigers football program owns two national championships. The first came in 1957 when head coach Ralph Jordan's team finished 10-0 and allowed only 28 points all season long. The second came in 2010 when Heisman Trophy winner Cam Newton put together the greatest single season in school history (4,369 total yards and 51 touchdowns).
In the eyes of former Auburn star and current Detroit Lions running back Kerryon Johnson, the school's third national title is coming a lot sooner than almost every college football fan thought was possible.
Before the Lions selected Johnson in the second round (No. 43 overall) of the 2018 NFL Draft, he dominated for Gus Malzahn's team. As a junior in 2017, Johnson led the SEC in rushing yards (1,391), carries (285), rushing touchdowns (18) and total touchdowns (20) on his way to being named the SEC Offensive Player of the Year. During Auburn's huge 26-14 win over then-No. 1 Alabama, Johnson ran for 104 yards and one score, plus he threw a touchdown before leaving with a fourth quarter injury.
This was the same team that lost to the "National Champion" UCF Knights, 34-27, in the Peach Bowl.
If anyone understands the ups and downs of the Auburn football team, it's the guy who was named Alabama's Mr. Football back in high school. But despite an uncertain QB situation, Gus Malzahn's seat being hotter than his dance moves, and playing in the toughest conference in college football, Johnson still believes this is Auburn's year once again.
RELATED: Auburn Trims Quarterback Race Down to 2 Freshman
I don't care if you're a Georgia Bulldogs alum like Matthew Stafford, or you're a Southern Utah Thunderbirds fanatic like Detroit safety Miles Killebrew, every die-hard college football fan claims this is "their year."
People are going to (rightfully) roast Johnson's hot take seeing as Auburn University proved they're not even close to a national title after an 8-5 finish and 3-5 record in the SEC last season. The pieces are in place for Auburn to be really competitive in 2019, but the pressure is so high that it would take an all-time coaching job to get the program to its first-ever College Football Playoff appearance.
Ranked No. 17 in the NCAA's preseason rankings, Auburn faces the Oregon Ducks in prime time to kickoff the 2019 season. ESPN's College GameDay will be on hand, and all eyes will be watching to see if Johnson's national title prediction is a legitimate possibility.