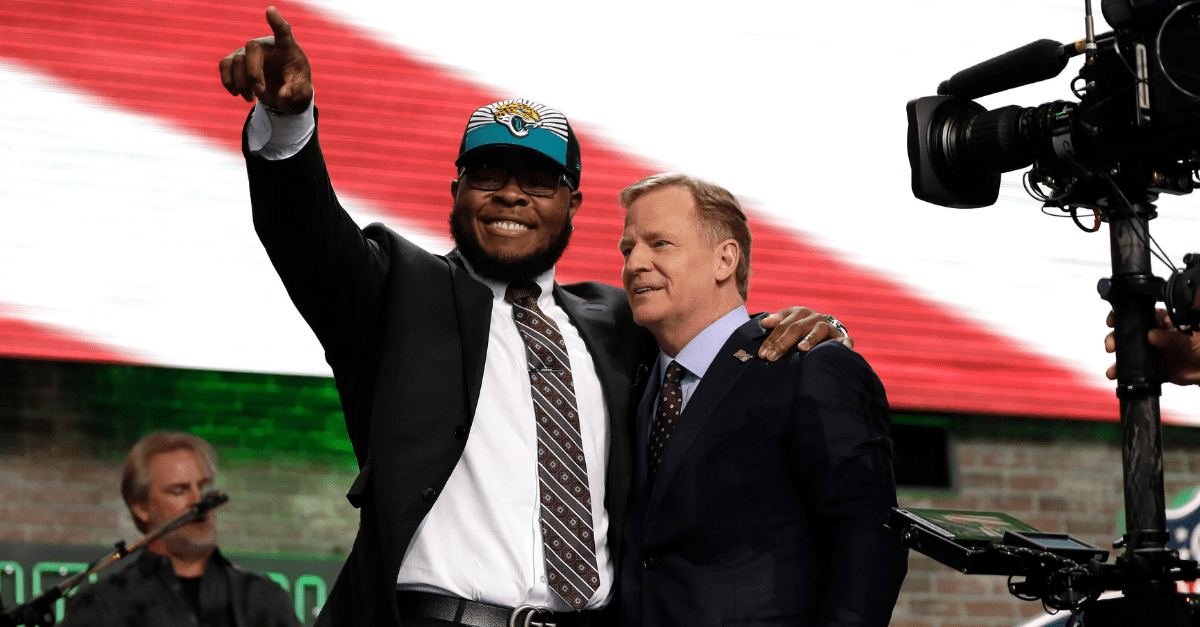 AP Photo/Mark Humphrey
Every NFL Draft has its steals and busts. Evaluating college talent is difficult and teams often hit and miss on their evaluations.
The Pittsburgh Steelers committed robbery when they drafted Antonio Brown in the sixth round of the 2010 draft and Le'Veon Bell with the 48th overall pick in 2013. An unthinkable six quarterbacks were drafted ahead of Tom Brady and another five ahead of Russell Wilson in their respective draft classes before they each won Super Bowls.
And while the 2019 NFL Draft is still fresh in our minds, let?s consider a few options that could be this draft?s biggest steals. They include three Florida Gators in Jawaan Taylor, Jachai Polite and Chauncey Gardner-Johnson. We?ll stay away from Will Grier for now, because that one will sting when he?s a starting quarterback five years down the road.
For starters, each of these dudes could?ve, and maybe should?ve, been first-round picks. Mock drafts from site to site at some point during or after the season projected them to be top-32 picks. They?re all talented enough and produced at UF the way first-round picks tend to do so.
Taylor, the 6-foot-5, 328-pound offensive tackle who specializes in run blocking, was viewed by many analysts as the best tackle in the draft. The Jaguars traded up with Oakland to grab him in the second round after he slid because of an offseason knee injury.
Jacksonville was thrilled to see Taylor?s name still available at No. 35. While other teams had concerns over his knee, the Jaguars left the first two rounds with two first-round talents in Josh Allen and him. Taylor could easily be another Myles Jack, who also had knee issues and fell into the second round.
Not only has Taylor?s health never been an issue at UF ? he played in every game the last three seasons ? he put up numbers that speak for themselves.
RELATED: Jachai Polite?s Pre-Draft Process Likely Cost Him Over $10 Million
OK, next guy: Jachai Polite.
Polite was the guy every team probably (no, definitely) fell in love with during the season. He showcased everything on the field: elite quickness, incredible athleticism, high motor. Don't believe me? Watch these clips of him that prove it.
The 6-foot-2, 260-pounder shot up draft boards and looked to be a first-rounder before an awful pre-draft process that included negative interviews and poor NFL Combine results. He fell to the New York Jets in the third round. He's the definition of boom or bust.
That being said, the talent is there. If Polite can bury any character and work ethic concerns, he could be a stud along the Jets defensive line and prove why he was one of the best pass-rushers in the nation last year.
And finally, there's Chauncey Gardner-Johnson.
This fall was a conundrum to many. Gardner-Johnson was viewed as a first- or second-rounder and a third-rounder at worst. Had he known the Saints would pick him in the fourth round he probably would?ve stayed in school.
Apparently the reason for his slide was because teams ?weren?t comfortable? with him in the interview process. Whatever that means. Regardless, the kid can play.
Gardner-Johnson could end up being the best value pick of the draft and wind up starting in New Orleans. He brings positional versatility and improved everything from his tackling to coverage skills during his three years at Florida, where he amassed nine interceptions, 12 pass break-ups and 161 tackles.
It?s hard to think each of these players were passed over as often as they were, but any one of them could end up being the steal of the draft. Don't say I didn't tell you so.