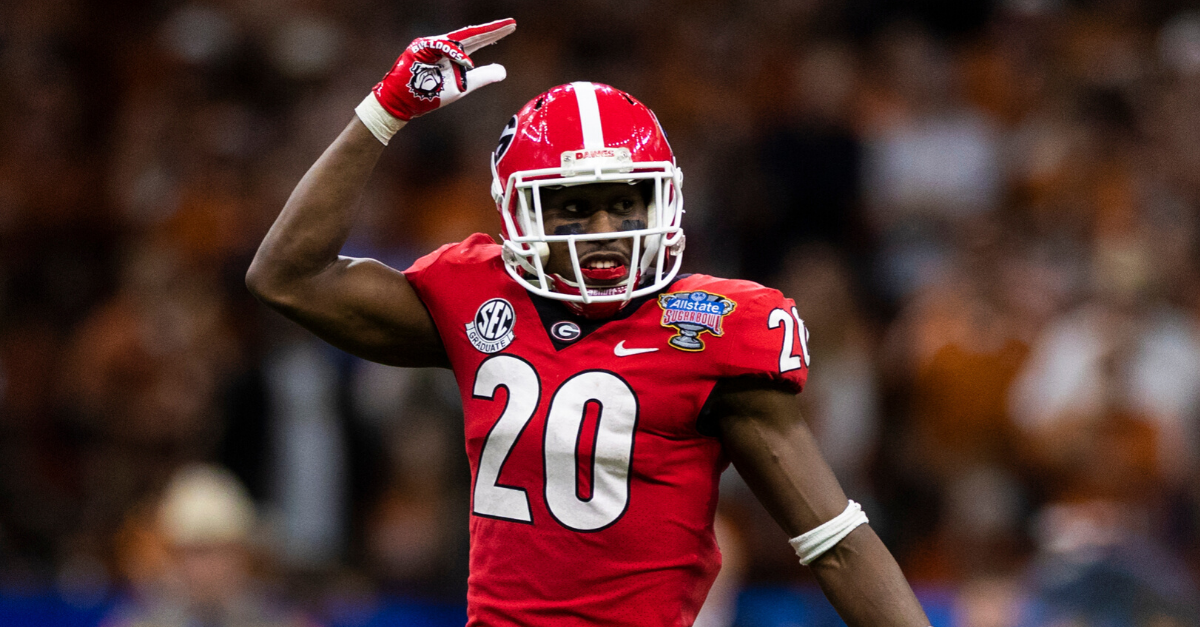 Ric Tapia via AP
Long before we came to know Gronk, there was Bronk, and his case as football's greatest badass is as solid as they come. Bronko Nagurski starred at the University of Minnesota in the 1920s. In a rivalry game against Wisconsin, Nagurski scored the game's only touchdown at fullback, intercepted a pass to seal a 6-0 victory, and played the entire game with cracked vertebrae. He was named an All-American at two positions in 1929, won three NFL Championships with the Chicago Bears, was named All-Pro seven times, and was inducted into both inaugural classes of the College Football and Pro Football Hall of Fame.
In line with his tenacious legacy, The Bronko Nagurski Award is given to the best defensive player in college football every year. Members of the Football Writers Association of America (FWAA) vote on the winner, and the award ceremony is hosted on behalf of the Charlotte Touchdown Club in North Carolina.
Since Arizona's Rob Waldrop won the first honor in 1993, many elite defenders who went on to prolific NFL careers have won the Nagurski Trophy. Past award winners include Miami's Warren Sapp (1994), Michigan's Charles Woodson (1997), Georgia's Champ Bailey (1998), Arizona State's Terrell Suggs (2002), LSU's Glenn Dorsey (2007), Notre Dame's Manti Te'o (2012), Pittsburgh's Aaron Donald (2013), Alabama's Jonathan Allen (2016), North Carolina State's Bradley Chubb (2017), and Kentucky's Josh Allen (2018)
Heading into the home stretch of the 2019 season, the FWAA released its five finalists for this year's award in a press release.
Bronko Nagurski Trophy Finalists
Derrick Brown, DT, Auburn
J.R. Reed, SAF, Georgia
Isaiah Simmons, LB, Clemson
Antoine Winfield Jr., DB, Minnesota
Chase Young, DE, Ohio State
While defensive end Chase Young and defensive tackle Derrick Brown are among the most recognized names for Defensive Player of the Year, the greatest story is arguably Georgia Bulldogs safety J.R. Reed.
Before becoming an All-American and All-SEC candidate, Reed was a largely unknown recruit out of Prestonwood Christian Academy in Plano, Texas. Reed tore his ACL in his final high school game, and eventually accepted an offer to grey shirt at SMU. Following an unexpected coaching change, however, Reed's offer was rescinded, and he transferred to Tulsa.
One season at Tulsa yielded only five tackles and one pass breakup, but Reed decided to take his talents to UGA and head coach Kirby Smart. After sitting out the 2016 season due to NCAA transfer rules, Reed blossomed.
In 2017, the 6-foot-1 defensive back started all 15 games and earned Second-Team All-SEC. In 2018, he started every game once again and finished second on the team with 66 total tackles. He's back at it as a senior in 2019, establishing himself as one of the best safeties in the country and likely playing himself into the first round of the 2020 NFL Draft.
J.R.'s father, Jake, played 12 seasons as an NFL wide receiver, so this Dawg was groomed to outwork his competition and be a professional from day one.
J.R. Reed Highlights
The Bronko Nagurski Award parallels the Chuck Bednarik Award, which is also award to the nation's top defensive player, but is presented by the Maxwell Football Club.
The Bronko Nagurski Trophy Banquet will be held at the Charlotte Convention Center on December 9, 2019. In addition, the Bronko Nagurski Legends Award will be presented to former UCLA linebacker Jerry Robinson.