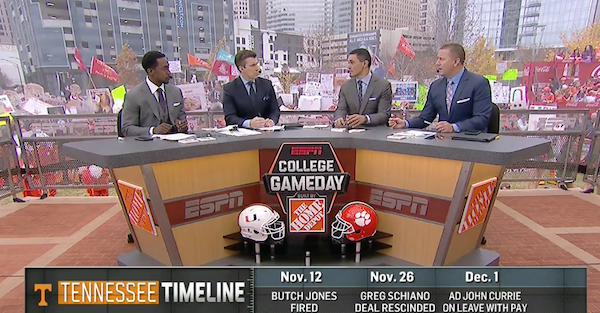 Clippit screenshot
Jon Gruden? Kevin Sumlin? Duke coach David Cutcliffe and Purdue coach Jeff Brohm?
There have been plenty of options for the University of Tennessee, but the program hasn't been able to land a coach to date.
After firing Athletic Director John Currie, the Volunteers moved on to former Tennessee great Phillip Fulmer.
That led to Saturday morning's ESPN College GameDay discussion, where Rece Davis dropped a nugget on Fulmer's continued coaching search:
Earlier this week, Sports Illustrated?s Bruce Feldman reported boosters were attempting to drive Currie out of Knoxville after multiple reports claimed the Tennessee was ?finalizing a deal? with Ohio State defensive coordinator Greg Schiano, which resulted in protests by fans through social media and on Tennessee?s campus.
Tennessee fans protested the reported decision to hire Schiano based having previously worked as a defensive assistant at Penn State under former defensive coordinator Jerry Sandusky, who was convicted of child molestation stemming from his tenure with the Nittany Lions in 2012.
According to a report, Schiano allegedly knew of Sandusky?s sexual abuse and turned a blind eye, according to testimony from former Penn State assistant Mike McQueary that was unsealed in 2016 by a Philadelphia court.
Schiano has denied the allegations in the past, having told ESPN?s Adam Schefter: ?I never saw any abuse nor had reason to suspect any abuse during my time at Penn State.?
According to Feldman, Fulmer has ?tried to undermine Currie in hopes of becoming the athletic director.?
The coaching search had already devolved into something disastrous, but Sumlin, Cutcliffe, Brohm and N.C. State coach Dave Doeren all opted to stay away from Tennessee.
Fulmer is expected to take his shots, and whether that means Lane Kiffin returns home, Tee Martin snags the job, the Vols land with Mike Leach or any other notable candidate, it will be interesting to see what the response is from the Knoxville faithful.