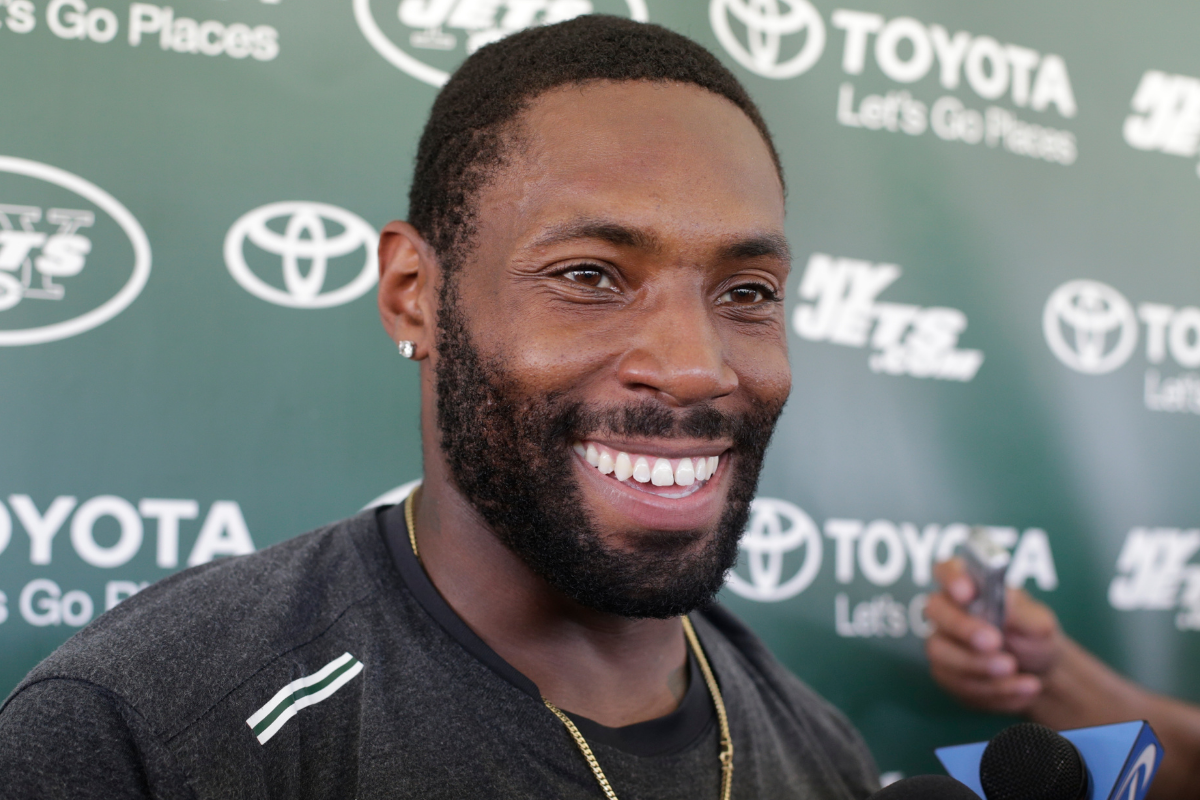 AP Photo/Frank Franklin II
Former Pro Bowl cornerback Antonio Cromartie is best known for his lockdown defense and the fact he has 14 children with eight different women.
The New York Jets and San Diego Chargers star defensive back played 11 seasons in the NFL before retiring in 2016.
It didn't take long for Cromartie to return to football, however. He started a new career as a coach with the Jets, and is now set to continue coaching for the Texas A&M football team.
Antonio Cromartie Joins Texas A&M Staff
RELATED: Antonio Cromartie Has 14 Kids With 8 Different Women
Yep, that's right. Texas A&M Aggies head coach Jimbo Fisher has added the former All-Pro DB to his coaching staff, where he'll serve as a graduate assistant and work with the defense in College Station.
While Fisher and Cromartie never overlapped at Florida State, the two will connect now to prepare the Aggies' defense for the tough matchups at home and away from Kyle Field during the 2021 season, which will feature games against Alabama, LSU, Auburn, Arkansas and Colorado.
Cromartie's coaching career began in 2018, when he served as a coaching intern under former Jets head coach Todd Bowles and worked closely with the franchise's linebackers.
Antonio Cromartie's Football Career
Antonio Cromartie grew up in Tallahassee, Florida, and played high school football at Lincoln High School. He attended Florida State and enjoyed two seasons patrolling the Seminoles' secondary.
Despite missing the entire 2005 season, Cromartie declared for the 2006 NFL Draft and was selected in the first round by the San Diego Chargers. Cromartie spent four seasons with the Chargers, making a First-Team All-Pro in his second year leading the league with 10 interceptions.
Cromartie was traded to the Jets in the 2010 offseason. He played in the Big Apple until 2014 before joining the Arizona Cardinals as a free agent. Cromartie made three consecutive Pro Bowls from 2012-14 and returned to New York in 2015.
In 2016, Cromartie joined the Indianapolis Colts, but was cut after four games in what would be his last season. According to ESPN, Cromartie feels he was let go from the team after he was seen kneeling during the National Anthem.
Throughout his career, Cromartie featured in 162 regular season games and 11 playoff games. He recorded 417 tackles, 31 interceptions, and scored three defensive touchdowns.