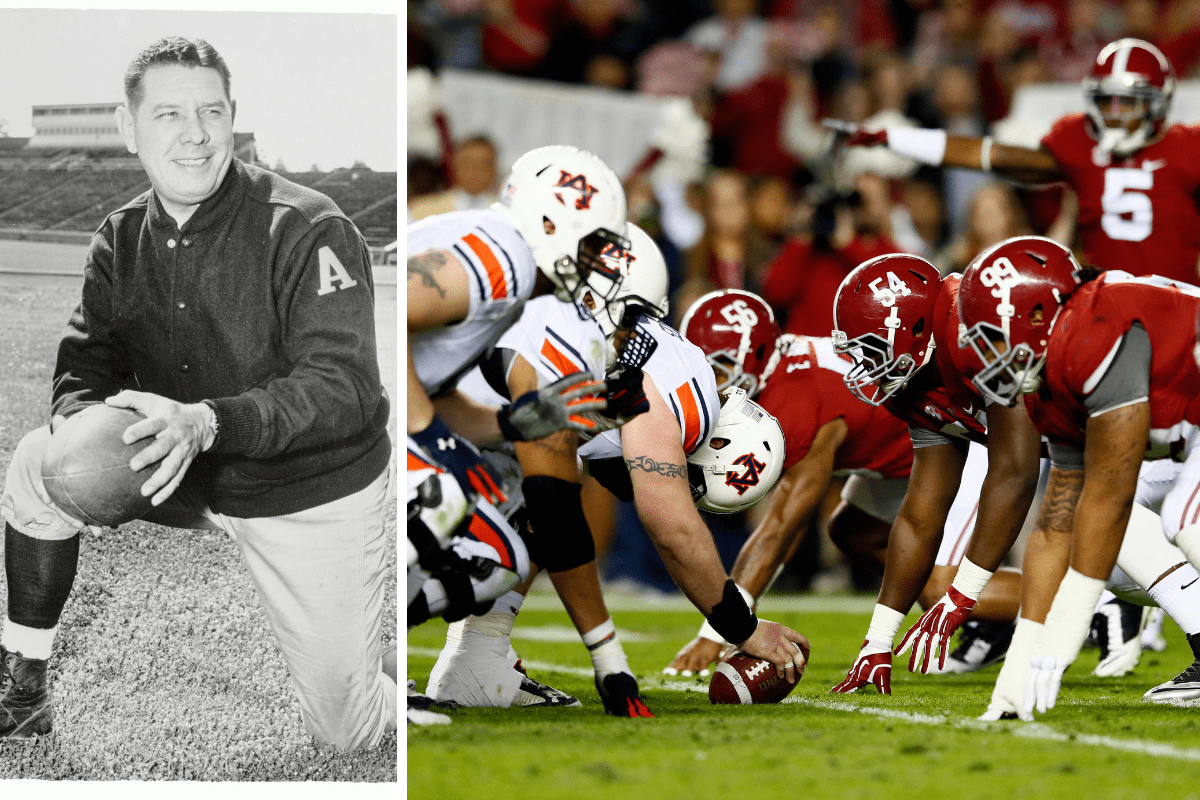 Bettmann via Getty Images (left), Kevin C. Cox via Getty Images (right)
By the time the Super Bowl rolls around, the state of Alabama can sit back and relax. They had their Super Bowl in November.
The Alabama-Auburn game is far and away the most important event in the state. It divides households between Auburn fans and Alabama faithful. It causes arguments over Thanksgiving dinner. It delivers moments that will forever be enshrined in college football history. Often times, the winner plays in the national championship game.
The Yellowhammer state football game is better known as the Iron Bowl. To fans of either school at Auburn University or the University of Alabama, the origin of the rivalry name is an important part of elementary school curriculum.
However, for football fans across the country, the reasoning behind the name isn't as familiar. We have to travel back nearly 60 years to learn the history behind college football's most heated rivalry.
Why Is It Called The Iron Bowl?
RELATED: Auburn's First Iron Bowl at Jordan-Hare is a Day to Remember Forever
In 1964, the Auburn Tigers had high expectations. They entered the season as one of the country's top teams. Then, the Tigers fell to Kentucky, Georgia Tech and Florida and entered the Alabama game with a 6-3 record.
Before the matchup, Auburn coach Ralph "Shug" Jordan was asked by reporters how he would deal with not taking his team to a bowl game before playing the Tide. (At the time, there were only nine postseason games.)
According to AL.com, Jordan's response, which was confirmed by Birmingham-News reporter Jimmy Bryan in 1995, showed just how important the rivalry game was.
"We've got our bowl game. We have it every year. It's the Iron Bowl in Birmingham."
Bama vs. Auburn was no more. For the first time in series history and thereafter, the game would be known as the Iron Bowl.
Jordan's reasoning for the name allegedly stems from the prominence of the steel industry in Birmingham, where the game was regularly played at neutral site Legion Field until 1989. So, yes, you can thank Auburn football for coining the iconic nickname.
The college football world turns its eyes south when the Alabama Crimson Tide and Auburn Tigers square off. It's hard not to, especially when the rivalry delivers historic moments such as the "Kick Six" field goal attempt return touchdown and normally has SEC Championship Game, College Football Playoff and sometimes national title implications. Let's not forget figures such as Joe Namath, Heisman-winning running back Bo Jackson, NFL quarterback Cam Newton, wide receiver Devonta Smith and head coaches Nick Saban and Pat Dye.
From Tuscaloosa's Bryant-Denny Stadium to Jordan-Hare Stadium to Montgomery to Texas and California, the Iron Bowl is the perfect regular season finale for all college football fans. There's no better game for a college football rivalry.
Related Videos