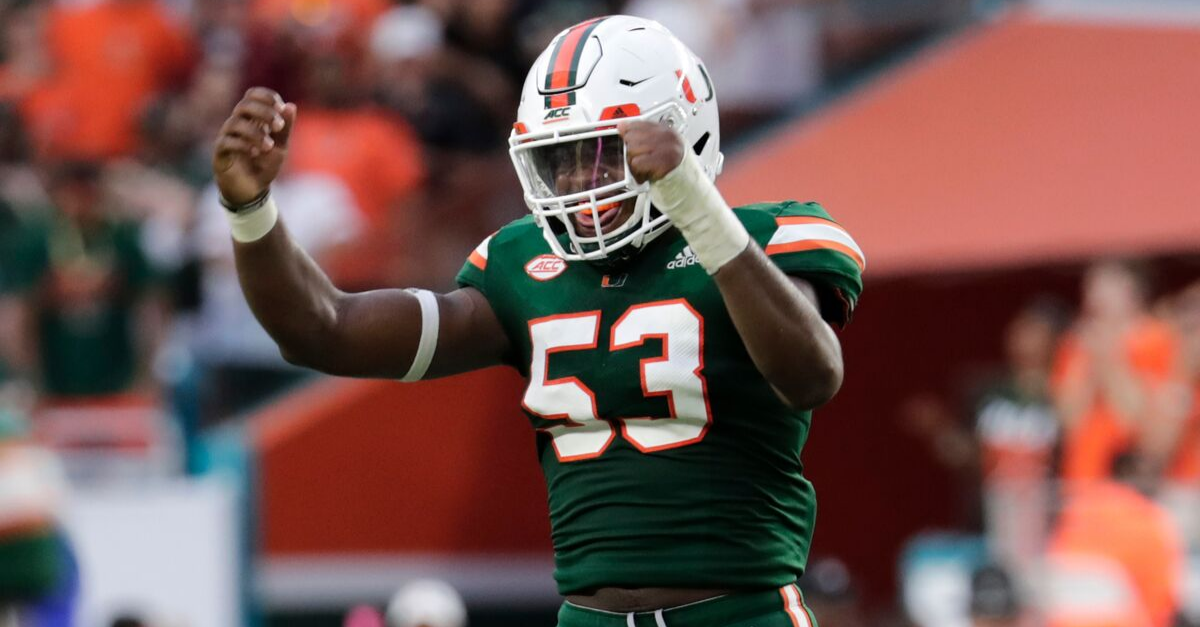 AP Photo/Lynne Sladky
For the past couple of years, college football players entering the NCAA Transfer Portal has become the norm. Now, though, the new trend might be talented players redshirting to save their eligibility.
Using an NCAA rule created in 2018, University of Miami senior linebacker Zach McCloud announced he would be redshirting the 2019 season since he has played in just three games. This could definitely be a tactic and route more players take in the future.
Players across the country have decided to sit out the remainder of a season before burning a redshirt so they can transfer. Doing so without transferring, however is new.
Zach McCloud

Miami Hurricanes
RELATED: Why Sean Taylor is My Favorite Miami Hurricane of All Time
Redshirting before the fifth game of the season is a move that truly benefits the player and the team. The senior out of Santaluces High School in Lantana, Fla. was a four-star recruit in the 2016 recruiting class, but is keeping a year of eligibility while the Hurricanes transition from an experienced group to youth at the position.
Currently, head coach Manny Diaz and the Miami Hurricanes have two of the best linebackers in the country with Shaquille Quarterman and Michael Pinckney. And with a change to the defense where they play less three-linebacker sets, McCloud has been the one standing on the sidelines.
This, of course, isn't due to a lack of ability. With Romeo Finley at the striker position, McCloud has struggled to get on the field in 2019, even though he has three seasons as a starting linebacker under Diaz. Quarterman and Pinckney are just extremely talented at their positions.
In three games, McCloud made four tackles, mostly on special teams. He didn't play in their fourth game against Central Michigan and this decision comes before their bye week and their fifth game of the year against Virginia Tech.
With McCloud deciding to sit out the rest of this season, though he can play in one more game before burning his redshirt, it gives an experienced presence in the middle of a defense that will lose two senior linebackers. McCloud will likely be joined by a group featuring redshirt sophomore Bradley Jennings Jr., true freshman Sam Brooks Jr. and Avery Huff, and redshirt freshman Patrick Joyner. All of them have little experience.
In three seasons as the starting linebackers, Quarterman, Pinckney, and McCloud started every game except one, when Pinckney was hurt in 2018. They accounted for a total of 116 starts while the rest of the roster currently has none.
But this is also great for the player, too. Unless there is an injury, McCloud wasn't getting on the field through four games. With this as his final season in college, he was not going to have much film as a senior. But now, he will get to show how good of a top linebacker he can be in 2020. Up until this point, he's had two other dominant linebackers standing next to him, so it was difficult to shine.
With his speed at the linebacker position, he will be able to really show what he can do heading toward the NFL next season, something he hasn't been able to really do so far in college.
There will be a little less depth at a strong position for the Hurricanes defense, but expect McCloud to step back in if there is a major need at any point.
Coral Gables isn't the only place this has happened, though.

D'Eriq King Houston Cougars
After playing four games of his senior season, Houston quarterback D'Eriq King announced he would be redshirting this season and come back to play for the Cougars in 2020. The reason behind this is because they began the season with three losses in their first four games, even though they were expected to be good, receiving votes in the preseason Coaches Poll.
King has played well in 2019, but the team has not performed up to the expectations in Dana Holgorsen's first season in Houston. He entered the season as a favorite pick outside the Power Five for Heisman Trophy consideration after accounting for 50 touchdowns in 2018 to go along with 2,982 passing yards and 674 rushing yards.
His teammate, Keith Corbin, also decided to sit out the remainder of the season. So with a few players already deciding to take redshirts for the betterment of their programs and self, expect it to become more popular just like the transfer portal did.