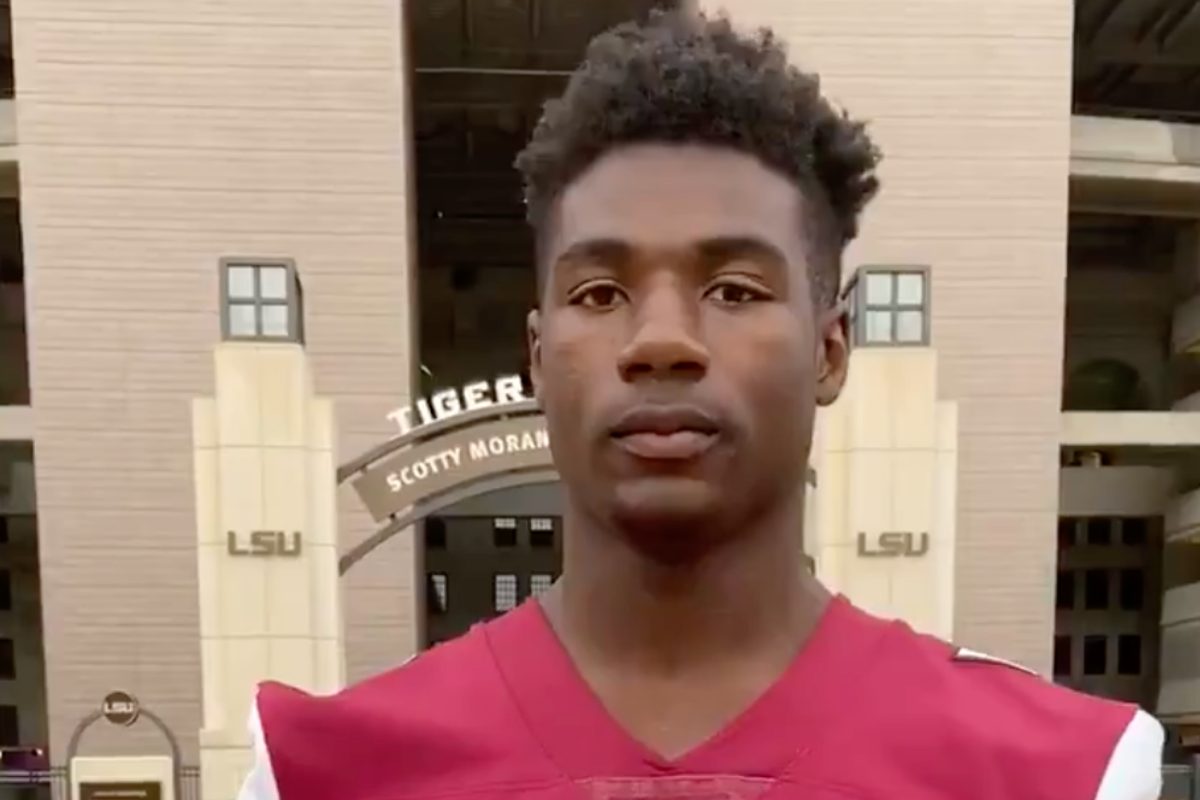 Screenshot from Twitter
Le'veon Moss has the chance to be a local legend. He attends Istrouma Senior High School in Baton Rouge, Louisiana, with an SEC powerhouse pretty much in his backyard.
LSU fans have been clamoring for Moss to join Ed Orgeron's football program for years, and it appears that the Tigers might be able to make that happen.
In 2019, Moss rushed for 1,200 yards and scored 17 touchdowns. He is destined to play college football and will get the chance in a few seasons.
Interestingly, Moss is not content with being "just" a running back. He works with his team's wide receivers and is inspired by guys like Christian McCaffrey and the NFL RB who shares his first name.
RB Le'Veon Moss Recruiting 
RELATED: 5-Star Defensive End Has Future All-American Talent
LSU is the odds-on favorite to land Le'veon Moss for 2022, but the Tigers do have competition. Alabama, Memphis, Miami, Mississippi State, Oklahoma State, Ole Miss, Tennessee, and Texas A&M have all given the running back scholarship offers.
Former Tigers running back and coach Kevin Faulk has made his presence known on the recruiting trail. Faulk speaks to Moss personally, and they have maintained a great relationship.
Of course, COVID-19 has impacted a recruit's ability to scope out schools, so perhaps living locally will benefit the Tigers.
Le'Veon Moss Highlights​​​​ 
Moss is one of the faster high school prospects in the state of Louisiana. He ran a 40-yard dash in 4.65 seconds and is a threat to score a TD every time he has the ball in his hands. If he can perfect his pass-catching, he will be even more dominant at the college level.
LSU is fresh off college football glory, but they will have to compete with the Alabama Crimson Tide and Georgia Bulldogs year after year for SEC superiority.
Someone like Le'Veon Moss on the roster would help with that goal. The Tigers have a long history of NFL-caliber running backs, and they might be able to add to that list soon.