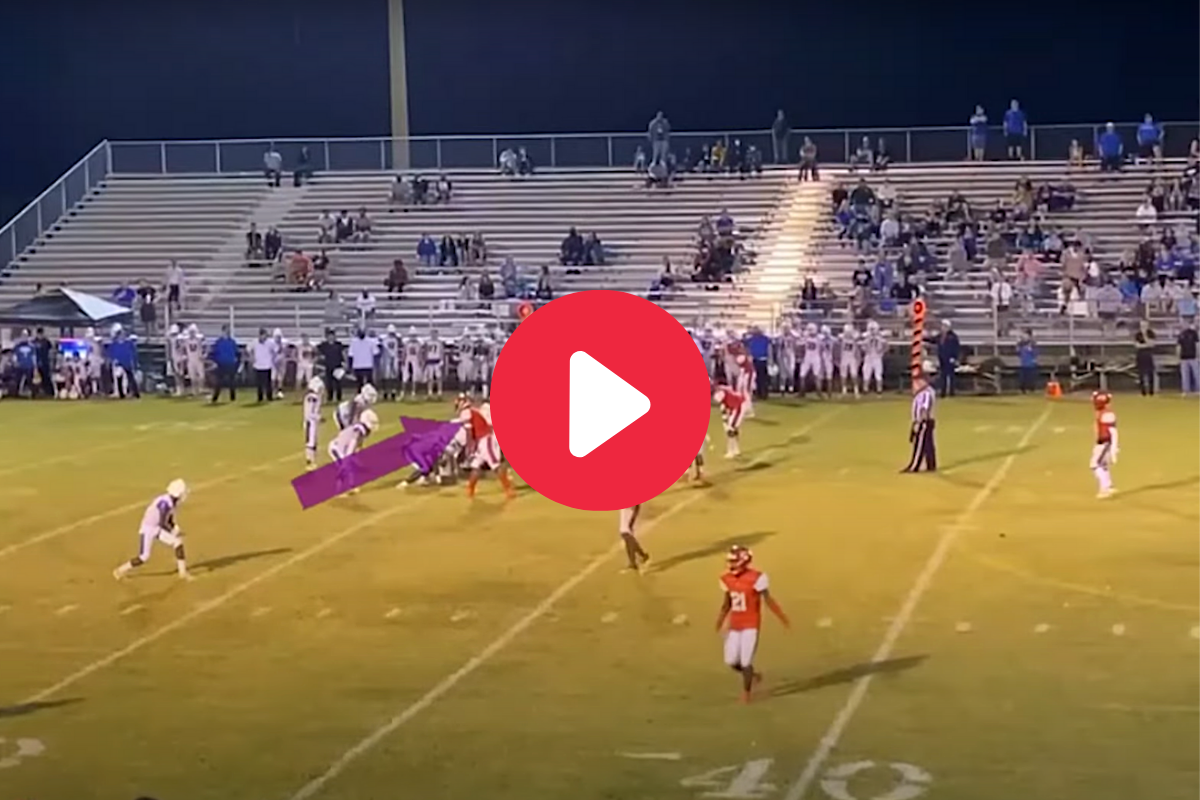 Screenshot from YouTube
The class of 2021 is loaded with talent everywhere you look. Clemson commit Korey Foreman looks like the real deal and the Tigers' next stud defensive lineman. No. 2 running back Treveyon Henderson looked to be Georgia's latest bulldozing halfback if he chose the Bulldogs, but he chose Ohio State.
With so many great college football teams in the south and the SEC, it's no surprise the top high school players are all looking to play for the conference where it just means more. No. 1 quarterback Caleb Williams and No. 2 tight end Thomas Fidone could be heading to LSU, while No. 1 wide receiver Mario Williams could also head to a major SEC program.
Four-star defensive end Bryce Langston is in that same boat. The nation's No. 12 strong side defensive end and No. 144 overall prospect (according to 247Sports) stands a stout 6-foot-2 and then some and packs a punch at 250 pounds.
Langston, who attends Vanguard High School (Ocala, Fla.), is either staying in-state or heading west to play for the defending national champions.
DE Bryce Langston's Recruitment
Langston has offers from 15 schools across the nation, including seven SEC programs. LSU, Florida, Georgia, Tennessee, Arkansas, Kentucky and Auburn are all in on him, as are Florida State, Nebraska, Miami, Oregon, Penn State and Cincinnati.
However, Langston seems set on either Dan Mullen's Florida Gators or Ed Orgeron's LSU Tigers. LSU, of course, won a national title last season, while the Gators finished in the NCAA top-10 rankings.
If proximity is a factor, Florida might have the edge. Gainesville sits less than an hour north of Ocala and Langston has visited unofficially. Langston committed to UF back in December 2018 and de-committed in May 2019. However, Langston has expressed his interest in playing for Mullen.
?I feel like as long as coach Mullen is there, it will continue to be a winning team," he told Rivals.com.
Don't count out LSU or Orgeron's ability to reel in top prospects, though. Coach O has turned in a top-five recruiting class in each of the last two years and Langston could help further that trend. He has an official visit scheduled to LSU for April 17, though that appears unlikely amid coronavirus cancellations.
"We got a good relationship and we call almost every other day. Coach O and Coach Bill [Johnson]," Langston told 247Sports.
Langston is likely to stay in the state of Florida, it appears. Crystal Ball predictions by 247Sports say he'll be heading to The Swamp.
Bryce Langston Highlights
Langston might not boast the height that other defensive ends do, but he makes up for it by staying low to the ground. Think of former LSU defensive end Ricky Jean-Francois or Florida defensive tackle Dominique Easley as comparisons.
As a junior last season for Vanguard, Langston tallied two sacks, 51 tackles and 10 tackles for loss in 12 games. He's poised for an even bigger senior season as long as he keeps adding strength and quickness.
According to 247Sports' evaluation, he may need a few developmental years in college before becoming an impact player:
"A large body that doesn?t carry much bad weight. Should be able to add more size once in college as arms and legs haven?t really developed. Has a low center of gravity which allows him to bend out on the edge and get to the quarterback. Comfortable as a stand-up pass rusher, but could eventually move inside given measurables. Has a quick first step, but lateral movement an area that can be improved. Same with ability to take on blocks. Will likely establish himself as a starter at a Power 5 school after a few years on campus. Has the potential to eventually hear his name called during Day 3 of the NFL Draft."
It may be a while before Langston makes up his mind considering the NCAA has paused all recruiting until at least mid-April, but we know he's going to make one SEC fan base very happy and the other very upset.
Bryce Langston Signs With LSU
UPDATE (January 5, 2021): Langston opted to head out of state despite playing down the road from the University of Florida. He signed with Ed Orgeron's LSU Tigers during the early signing period.
The four-star defensive end committed and signed along with fellow big-time recruit Maason Smith. Orgeron could have a defense for the ages if all these recruits pan out.