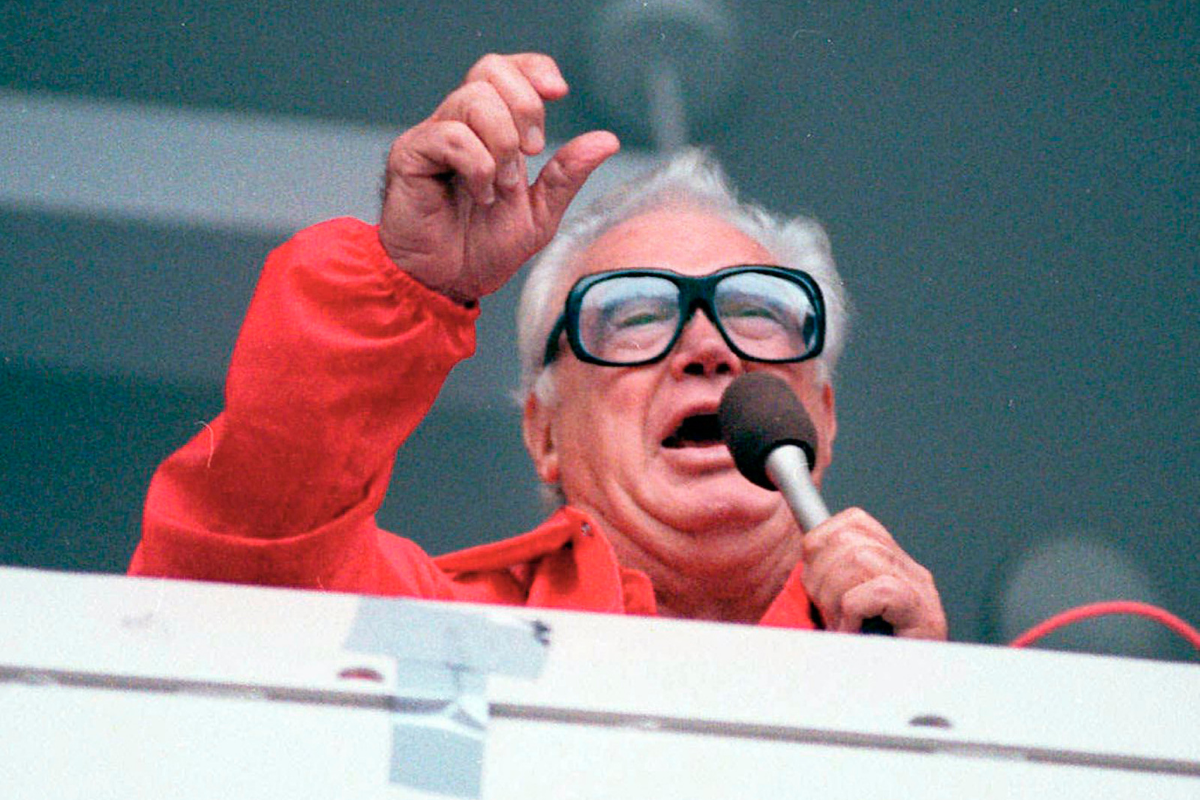 AP Photo/John Swart, File
Baseball is unofficially America's Favorite Pastime, and it's more than just the game.
From long home runs to perfect games to even nasty fights, there is never a dull moment. Nothing, however, compares to singing "Take Me Out to the Ballgame" with thousands of strangers. The iconic song has become a staple at stadiums across the United States and is more than 100 years old.
Have you ever wondered how the tune became synonymous with the seventh-inning stretch? There is quite an expansive backstory.
The History Behind "Take Me Out to the Ball Game"
RELATED: Ladies Won't Stop Storming the Field to Hug This Dodgers Star, Apparently
The Tin Pan Alley song, written by Jack Norworth and composed by Albert Von Tilzer, was created in 1908. Interestingly, neither songwriter involved in the creative process had ever attended a ballpark before; Norworth was inspired by an ad for the Polo Grounds on a New York subway car.
According to Smithsonian Magazine, the song was written by Norworth as an ode to his suffragist girlfriend, Trixie Friganza, who was also a famous vaudeville actress. Norworth, however, was still married to actress Louise Dresser when he had an affair with Friganza and wrote the song.
Nora Bayes, Norworth's wife, was the first person to sing the song, and it became a staple of local vaudeville acts. In addition to the famous chorus about peanuts, Cracker Jack, and (root, root) rooting for the home team, there are two other verses. The main character, Katie Casey, is a baseball fanatic, and she will only go on dates with men if they take her to games.
It took a while to get mainstream attention in the sports world, but once the song was played for the first time during the 1934 World Series, it became a staple for decades. Frank Sinatra and Gene Kelly recorded a famous version, and Chicago Cubs legendary announcer Harry Caray delivered some iconic performances as well.
Baseball players and fans around the world are familiar with this work. It was added to the Library of Congress in 2010, and the original lyrics are on display at the National Baseball Hall of Fame.
Original Lyrics
Here's what Norwoth's original 1908 version looked like as sung by Edward Meeker:
Katie Casey was baseball mad,
Had the fever and had it bad.
Just to root for the home town crew,
Ev'ry sou
Katie blew.
On a Saturday her young beau
Called to see if she'd like to go
To see a show, but Miss Kate said "No,
I'll tell you what you can do:"

Chorus

Take me out to the ball game,
Take me out with the crowd;
Buy me some peanuts and Cracker Jack,
I don't care if I never get back.
Let me root, root, root for the home team,
If they don't win, it's a shame.
For it's one, two, three strikes, you're out,
At the old ball game.

Katie Casey saw all the games,
Knew the players by their first names.
Told the umpire he was wrong,
All along,
Good and strong.
When the score was just two to two,
Katie Casey knew what to do,
Just to cheer up the boys she knew,
She made the gang sing this song:

Chorus
The next time you go to a MLB game, take a look around the stadium and see how many fans sing along to "Take Me Out to the Ballgame." Its prominence still permeates baseball today, and it will be around for decades more.
Personally, to say that I'm excited for the Major League Baseball season to start would be an understatement. The truncated, 60-game 2020 was fine, but the constant COVID cases and worry about if the season would be shut down took a toll on many fans, myself included.
With things looking up, fans will be allowed to attend baseball games again in 2021, and when they do, they'll be reminded of everything they missed last year, including the most famous baseball song in history, "Take Me Out to the Ball Game."