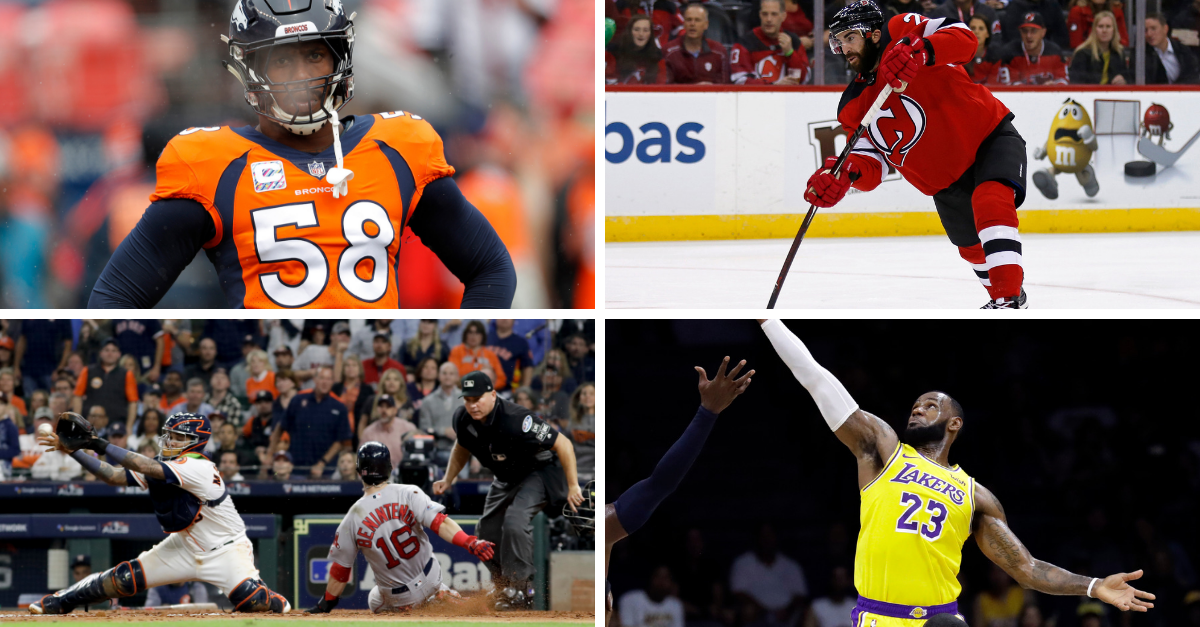 AP Photo/David Zalubowski, File/Adam Hunger/David J. Phillip/Gregory Bull
AP Photo/David Zalubowski, File/Adam Hunger/David J. Phillip/Gregory Bull
Let the arguments begin, but October is the best month of the year. Not only is it my always heralded and widely recognized birthday, but all of the major U.S. sporting events are in season. The NBA is underway with old faces wearing weird colors, the NHL hits the ice 101 years after it was first founded, the MLS continues to grow in popularity as the playoffs draw near, MLB's playoff baseball is deciding entrants into the World Series, and the NFL is king of it all once again.
When the NBA decided to move the season's start date up in the calendar, and Major League Baseball pushed its playoff series back, all four sports now coincide with each other on a few rare occasions in what can only be known as the Sports Equinox. On Thursday, October 18, 2018, all five major U.S. professional sports, and even a few college football games, will be taking place on the same day.
The event has only happened a few times in the past, but with all major U.S. sports beginning to coincide with each other more often during the fall, it's likely this once rare even could happen more and more often.
RELATED: The 11 Craziest Trick Plays in College Football History
Thing you're a true sports fan? Do you really believe you can keep pace and watch every single sporting event taking place all in one day?
Settle in front of about six television screens, grab a few snacks, and enjoy the Sports Equinox for the first time in 2018.
MLB
ALCS Game 5: Boston Red Sox versus Houston Astros
– Escaping Game 4, winning by the final score 8-6, the Red Sox took a 3-1 series lead and will face Houston's ace Justin Verlander. If Boston wins, they'll head back to the World Series for the first time since 2013.
NBA
LeBron James' First Game with Los Angeles
– Three games will see four teams tip-off their seasons, but none are more anticipated than LeBron James' first official game with the Los Angeles Lakers when they travel to face the Portland Trail Blazers on TNT.
NFL
Thursday Night Football: Denver Broncos vs. Arizona Cardinals
– Coming off four-straight losses, the Broncos (2-4) will travel to take on the Cardinals (1-5) in a must-win game for both teams to help keep their seasons' alive.
NHL
18 Teams in Action with One Undefeated Remaining
– With the season still in its infancy, only one undefeated team remains. The New Jersey Devils will put their spotless 4-0-0 record on the line hosting the Colorado Avalanche (3-1-2).
MLS
Real Salt Lake versus New England Revolution
– Clinging to the sixth and final playoff spot in the Western Conference, Real Salt Lake (13-7-12) will host the New England Revolution (9-11-12) with only two matches to play in the MLS regular season.
College Football
Two Conference Games for Thirsty Thursday
– Looking to keep pace in the Pac-12 North, the Stanford Cardinal (4-2, 2-1) travel to Sun Devil Stadium to face coach Herm Edwards and Arizona State (3-3, 1-2).
– Also, it's Sun Belt, Fun Belt time when Georgia State (2-4, 1-1) takes on Arkansas State (3-3, 0-2) as both programs fight for eligibility into a postseason bowl berth.