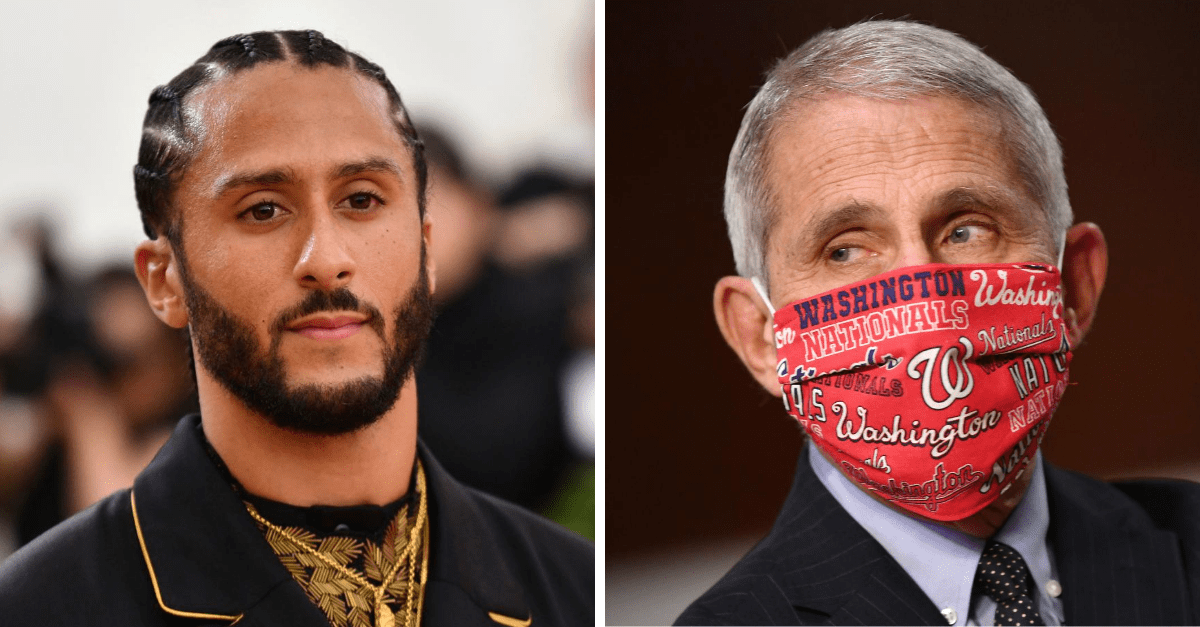 Charles Sykes/Invision/AP (left), Kevin Dietsch/Pool via AP (right)
The Robert F. Kennedy Ripple of Hope Award is bestowed upon "outstanding leaders who have demonstrated a commitment to social change, recognizing individuals across government, business, advocacy, and entertainment who have utilized their platform for the public good."
In 2020, the embodiment of those values fell upon five world leaders who often times face immense scrutiny and even threats on their lives from parties opposing their views. Two men in particular highlighted this year's laureates, and as you'd expect, the millions of lives they impacted still won't turn away their detractors.
Robert F. Kennedy Ripple of Hope Award Laureates 2020
The most notable to sports fans is former San Francisco 49ers quarterback Colin Kaepernick, who is remembered for the national anthem protests he launched in 2016 that (contrary to popular belief) had nothing to do with being anti-American; Kaepernick was bringing attention to systemic racial injustices and police brutality inherent in our society, which have been publicly denounced in the recent surge of Black Lives Matter demonstrations.
Kaepernick is co-founder of the Know Your Rights camp and has spearheaded million-dollar fundraisers for Black and Brown communities.
On the football field, he ranked sixth in NFL history in TD-to-INT ratio; That's better than Drew Brees, Steve Young, Peyton Manning, Joe Montana, and Dan Marino among dozens of other Hall of Famers. Kaepernick hasn't played since the 2016 season.
"In 2017, I was in the audience honoring Mr. Harry Belafonte as he accepted the Robert F. Kennedy Ripple of Hope Award," Kaepernick said via press release. "I am humbled to follow the footsteps of individuals like Mr. B and to be in the company of all the other laureates. Thank you for this prestigious award."
RELATED: Colin Kaepernick Supports Protests: "We Have The Right to Fight Back!"
The other notable name is Dr. Anthony Fauci. If you've been living under a rock, or decided you're too cool to wear a mask, the director of the National Institute of Allergy and Infectious Diseases is leading the charge in corralling and vaccinating the COVID-19 virus. Aside from his awful first pitches, Dr. Fauci was a key architect of the President?s Emergency Plan for AIDS Relief, which saved millions of lives around the world. The United States' leading infectious disease expert has advised six presidents on HIV/AIDS during his career.
President George W. Bush awarded Fauci the Presidential Medal of Freedom in 2008.
Joining Kaepernick and Dr. Fauci as 2020 Ripple of Hope Award laureates is Dolores Huerta, founder and president of the Dolores Huerta Foundation and co-founder of United Farm Workers of America; Dan Schulman, PayPal president and chief executive officer; and Dan Springer, chief executive officer of DocuSign.
Past Ripple of Hope laureates include Barack Obama, Tim Cook, Archbishop Desmond Tutu, Robert F. Smith, Nancy Pelosi, Harry Belafonte, John Lewis, Hillary Clinton, Bono, and Joe Biden
"Our country is yearning for leadership, for moral fortitude, for common decency and kindness, and this year?s Ripple of Hope laureates give us great hope for the future. Their work for equal justice touches every corner of society, sometimes at great personal cost. We are deeply honored to celebrate these changemakers, who have set forth countless ripples of hope at a time when our world is in such need of inspiration."

? Kerry Kennedy, president of Robert F. Kennedy Human Rights
In addition to the Ripple of Hope Award, the Robert F. Kennedy Human Rights Award identifies global activists and organizations that showcase "who stand up to oppression, even at great personal risk, in the nonviolent pursuit of civil rights." Award recipients receive a $30,000 cash prize and the RFK Human Rights' full resources to continue their work. The organization also gives out Book and Journalism Awards to celebrate industry voices.
Due to the coronavirus pandemic, this year's Ripple of Hope laureates will be honored at a virtual ceremony on Thursday, December 10 to coincide with National Human Rights Day, when the United Nations General Assembly adopted the Universal Declaration of Human Rights.