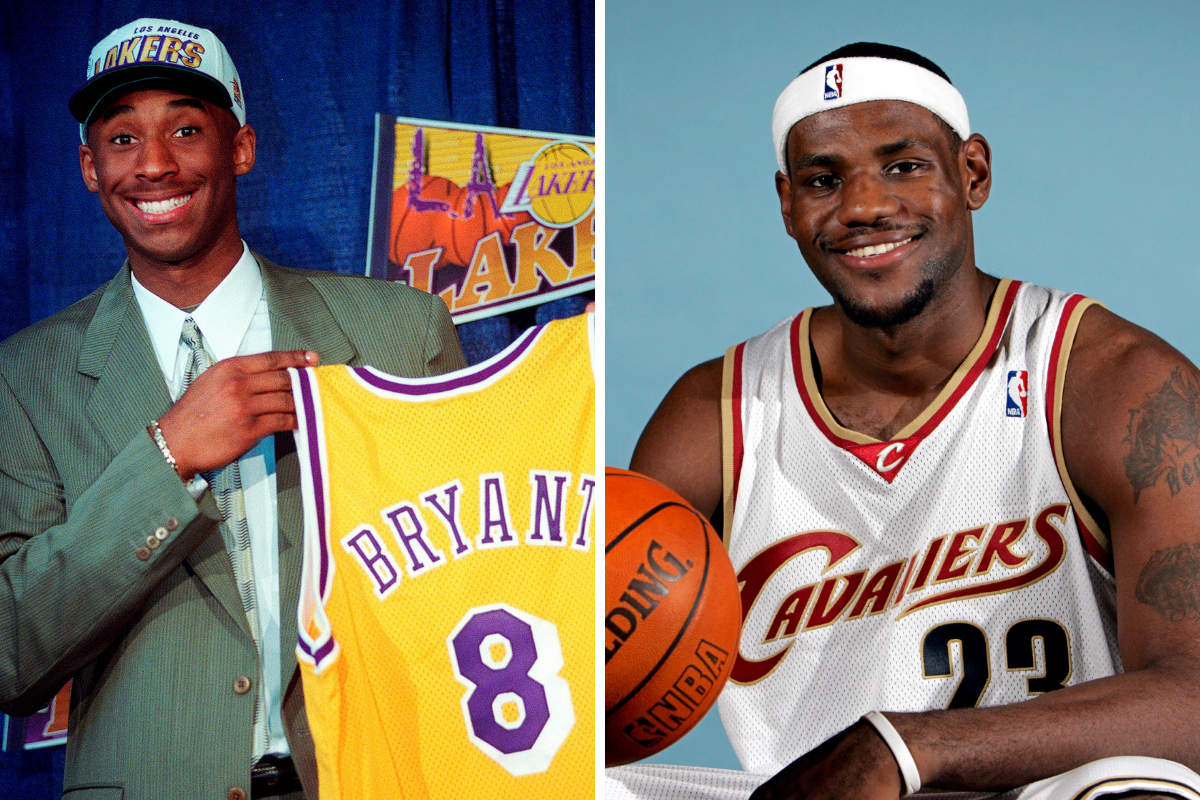 AP Photo/Susan Sterner, File (left), AP Photo/Mark Duncan (right)
The strength of an NBA Draft class varies from year to year. Some classes are loaded with potential All-Star players like Zion Williamson or LeBron James while others are lucky to produce more than a few role players.
Considering it takes multiple years to truly see how a draft class unravels, it's hard to generate a label for some of the more recent classes. Only time will tell just how good youngsters like Lamelo Ball and Ja Morant become.
However, 10 draft classes stand above the rest as the best draft classes in NBA history. Think you can guess which ones made the cut?
10. 2011 NBA Draft
RELATED: Remembering The 2000 NBA Draft, And How Bad It Really Was
Notable Players: Kawhi Leonard, Klay Thompson, Kyrie Irving, Jimmy Butler.
The 2011 NBA Draft had a fairly deep class that was highlighted by the best player in the draft, Kyrie Irving. Other stars who started their NBA career in 2011 include Kemba Walker, Kawhi Leonard, Jimmy Butler, Klay Thompson, Tobias Harris and Nikola Vucevic.
Additionally, solid role players have come from the class including the likes of the Morris twins, Isaiah Thomas, Iman Shumpert, Kenneth Faried and Reggie Jackson, among others. Within this group, there have been a total of 10 NBA Finals rings.
9. 1970 NBA Draft
Notable Players: Bob Lanier, Rudy Tomjanovich, Dave Cowens, Pete Maravich.
The 1970 NBA Draft class had a ton of star power. Basketball legends such as Bob Lanier, Pete Maravich, Dave Cowens, Tiny Archibald, Rudy Tomanjovich, Calvin Murphy, Charlie Scott and Dan Issel all came from this class, which boasts a total of eight Hall of Famers, the most from any draft class, and 12 All-Stars, including seven of the first eight picks of the draft.
8. 2009 NBA Draft
Notable Players: Blake Griffin, James Harden, Stephen Curry.
Look away Grizzlies fans, this one may sting. The 2009 draft class was incredible, brimming with talent including the likes of James Harden, Blake Griffin, Golden State Warriors' game-changing point guard Stephen Curry, as well as DeMar DeRozan and Jrue Holiday.
Many serviceable role players have come from the class, too, including Patrick Beverley, Ricky Rubio, Brandon Jennings, Darren Collison, Tyreke Evans and more. Between the group there are a total of three MVP awards and many All-Stars. Unfortunately, Memphis drafted UConn's Hasheem Thabeet No. 2 overall and missed out on the gold rush of talent.
7. 1998 NBA Draft
Notable Players: Dirk Nowitzki, Paul Pierce, Vince Carter.
The highlights of the 1998 NBA Draft class include NBA legends including Vince Carter, Boston Celtics great Paul Pierce and Dallas Mavericks legend Dirk Nowitzki, as well as other solid players like Antawn Jamison, Mike Bibby Jason Williams, Cuttino Mobley and Rashard Lewis. What holds this class back from being one of the GOATs is the lack of All-Stars, despite how elite the class's best players were.
6. 1987 NBA Draft
Notable Players: Scottie Pippen, Reggie Miller, David Robinson.
It's hard to find a more stacked class than the 1987 NBA Draft class, highlighted by the likes of San Antonio Spurs legend David Robinson, Bulls' Scottie Pippen, Pacers' sharpshooter Reggie Miller and the defensive-minded Horace Grant.
In addition to these studs, the class also included Phoenix's Kevin Johnson, Mark Jackson, Kenny Smith and Muggsy Bogues. Combined, there are three Hall of Famers in the class and a grand total of 14 NBA championship rings.
5. 1999 NBA Draft
Notable Players: Elton Brand, Shawn Marion, Manu Ginobli.
The 1999 NBA Draft Class was one of the deepest in history. While there weren't many superstars to come out of this class, the amount of solid scorers and contributors that entered the league this year is remarkable. The top dogs of the class include Shawn Marion, Elton Brand, Jason Terry, Manu Ginobli, Lamar Odom, Andre Miller, Andre Kirilenko, Steve Francis, Richard Hamilton and more.
4. 1985 NBA Draft
Notable Players: Karl Malone, Patrick Ewing, Chris Mullin.
It's hard to argue there's a more well-rounded class than the 1985 NBA Draft class which introduced us to the likes of Utah's Karl Malone, New York Knicks first overall pick Patrick Ewing, Warriors' Chris Mullin and Pistons' Joe Dumars. Also in the class were Detlef Schrempf, Terry Porter, Charles Oakley and Spud Webb. There are six players with more than 15,000 career points and eight players have featured in more than 1,000 games for their respective NBA teams.
3. 2003 NBA Draft
Notable Players: LeBron James, Carmelo Anthony, Dwyane Wade, Chris Bosh.
We all know just how star-studded the 2003 NBA Draft class was. The Cavaliers landed LeBron James with the No. 1 pick before the Pistons struck out with Darko Milicic. The following three picks saw the Nuggets, Raptors and Miami Heat select Carmelo Anthony, Chris Bosh and Dwyane Wade, respectively.
In addition to the superstars and future Hall of Fame players, the class also featured excellent role players such as David West, Kirk Hinrich, Mo Williams, Kyle Korver and Boris Diaw.
2. 1996 NBA Draft
Notable Players: Kobe Bryant, Allen Iverson, Steve Nash, Ray Allen.
It's hard to top the 2003 NBA Draft Class, but one year that has it beat is 1996. Some of the greatest players of the recent era of basketball were drafted in '96, including Los Angeles Lakers legend Kobe Bryant and Philadelphia 76ers icon Allen Iverson. Other legends in the draft included Steve Nash, Ray Allen, Peja Stojakovic, Stephon Marbury, Jermaine O'Neal and Marcus Camby.
1. 1984 NBA Draft
Notable Players: Michael Jordan, Akeem Olajuwon, Charles Barkley, John Stockton.
In terms of all-time great draft classes, 1984 takes the cake. Players who changed the game forever were taken in this class. All in the first round, the Chicago Bulls drafted Michael Jordan, John Stockton went to the Utah Jazz, Charles Barkley went to the Sixers, and the Houston Rockets selected Hakeem Olajuwon.
Other notable talents from the class include Otis Thorpe, Kevin Willis and Sam Perkins. With four Hall of Famers and a plethora of All-Star Games and All-NBA teams between the bunch, this is indisputably the best draft class in league history.