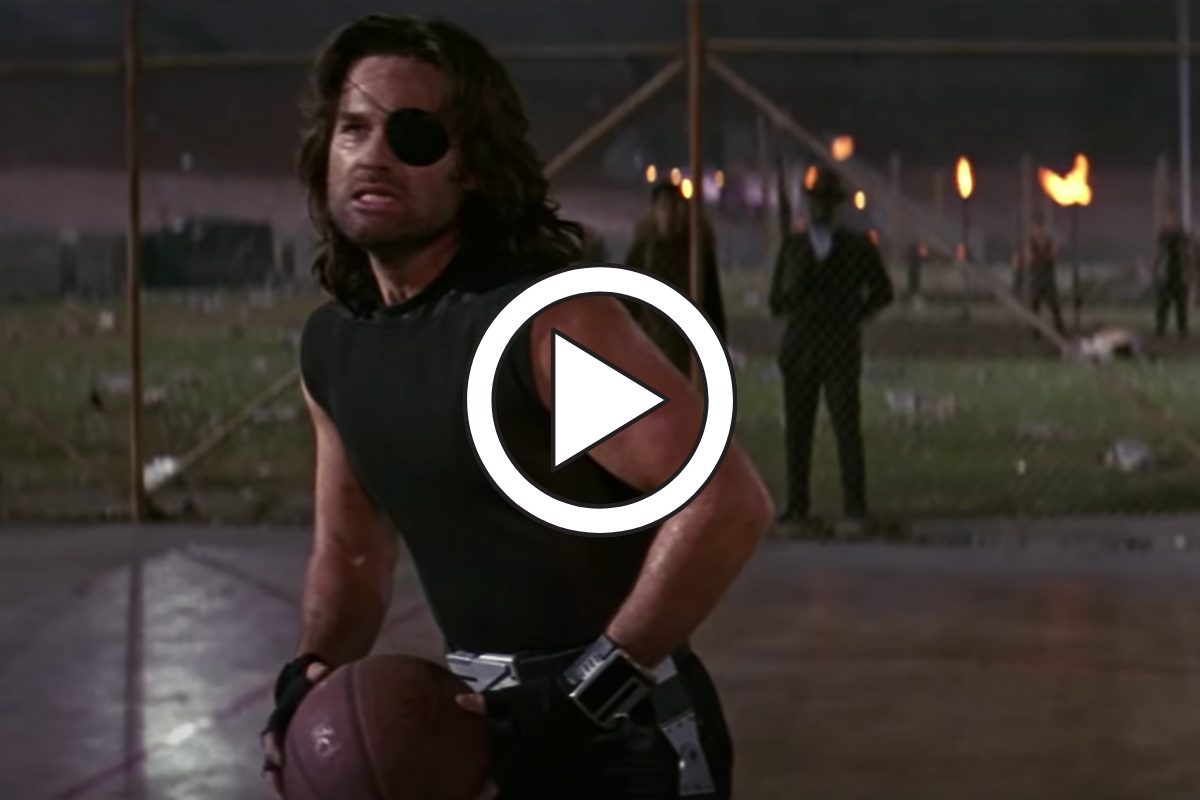 Screenshot from YouTube
Snake Plissken is a five-tool guy. Throw any challenge his way, and the eye-patch-wearing, badass war hero finds a way to beat the odds.
He completed the impossible task of rescuing the President of the United States in John Carpenter's Escape from New York. Along the way he out-dueled the giant Slag in the ring.
Snake's matchup against Slag is his flu game. He took down a guy more monster than man on the road with a hobbled leg.
Plissken (played by Kurt Russell) dons the "here we go again" face at every roadblock. He doesn't have time for any shenanigans. He partakes because he's Snake freakin' Plissken and he's better than you. This guy has escaped death so many times they should call him Cat Plissken.
In the 1996 sequel Escape from L.A., Snake takes his talents to the basketball court.
Escape From LA Basketball Scene
RELATED: Halle Berry's "Catwoman" Basketball Scene is… Something
Escape from L.A. is like a band that reunites 15 years after breaking up. The group is a little bit older, someone had a personal epiphany, and who says they can't do the exact same thing again.
L.A. rocks just as hard as the original film.
In place of the deathmatch scene, the disgruntled special forces agent's survival hinges on his basketball skills.
Snake's fate is decided at the historic Los Angeles Coliseum. The place where USC plays on Saturdays is now the local rec center. You have kickboxing, fires to keep the muscles warm, and a friendly court for hoops.
Some might call the crowd with automatic weapons hostile. I call them real sports fans. Map to the Stars Eddie (played by Steve Buscemi) is the fair-weather fan who I imagine is a mobile bookie.
Under the rules of Cuervo Jones (played by Georges Corraface), Snake must go full court and score 10 points within a continuous 10-second shot clock. All twos, no threes. This guy is Daryl Morey's worst enemy.
The buzzer sounds and Snake takes his sweet time. He spins the ball to himself and drives in for the layup. 2 points.
Oh no! Snake mishandles the rebound. He speeds up his dribble and kisses it off the glass from the block at the last second. And you thought the mishap would be detrimental? Pssshh, this is Snake Plissken! 4 points.
On the next shot, Plissken proves he's ahead of his time. He pulls up from downtown and cashes it. Eddie is impressed. 6 points.
They don't call him Snake "Logo" Plissken for nothing. The war hero hurls it from half-court and banks it in. 8 points.
Fatigue is catching up. Snake collects his rebound and stares at the clock. 3….2….1..
Snake heaves a full-courter and it's nothing but nylon. 10 points. He did it all in fingerless gloves.
He defeats Cuervo for good at Happy Kingdom by the Sea — a stand-in for Disneyland — the same night. Just another day on the job.
Snake rides some waves with Pipeline (a surfer played by Peter Fonda) and navigates a hang-glider with Hershe Las Palmas (played by Pam Grier). Every broadcast of a Snake game highlights his ability as a multi-sport athlete.
Distributed by Paramount Pictures, Escape from L.A. features Cliff Robertson as President for Life, Stacy Keach as Commander Malloy, Bruce Campbell as Surgeon General of Beverly Hills, A.J. Langer as Utopia, and breathtaking CGI. Russell, Carpenter, and Debra Hill co-wrote the script.
This was the fifth collaboration between Russell and Carpenter following Elvis, Escape from New York, The Thing, and Big Trouble in Little China.
The sci-fi film earned $25.5 million at the box office — about the same as the first movie but with more than four-times the budget. Australian filmmaker Leigh Whannell is working on a remake of Escape from New York.
I'm giving Snake a call the next time he's a free agent. He plays winning basketball.