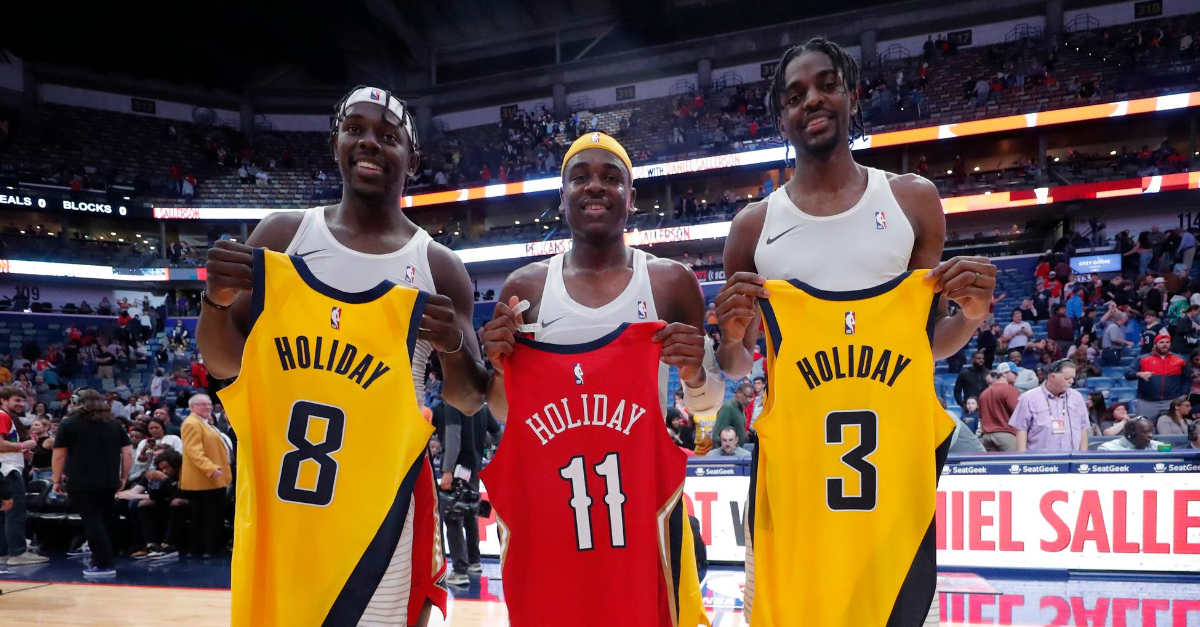 AP Photo/Gerald Herbert
Any slate of NBA games has Shawn and Toya Holiday searching for the Indiana Pacers and New Orleans Pelicans. Their oldest and youngest sons, Justin and Aaron, play for the Pacers. Jrue, their middle son, plays for the Pelicans.
Their watch schedules coincided on December 28, 2019 when Indiana visited New Orleans. That Saturday night, the Smoothie King Center hosted a Holiday family gathering of epic proportions.
First, let's introduce the brothers.
NBA's Holiday Brothers: Justin, Jrue and Aaron
Justin Holiday played four years at Washington and went undrafted. He's played for the Philadelphia 76ers, Golden State Warriors, Atlanta Hawks, Chicago Bulls, New York Knicks, and Memphis Grizzlies before joining Indiana in 2019.
Jrue Holiday played one year at UCLA and was selected 17th overall in the 2009 NBA Draft by the Philadelphia 76ers. After four years in Philly, Holiday was traded to New Orleans for Nerlens Noel and the Pelicans' 2014 first-round draft pick. He's grown into a solid player in NOLA and earned a bid to the 2013 NBA All-Star game. The Pelicans guard was named to the NBA All-Defensive First Team in 2018 and the NBA All-Defensive Second Team in 2019.
Aaron Holiday played three years at UCLA and was the 23rd overall pick by the Pacers in 2018. He got his professional feet wet with 12.9 minutes per game as a rookie. He stepped into a bigger role during the 2019-20 season.
All three played at Campbell Hall High School in Los Angeles.
Per Andrew Lopez of ESPN, Shawn Holiday encapsulated the evening before tipoff:
"It don't get no better than this," [he said]. "Just to see them enjoy it, that brings joy to us. That's the most joy that we get is watching them. They really enjoy playing with each other and being around each other. It's going to be a lot of fun when they are all on the court."
RELATED: No Bromance Will Ever Be Stronger Than The Watt Brothers
Jrue and Aaron started for their respective clubs. The Holidays became the first trio of brothers in NBA history to play in the same game when Justin entered the game with 5:13 left in the first quarter. Due to each team's rotations, they didn't see the court together until the second half.
At the 4:54 mark of the third quarter, all three brothers were in the game for the first time. Jrue's Pelicans ran away with a 120-98 victory and bragging rights. The three swapped jerseys after the game.
Their sister Lauren estimated roughly 30 family members and friends were in attendance.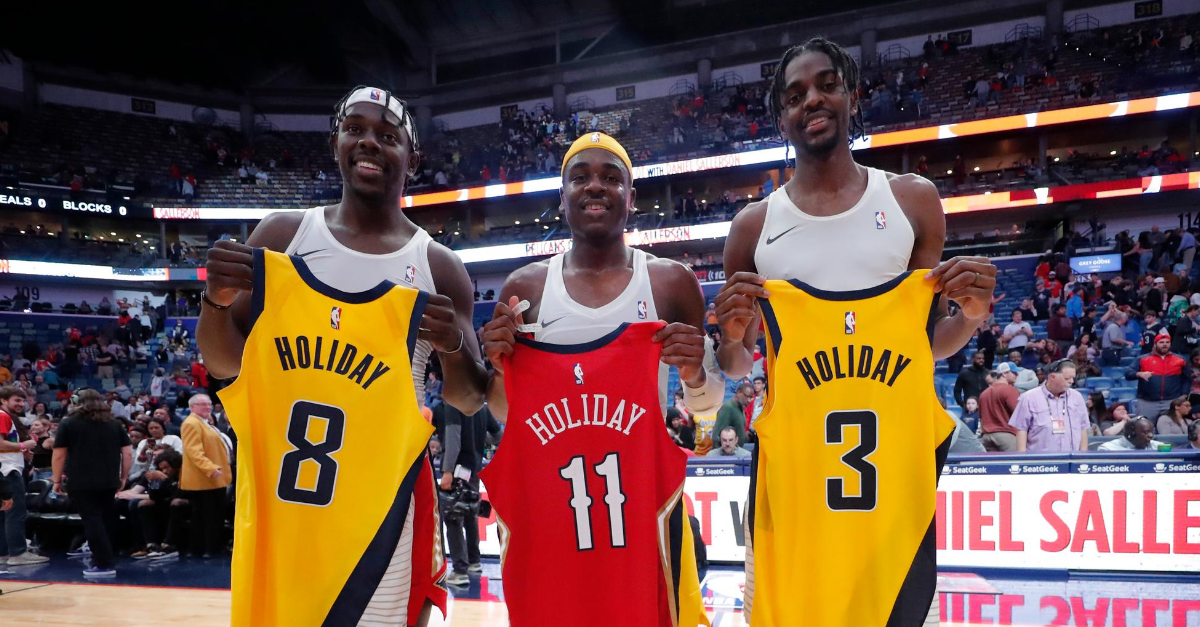 The Antetokounmpo brothers of Giannis, Thanasis, and Kostas had a chance to complete the feat when the Milwaukee Bucks and Los Angeles Lakers faced off on December 19, 2019, however, only Giannis saw action.
The night was a culmination of three brothers accomplishing their NBA dreams together. Justin, Jrue, and Aaron surpassed mixing it up on the driveway to playing side-by-side on basketball's biggest stage.