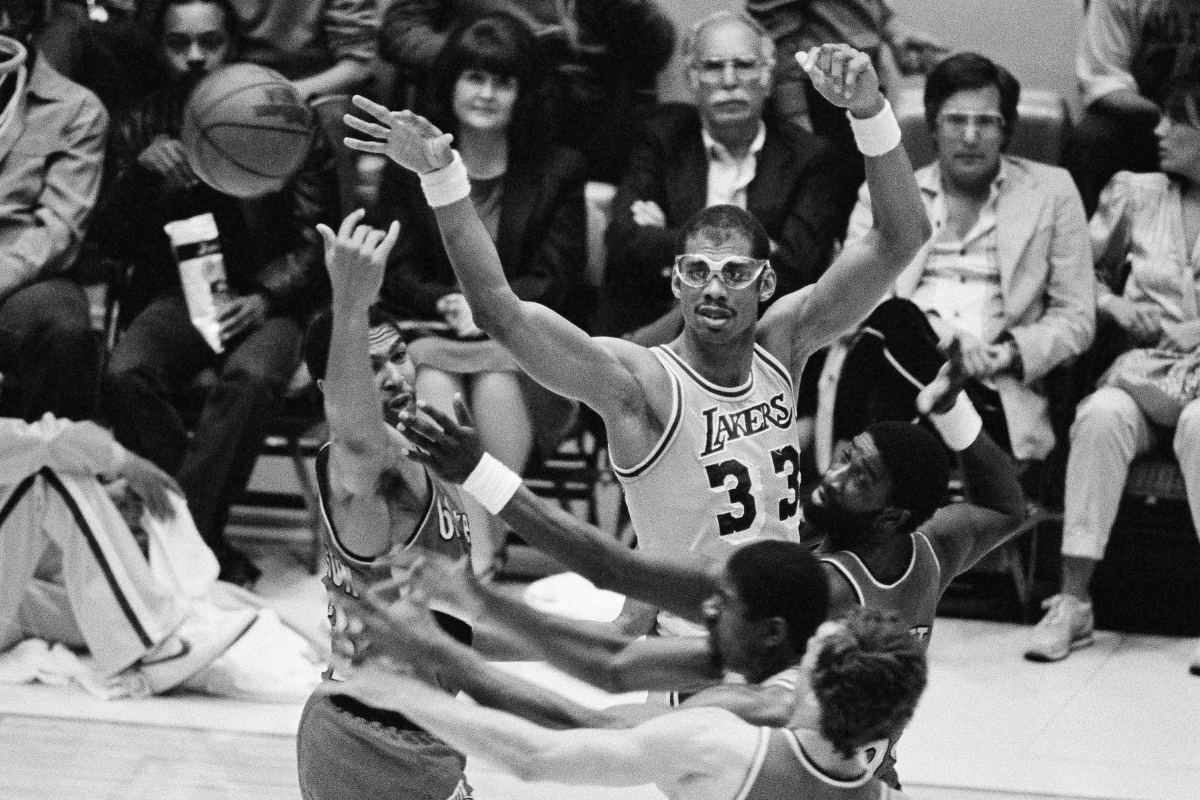 AP Photo/Alvin Chung
In the old days of the NBA, the game revolved around the center.
Get the ball down low and let the big man go to work. On the defensive end, he protects the rim.
Bill Russell, Oscar Robertson, Wilt Chamberlain, and Shaquille O'Neal are some of the best in NBA history. The most transcendent at the position was Kareem Abdul-Jabbar.
Abdul-Jabbar trademarked the skyhook and brought goggles to the forefront of fashion. He did it all while experiencing the world from a vantage point only few can relate to.
Kareem Abdul-Jabbar Basketball Career
Ferdinand Lewis Alcindor Jr. was born on April 16, 1947 in New York City. He is the only child of Cora Lillian and Ferdinand Lewis Alcindor Sr.
Known as Lew Alcindor back then, the center was the LeBron James before LeBron James. He was a prodigy by the time he entered high school and could dunk when he was in eighth grade. At Power Memorial Academy, he led the basketball team to three-straight New York City Catholic championships and a 71-game winning streak.
Alcindor headed west after graduation to play college basketball for legendary coach John Wooden at the University of California, Los Angeles.
Following a year on the freshman team, the center was an integral part of three national championship teams from 1967-69 at the front-end of the 60s and 70s UCLA dynasty.
In his college career, he averaged 26.4 points and 15.5 rebounds.
The Milwaukee Bucks selected Alcindor No. 1 overall in the 1969 NBA Draft. From there, a legend was born.
? 6x NBA Champion

? 2x NBA Finals MVP

? 6x NBA Most Valuable Player

? 19x NBA All-Star

? 10x All-NBA First Team

? 5x All-NBA Second Team

? 5x NBA All-Defensive First Team

? 6x NBA All-Defensive Second Team

? NBA Rookie of the Year (1970)

? 2x NBA Scoring Champion

? NBA Rebounding Champion (1976)

? 4x NBA Blocks Leader

? NBA's 50th Anniversary All-Time Team

? No. 33 Retired by Milwaukee Bucks

? No. 33 Retired by Los Angeles Lakers

? 3x NCAA Champion

? 3x NCAA Final Four Most Outstanding Player

? 3x National College Player of the Year

? 3x Consensus First-Team All-American

? No. 33 Retired by UCLA Bruins

? 3x First-Team Parade All-American

? 2x Mr. Basketball USA

? Presidential Medal of Freedom (2016)
The professional basketball player converted to Islam in 1971 and changed his name to Kareem Abdul-Jabbar. In 1974, he requested a trade out of Wisconsin to either the New York Knicks or Los Angeles Lakers. He was acquired by the purple and gold in 1975.
The six-time MVP award winner captured one NBA championship in Milwaukee and five in Los Angeles alongside Magic Johnson. He retired from the National Basketball Association in 1989 after 20 seasons. He only missed the playoffs twice.
Abdul-Jabbar is the NBA's all-time leading scorer with 38,387 points. He was inducted into the Naismith Memorial Basketball Hall of Fame in 1995.
Personal Life & Acting Career
RELATED: The 5 Tallest NBA Players Who Became Movie Stars
Kareem Abdul-Jabbar married Habiba Abdul-Jabbar when he was a senior at UCLA. They had three children: Habiba, Sultana, and Kareem Jr. They divorced in 1978. Abdul-Jabbar has two other sons, Amir and Adam.
The NBA player took his talents to Hollywood and made his film debut in Bruce Lee's 1972 film Game of Death. He famously appeared in 1980's Airplane! and starred in the 2011 documentary On The Shoulders of Giants.
He's made cameos in several other TV shows, including Full House, Everybody Loves Raymond, Diff'rent Strokes, The Fresh Prince of Bel-Air, Scrubs, 21 Jump Street, and New Girl among others.
How Tall is Kareem Abdul-Jabbar?
Abdul-Jabbar was listed at 7-foot-2 in the program. For all the height purists out there, he measured in at 7-foot-1 and 7/8 inches.
How he was able to fit in a cockpit in Airplane! is a crowning engineering achievement. He had to control the aircraft and simultaneously agree to help in case of an emergency in aisle 15.