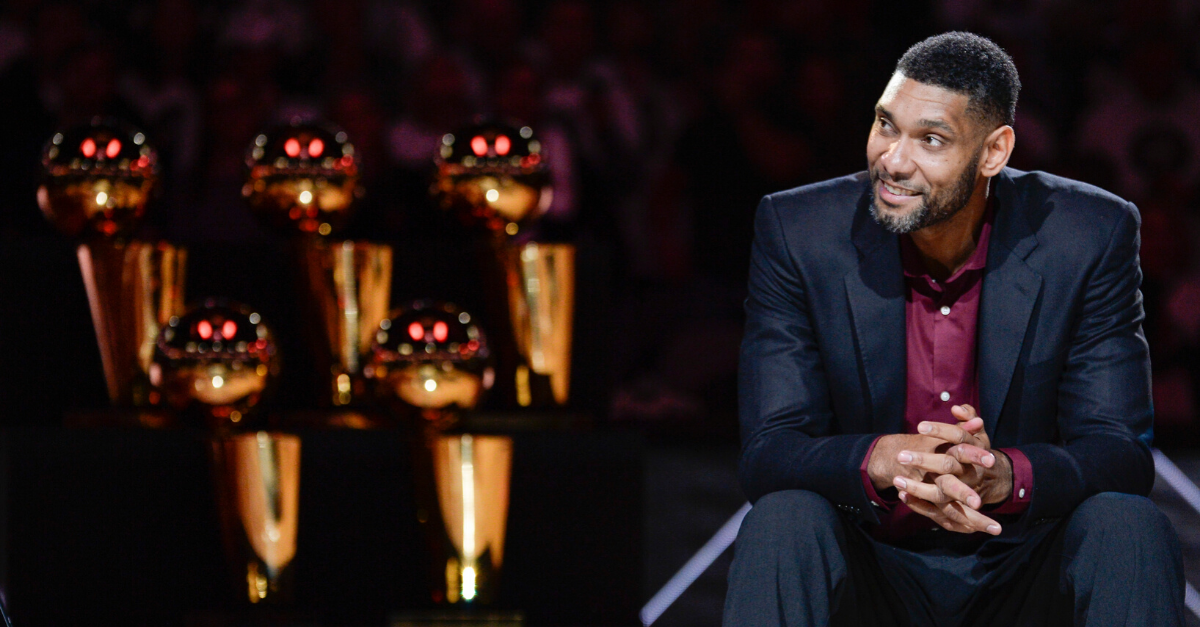 AP Photo/Darren Abate, File
Tim Duncan kicked butt and took names. The San Antonio Spurs forward was subliminally ruthless on the court, dominating through sheer play. He was the centerpiece of the Spurs' dynasty by committing to team-oriented basketball and leadership along with David Robinson, Tony Parker, and Manu Ginobili.
Off the court, The Big Fundamental is a man of simple taste. He rocked jorts like it's nobody's business. I mean, come on. Let's not forget how he downplayed Michael Jordan as a rookie. It must take a comet to impress him.
Early Life
Timothy Theodore Duncan was born on April 25, 1976, in Saint Croix, U.S. Virgin Islands. He grew up a swimmer but turned to basketball as a freshman at St. Dunstan's High School after Hurricane Hugo struck in 1989. He caught on to hoops quickly and gained recognition of coaches in the United States, most notably Wake Forest University head coach Dave Odom. Duncan joined the Demon Deacons' basketball team in 1993.
College and NBA Career
Duncan will be inducted into the Naismith Memorial Basketball Hall of Fame alongside Kobe Bryant and Kevin Garnett. The legendary power forward has his fair share of accomplishments in both college and the NBA:
Wake Forest
— Consensus National College Player of the Year (1997)

— 2x Consensus first-team All-American (1996, 1997)

— Chip Hilton Player of the Year (1997)

— NCAA Rebounding Leader (1997)

— 3x NABC Defensive Player of the Year (1995-97)

— 2x ACC Player of the Year (1996, 1997)

— 3x First-team All ACC (1995-97)

— No. 21 retired by Wake Forest Demon Deacons
San Antonio Spurs
— 5 NBA championships

— 3x NBA Finals MVP

— 2x NBA Most Valuable Player

— 15x NBA All-Star

— NBA All-Star Game MVP (2000)

— 10x All-NBA First Team

— 3x All-NBA Second Team

— 2x All-NBA Third Team

— 8x NBA All-Defensive First Team

— 7x NBA All-Defensive Second Team

— NBA Rookie of the Year (1998)

— NBA All-Rookie First Team (1998)

— No. 1 overall pick in 1997 NBA Draft

— NBA Teammate of the Year (2015)

— No. 21 retired by San Antonio Spurs
Duncan was named USA Basketball's Male Athlete of the Year and Sports Illustrated's Sportsman of the Year in 2003. He played on the USA national team that earned the bronze medal in the 2004 Athens Olympics.
NBA Contracts
Duncan earned $236,381,050 over 19 seasons per Spotrac. His most lucrative year came in 2009-10 when he earned $22,183,220. He was one of the 10 highest-paid players in the NBA from 2006-12.
Personal Life
The former professional basketball player is the youngest of four children. He has two older sisters, Cheryl and Tricia, and one older brother, Scott.
Duncan was married to Amy Sherrill from 2001 to 2013. They have two children together, daughter Sydney and son Draven. Duncan and his girlfriend Vanessa Macias welcomed daughter Quill in 2017.
Endorsements and Other Ventures
The 15-time All-Star is endorsed by Adidas, AT&T and Bridgestone. He makes $2 million per year from these deals, according to Forbes.
In 2001, Duncan founded the Tim Duncan Foundation, which supports creating health awareness and funds youth sports and education programs. The foundation has raised over $350,000 to support prostate and breast cancer research. In 2013, he opened the BlackJack Speed Shop, a vehicle customization store, in San Antonio. The Tim Duncan Foundation and BlackJack Speed Shop contributed to Hurricane Harvey relief in 2017.
Tim Duncan Net Worth
Tim Duncan's net worth in 2020 is estimated around $130 million. The two-time NBA MVP is currently an assistant coach for the Spurs under Gregg Popovich. Duncan served as acting head coach when Popovich missed a game against the Charlotte Hornets on March 3, 2020.
Duncan's decorated career ranks him amongst the best NBA players of all time. The Spurs' franchise cornerstone more than earned his place in the Hall of Fame.