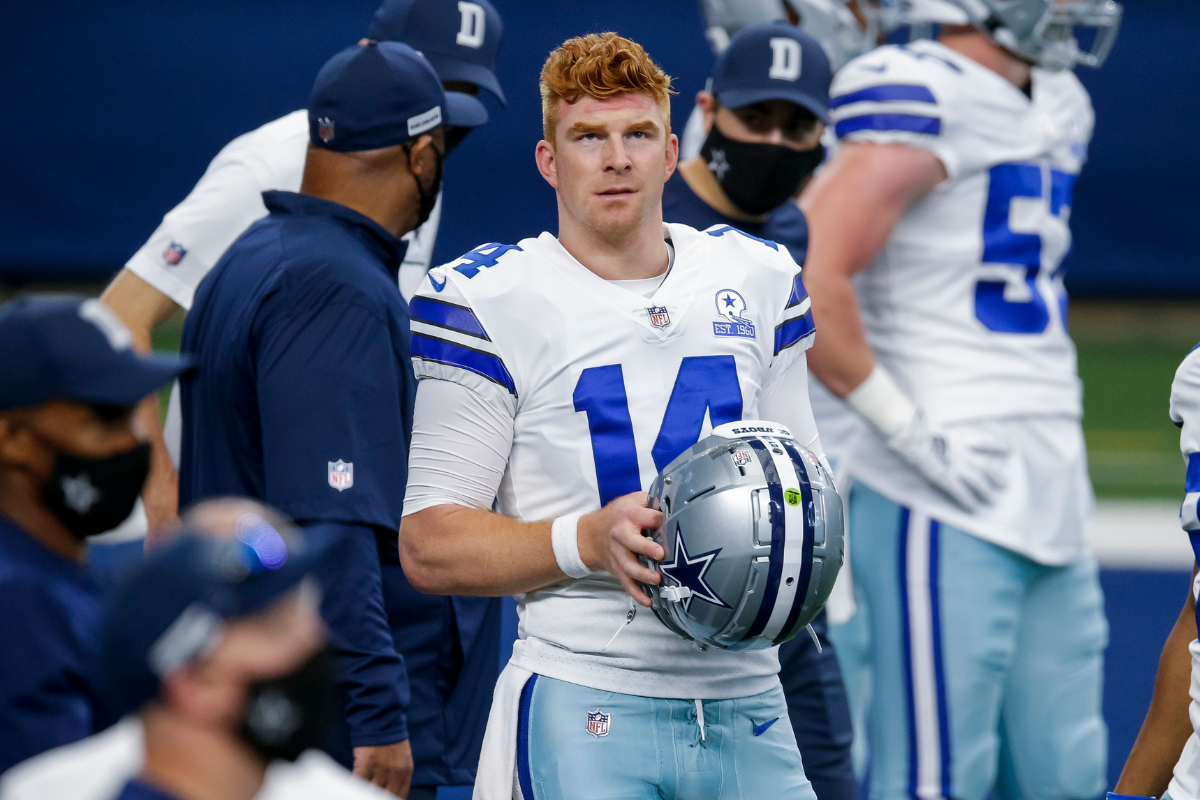 AP Photo/Brandon Wade
When Dallas Cowboys quarterback Dak Prescott went down with a gruesome ankle injury this season, a backup with red hair colloquially known as "The Red Rifle" was thrusted into the starting quarterback role of America's Team.
Former Cincinnati Bengals quarterback Andy Dalton is no slouch, though. The former second-round pick in the 2011 NFL Draft played nine seasons in Cincinnati, Ohio, throwing for more than 200 touchdown passes and 30,000 passing yards while earning three Pro Bowl selections and five straight NFL playoff berths (take that, LeBron James) from 2011-15.
The Cowboys signed the veteran passer after the Bengals drafted Joe Burrow with the first-overall pick in the 2020 NFL Draft, and are probably happy they did. The $3 million, one-year deal that can become $7 million depending on incentives looks like a great deal in hindsight now that Prescott will be sidelined for the season.
Dallas fans will wonder about Andy Dalton's personal life as the season progresses. Let's meet his wife and three children, who I'm sure will become a trending topic at some point.
Who is Andy Dalton's Wife Jordan Dalton?
RELATED: Who Is New Orleans Saints' Drew Brees' Wife?
Andy Dalton grew up in Katy, Texas, and starred at Katy High School before earning a scholarship to play for Texas Christian University. While the college football quarterback developed into a two-time Mountain West Conference Player of the Year for the TCU Horned Frogs, he also met his future wife: Jordan Jones.
The pair tied the knot in 2011, per Heavy.com, and have been going strong ever since.
Jordan was particularly excited when Andy officially inked his contract with the Cowboys. The two call the Dallas-Fort Worth area home.
?We are so excited to be a part of this amazing organization!! Andy I couldn?t be more proud of the man you are! Watching you grow through these last 9 years in the NFL has been incredible! There is truly no one else like you! I can?t wait to see what God does this next season of life!! I am so proud of you! Go Cowboys!!? Jordan wrote on social media.
They aren't quite at the level of Tom Brady and Gisele Bündchen, but they're a pretty adorable pair.
The Andy & Jordan Dalton Foundation
The Daltons have a charity they dedicate much of their time and effort to: The Andy & Jordan Dalton Foundation.
Its purpose to "show God?s love and grace while providing support, resources and experiences to seriously ill and physically challenged children and their families," according to its website. Jordan, who goes by JJ Dalton, serves as the vice president.
In 2017, the foundation received a wave of donations from Buffalo Bills fans who were thankful that Dalton threw a touchdown pass to wide receiver Tyler Boyd to defeat the Baltimore Ravens and send the Bills to the playoff for the first time in 17 years. The donations, many of which were $17, totaled hundreds of thousands of dollars.
Dalton and his wife then rented out billboards in Buffalo that said "Thank you Buffalo and good luck."
Sure, the Bengals may have finished 7-9 (the record as the Packers) in that 2017 season dominated by the New England Patriots, but at least they aren't the New York Jets or New York Giants.
How Many Kids?
The Daltons have three young children together.
Jordan gave birth to their first child, son Noah, in June 2014. They welcomed a second son, Nash Dalton, in March 2017. The first daughter, Finley Jones Dalton, was born in January 2019.
Andy posts pics of his family constantly on Instagram, and he seems to enjoy fatherhood. In May 2020, he wished Jordan a happy Mother's Day with a sentimental message.
"Happy Mother?s Day @jjdalton5! You are the best mom to Noah, Nash, and Finley. We love you so much!!" he wrote.
Hopefully Andy Dalton can find his way back to the playoffs and maybe even a Super Bowl in the coronavirus pandemic and COVID-19-plagued season. Even if he doesn't, at least he's got a great family at home.