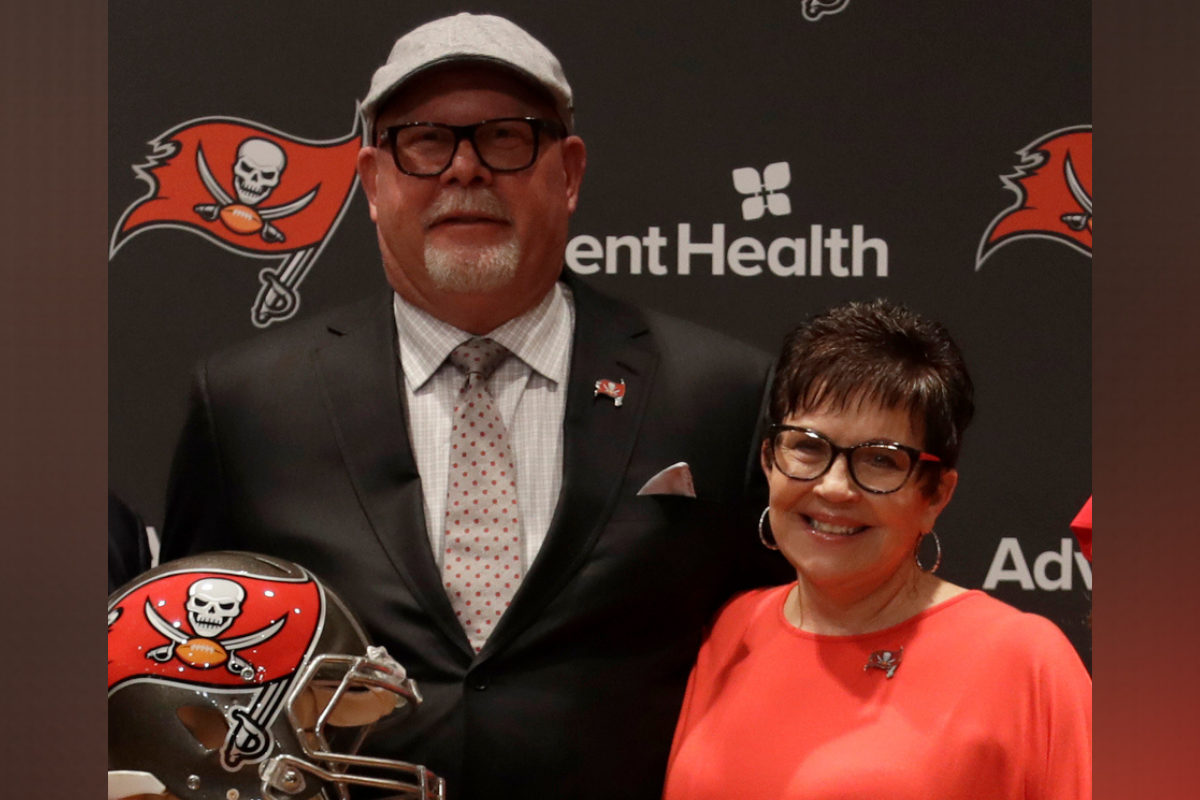 AP Photo/Chris O'Meara
Bruce Arians has been on the sidelines of a football field since 1975, the same year Fran Tarkenton won the NFL MVP award and O.J. Simpson led the league in rushing yards
The Tampa Bay Buccaneers head coach has become recognizable for his Kangol hat adorned atop his bald head. At 68 years old, he'll coach Tom Brady and the Bucs against Patrick Mahomes' AFC-winning Kansas City Chiefs in Super Bowl LV in Tampa, Florida.
This Super Bowl isn't Arians' first rodeo. He won two with the Pittsburgh Steelers as a wide receivers coach and then as offensive coordinator, which helped propel the two-time NFL Coach of the Year to where he is today.
Bruce Arians has compiled more than 40 years of coaching experience. By his side the entire time has been his wife Christine Arians.
Bruce Arians Wife
RELATED: Patrick Mahomes & His Fiancée Started Dating in High School
Through the ups and downs, Bruce's wife Christine has always been right there for him. The two have been married for nearly 50 years, which is impressive considering he isn't even 70 yet.
According to an archived story from the York Daily Record, they tied the knot in June 1971 while Bruce was still in school at Virginia Tech. Bruce's brother, Dennis Arians, served as his best man.
Christine and Bruce grew up in the same hometown of York, Pennsylvania. He attended William Penn Senior High School while she graduated from York Catholic High School, where she was a cheerleader.
She still remembers the moment their lips locked for the first time when they were in high school.
"I can tell you about that first kiss," she told the Tampa Bay Times in 2019. "That would have been sophomore year, after a football game. My friend Joan's house had an alley behind it. I stood on a cinder block, because I'm a lot shorter than him. But that first kiss was memorable. We've been married 47 years. We still remember that first kiss."
After high school, Christine attended York College in Queens, New York City, according to the York Daily Record. She eventually got her undergraduate degree and law degree from Temple, where Bruce was a head coach.
Her husband played college football for the Virginia Tech Hokies in the early 1970s. By his senior season in 1974, he served as the team's starting quarterback.
In 1975, Bruce began his coaching career as a graduate assistant at his alma mater. Since then his career stops have included in the NCAA at the University of Alabama and all over the NFL:
Mississippi State, wide receivers coach & running backs coach (1978? 1980)
Alabama, running backs coach (1981?1982)
Temple, head coach (1983?1988)
Kansas City Chiefs, running backs coach (1989?1992)
Mississippi State, offensive coordinator (1993?1995)
New Orleans Saints, tight ends coach (1996)
Alabama, offensive coordinator (1997)
Indianapolis Colts, quarterbacks coach (1998?2000)
Cleveland Browns, offensive coordinator (2001?2003)
Pittsburgh Steelers, wide receivers coach (2004?2006)
Pittsburgh Steelers, offensive coordinator (2007?2011)
Indianapolis Colts, offensive coordinator & interim head coach (2012)
Arizona Cardinals, head coach (2013?2017)
Tampa Bay Buccaneers, head coach (2019?present)
Bruce's Cancer Scares
Bruce Arians has had three different cancer scares over the years, one of which forced him into brief retirement.
He's had cancerous tumors removed from three different areas of his body. According to Yahoo Sports, they included prostate cancer in 2007, skin cancer in 2013 and renal cell carcinoma in his kidney in 2016 and 2017.
Arians walked away from football after the 2017 season while he was head coach of the Arizona Cardinals, the same time quarterback Carson Palmer retired. He spoke in January 2018 about the conversations he and his wife had regarding his health.
?It was time for my wife,? he said, according to CardsWire. ?She was done, and God bless her, 47 years in this business is enough.?
Bruce then joined CBS Sports as an analyst for NFL on CBS. At the time, the couple were living at their lake house in Georgia.
Christine told the Tampa Bay Times after she heard him curse on live TV she knew he needed to be back on the sidelines.
"You know what, he's going to have health scares no matter what he does," she told The Times. "He could be sitting in the recliner at home. But when I heard the excitement in his voice I thought, my gosh, this is so much better for him than sitting at home."
She's a Businesswoman
Christine is more than just a wife of an NFL head coach.
While Bruce coached the Cardinals, she volunteered as a court-appointed special advocate (CASA) for at-risk children, per the Tampa Bay Times.
She began a business called "The Zone," which was designed to help clients of high stress relax. She bought a "specially designed relaxation booth" as part of it.
In 2017, The Zone was acquired by the American Center for Biological Medicine in Scottsdale, Arizona.
Christine also helps run the Arians Family Foundation, which raises funds to support children in foster homes.
How Many Kids Do They Have?
The Arians have two children, son Jake Arians and daughter Kristi Anne Arians.
Jake at one point played placekicker for the Buffalo Bills in 2001 and played college ball at UAB. The 42-year-old now serves as president of the Arians Family Foundation.
They also have two grandchildren, one of which is named Presley Arians and works in the social media department for the Dallas Cowboys.
Buccaneers head coach Bruce Arians coached the Buccaneers through the playoffs (even beating the Green Bay Packers) in 2020-21 despite being considered a high-risk candidate in the coronavirus pandemic.
Whether Arians finishes his four-year contract or retires against from the National Football League, he'll always be an NFL coaching legend.