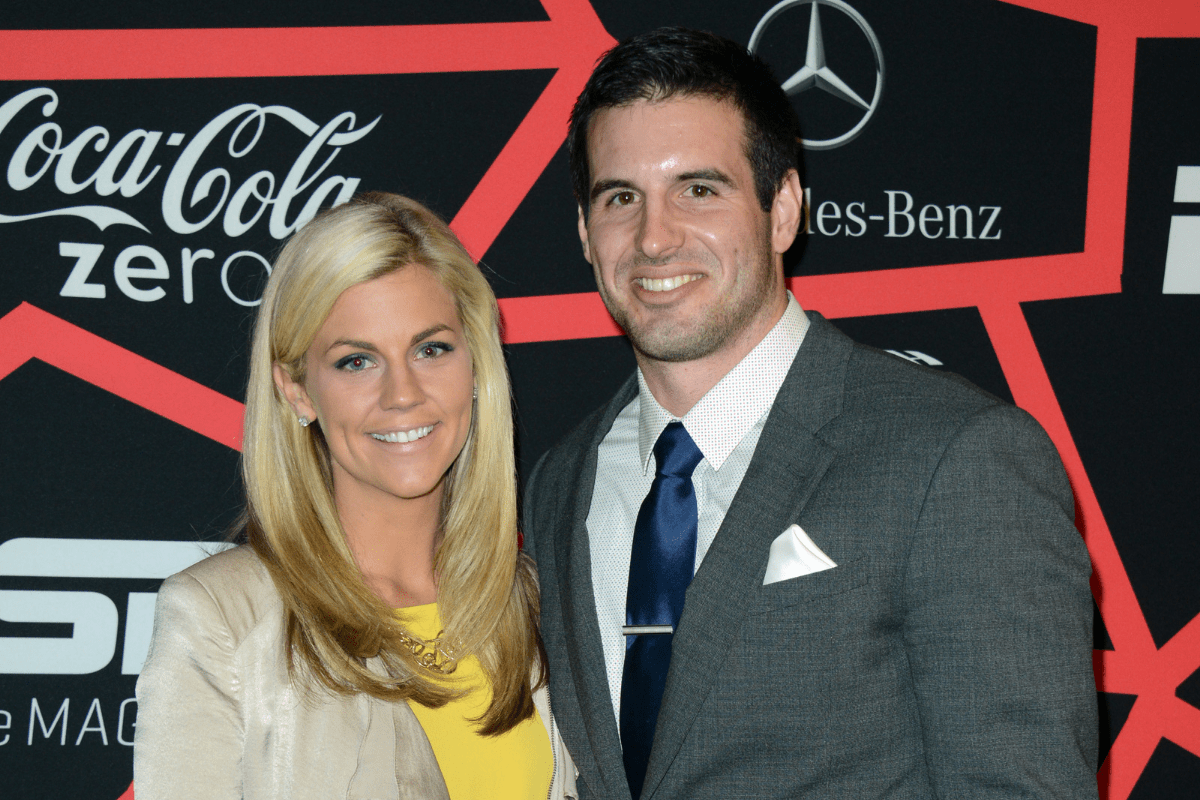 Photo by Jordan Strauss/Invision/AP
When it comes to weddings, everyone has their own unique style and preference. Some want an elaborate celebration. Others want to only be surrounded by family and close friends; There?s no right or wrong way. Christian Ponder and Samantha Steele made it very clear they just wanted to be with each other.
Ponder, the former star at Florida State and NFL quarterback with the Minnesota Vikings, and Steele, who is famous for her work at ESPN, fell in love instantly. They dated for only a very brief time before getting engaged. They were ready to settle down with each other.
On December 17, 2012, the couple got married at a courthouse in Wisconsin. Neither is from there, but that?s what they did. The newlyweds even had fast food as their wedding meal and named their first kid after Bobby Bowden.
Everything about their courtship and marriage was far from what many would have guessed at the time, but it was perfect for them.
Who is Christian Ponder?s Wife?
RELATED: Erin Andrews? Husband Sneaked Past Security to First Ask Her Out
If you are a college football fan, you know all about ESPN reporter Samantha Steele. A Phoenix, Arizona native, the former high school star athlete turned heads as a sideline reporter on ESPN?s Thursday Night College Football and eventually on College GameDay during Saturdays in the fall.
Steele was a household name. She still is today in hosting Sunday NFL Countdown. But one day, former Minnesota Vikings QB Christian Ponder sent her a direct message on Twitter and their lives changed forever.
?He started sending me messages on Twitter. I?m like, ?Why is this old Florida State quarterback messaging me? This is weird.? He was always asking me random questions about living in Austin,? she told TwinCities.com. ?Nothing creepy, but that was our original connection. Our version of Christian Mingle was on Twitter.?
They hit it off right away and were engaged that December, when Christian asked her to marry him with some Christmas lights. Life came at them fast, and they would soon be married at that courthouse in Hudson, Wisconsin.
As for their wedding meal, they went to Arby?s. No joke.
?We get way more attention than we ever deserve or need or want, because of our jobs,? Samantha Ponder said back in 2013. ?I don?t need a day that?s all about me. I was happy to go get married.?
Christian and Samantha Ponder even attended an Ugly Sweater Party for the Vikings offensive linemen that same night. They, of course, didn?t have sweaters for the occasion, so they went to the mall beforehand.
Nobody knew they got married until the following day. They had a proper ceremony and reception that April.
The Ponders now have a beautiful story and a beautiful family.
Christian & Sam Ponder?s Kids
Christian and Sam Ponder have three kids. Their oldest daughter, Bowden Sainte-Claire Ponder, was born in 2014. She was named after legendary Florida State coach Bobby Bowden and called ?Scout? after the narrator of ?To Kill a Mockingbird.?
The couple?s second child and first son, Robinson True Ponder, was born in 2017 and named after baseball legend Jackie Robinson and former NBA superstar David Robinson.
The Ponders welcomed another daughter, Price Ponder, in 2018.
They currently live in New York City and Phoenix.
Where is Samantha Ponder Today?
Today, Sam Ponder, who once was a sideline reporter for the Longhorn Network, still works at ESPN as the host of Sunday NFL Countdown.
As for Christian Ponder, the former first round pick in the 2011 NFL Draft who often drove Minnesota Vikings fans crazy since his rookie season, he has been a free agent since the end of the 2016 season.
He threw 38 touchdowns and 36 interceptions with the Vikings against the likes of the Detroit Lions, Green Bay Packers and Dallas Cowboys until he was demoted to backup quarterback behind Teddy Bridgewater. The former No. 12 overall pick also spent time on the rosters of the Oakland Raiders, Denver Broncos and San Francisco 49ers.
During the offseason, especially during the ongoing coronavirus pandemic and COVID-19 outbreak, the Ponders can be seen posting sports-related tweets and pictures of their kids on social media.
Whether it?s the preseason, the playoffs or Super Bowl, most everyone knows the Ponders during football season, but their story of how they met and got married is something nobody will forget, either.
This post was originally published on July 15, 2020.