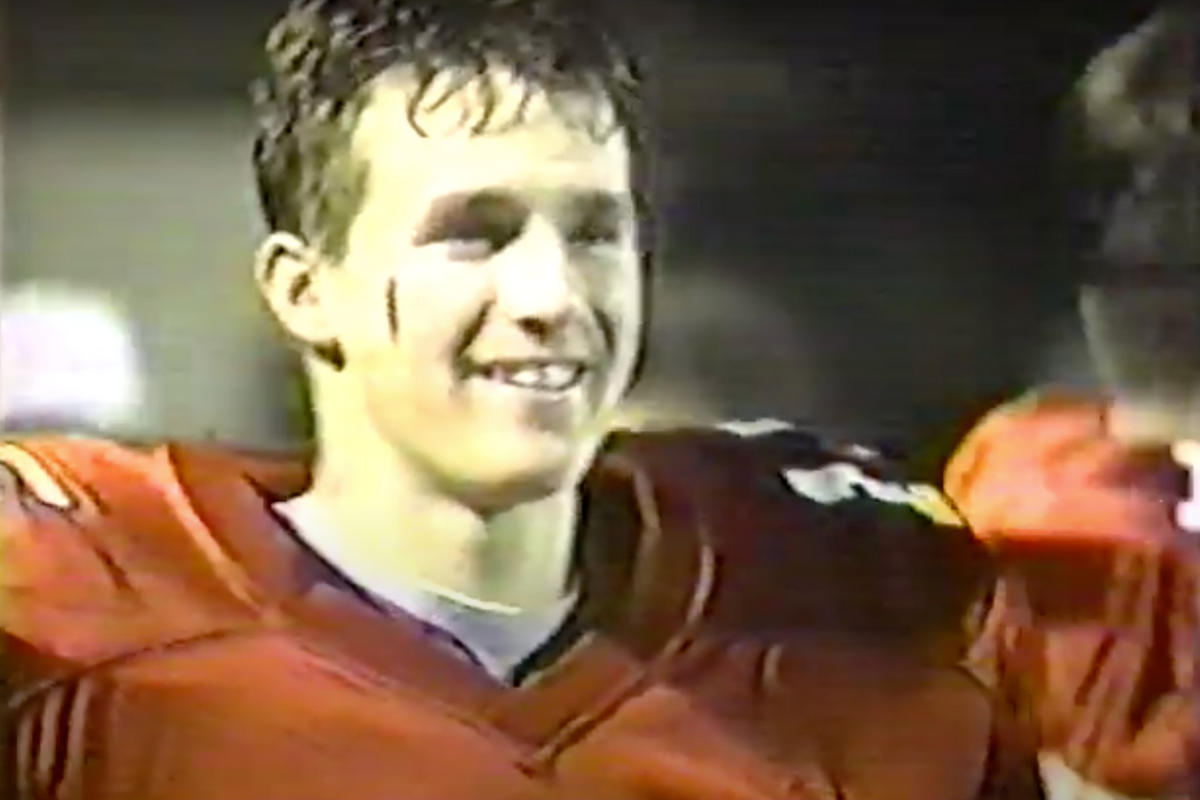 Screenshot from YouTube
The New England Patriots have Tom Brady. The Indianapolis Colts have Peyton Manning. The Green Bay Packers have Aaron Rodgers. And the New Orleans Saints have a 2000s legend in their own right in Drew Brees.
Before Brees was a Super Bowl champion and NFL superstar quarterback, he started in Austin, Texas, at Westlake High School. Born in Dallas, Texas, Brees moved when he was a kid and turned heads when he stepped on the field.
Let's take a look at his high school football highlights and incredibly storied career.
Drew Brees in High School
RELATED: Drew Brees Met His Wife After Downing 17 Shots on His Birthday
Football was in Drew Brees' genes. His uncle, Marty Akins, played for the Texas Longhorns, and his grandpa, Ray Akins, was a prolific coach.
Seen in his highlights, Brees has great instincts for a football player who didn't even participate in the sport until he was a teenager. His accuracy is evident, and his rollouts to avoid pressure look immaculate.
Following an injury, Brees started a two-year tenure on Westlake's varsity team. He started for the first time in his junior season and never looked back. During his senior season, the football team won the Texas high school state championship, and Brees was the architect of their success.
In 1996 alone, he threw for over 5,000 passing yards and 50 touchdown passes.
It was clear that Brees had pro football potential, and after weighing several Division I offers, he agreed to join the Purdue Boilermakers.
Drew Brees at Purdue
Drew Brees' momentum only grew from there. As Purdue's starter, he threw 90 touchdowns and only surrendered 45 interceptions.
Purdue won the Big Ten in 2000, and thanks to his impressive statistics, Brees finished third in the Heisman Trophy voting that year. Under head coach Joe Tiller, Brees evolved as a passer and was a surefire lock for the NFL.
Drew Brees in the NFL
Drew Brees was selected by the San Diego Chargers in the second round of the 2001 NFL Draft. He took the starting quarterback job over Doug Flutie the next season, and the Chargers started to take control of the AFC West.
In 2005, Brees had a solid season, but San Diego had Philip Rivers waiting in the wings. Brees became a free agent, and after nearly agreeing to a deal with the Miami Dolphins, decided to call the Superdome home. It would be the best decision No. 9 would make in his life.
With the New Orleans Saints, Brees transformed from a solid quarterback to an MVP candidate year in and year out. He was named to the Pro Bowl a dozen times won 142 regular-season games and an additional nine playoff contests in Louisiana.
After winning Super Bowl XLIV, the Saints had notable postseason struggles (against the Vikings, Rams, and Buccaneers), but they didn't diminish Brees' value to the team. He set several NFL records and is a lock for the Pro Football Hall of Fame.
After losing to the Bucs in 2021, there has been rampant speculation that Brees will retire in the offseason.
If this is it, it was a tremendous career that spanned over two decades, and it all started at Westlake High School.