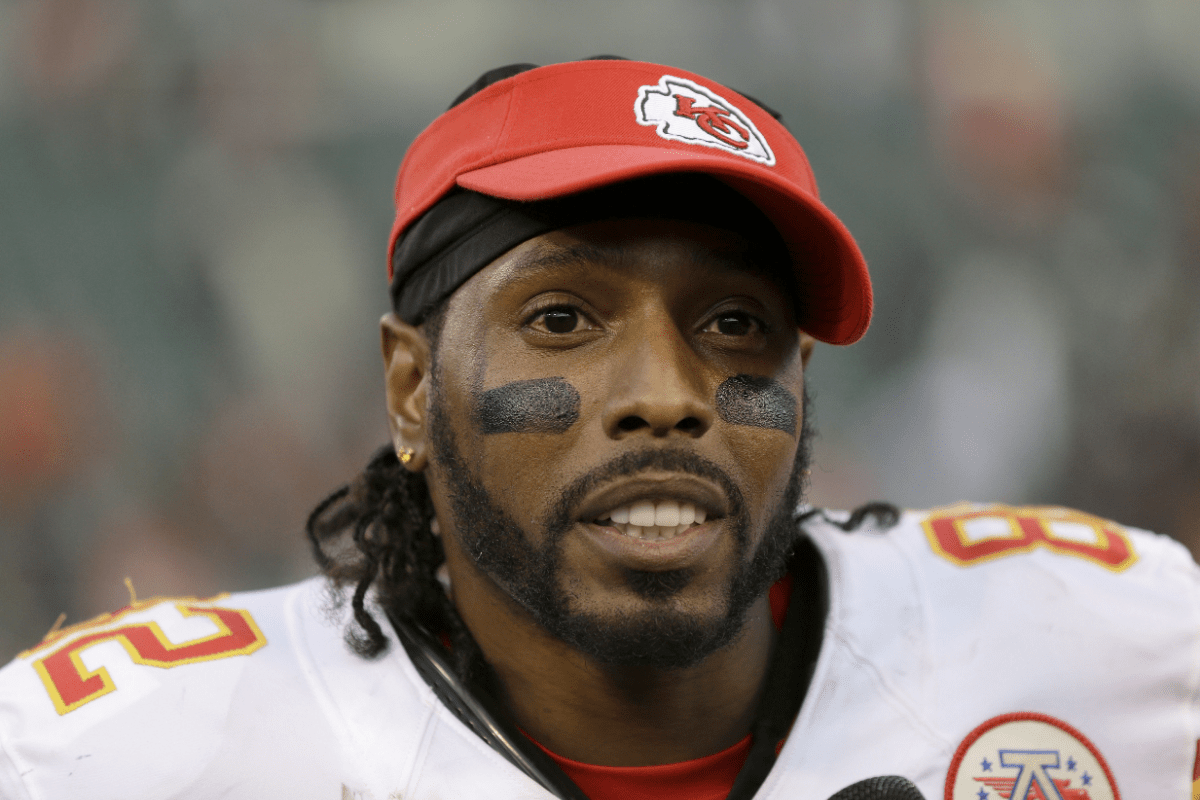 AP Photo/Marcio Jose Sanchez
At the pinnacle of his career, former NFL wide receiver Dwayne Bowe was a touchdown machine. The dude whose name many fantasy football team managers used because it sounded like "The Rainbow" caught 44 touchdowns over nine seasons in the NFL.
Originally from Miami, Florida, Bowe starred at Miami Norland High School, the same school former Pittsburgh Steelers wideout Antonio Brown made a name for himself at. Bowe then played for Nick Saban at Louisiana State University, where he won a national championship in 2003 and caught passes from JaMarcus Russell.
Bowe compiled more than 2,400 receiving yards and 26 touchdowns in Baton Rouge, and the Kansas City Chiefs selected the 6-foot-3 receiver in the first round of the 2007 NFL Draft. Bowe and LSU's Craig Davis became just the third wide receiver tandem from the same school to be taken in the first round together.
Bowe gained notoriety while playing for the Chiefs before the Patrick Mahomes-Tyreek Hill-Travis Kelce era under Andy Reid.
As a lethal wideout weapon for quarterbacks like Matt Cassel, Damon Huard and Alex Smith, Bowe led the league in receiving touchdowns (15) as a Pro Bowl player in 2010. He posted three 1,000-yard season and made more than $54 million with the Chiefs and Cleveland Browns before signing a one-day contract and officially retiring in May 2016.
These days, the 36-year-old is appearing on TV in a different capacity.
Dwayne Bowe Now
RELATED: Roberto Aguayo Was College Football's Best Kicker, But Where Is He Now?
Dwayne Bowe was used to stealing the show on the gridiron, and now he's starring on a reality TV show.
Bowe and his wife, Theresa Bowe, starred on the Oprah Winfrey Network show "Love Goals" in 2020. The show, which premiered in March, is centered around celebrity couples receiving counseling to overcome challenges in their relationships.
The Bowes, who have been together for more than a decade but married in 2018, starred alongside people like former Salt-n-Peppa member Dee Dee Roper and rapper Coolio.
Plenty of clips from the show can be found on YouTube. A lot of it is deep, emotional stuff, so keep the tissue box nearby.
Bowe also launched a rap career since hanging up the cleats.
Under the named "MoneyBo," he's released an album and a mixtape. The former NFL player has performed on stage in Miami and live on the "Sway In The Morning" show.
According to his music website, Bowe is pretty serious about his rap career:
"MONEYBO has worked hard on his rap career since his NFL retirement and the hardwork is evident. Dwayne "MONEY" Bowe isn't here to play, but instead aiming to literally break more records! Being known for record breaking NFL seasons, pro bowl appearances and many other accolades, he's stepped into the music industry with the mindset to win," the website reads.
Dwayne Bowe Wife & Kids
Theresa graduated from Park University and has worked as a real estate agent and author. Both Dwayne and Theresa Bowe have faced challenges in their lives.
Dwayne had a troublesome childhood. He was raised by his grandmother and has seen siblings face murder charges, according to KansasCity.com, Theresa revealed on "Love Goals" that she was sexually abused as a child by someone in her household.
They started the Dwayne Bowe Foundation to assist grandparents that are raising their grandchildren. Just this year, the organization raffled off a Dodge Charger.
The Bowes have two children, son Dwayne Bowe Jr. and daughter Rayne Bowe. Rayne may already be more of a fashion queen than her parents.
Don't expect Bowe to be making a comeback any time soon for teams like the Seattle Seahawks, Cincinnati Bengals, Chicago Bears, Denver Broncos, New England Patriots, Houston Texans, Arizona Cardinals or New York Jets. It looks like he's happy with what he's doing.