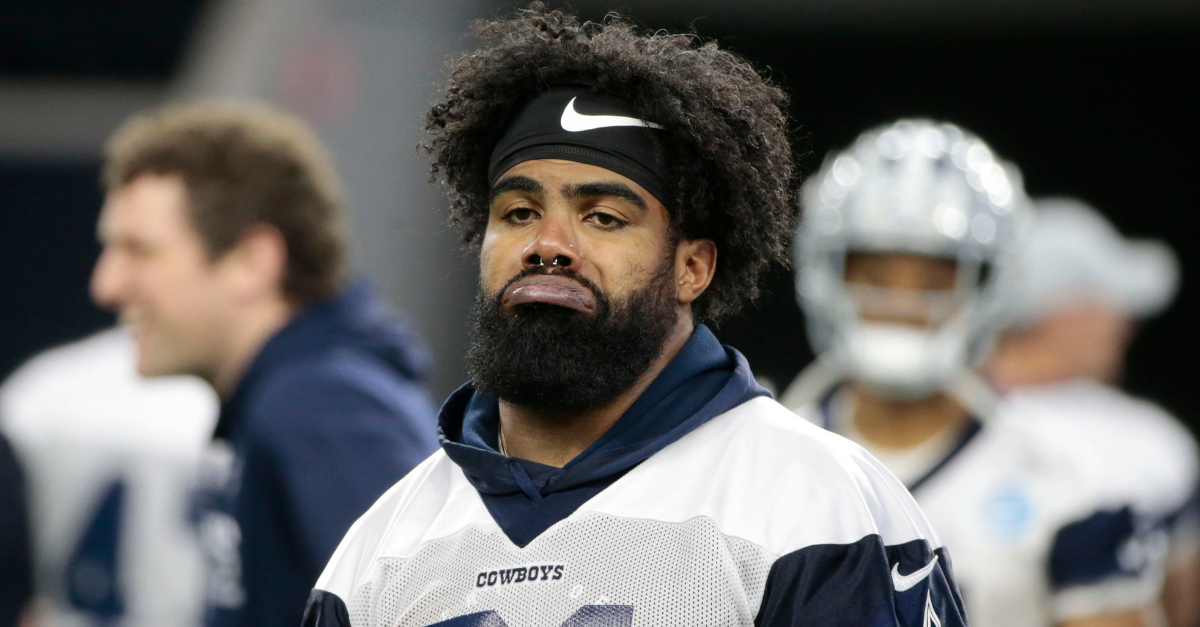 AP Photo/Michael Ainsworth
It?s been quite the interesting offseason for Dallas Cowboys running back Ezekiel Elliott. The two-time Pro Bowl selection got a tattoo of himself, was called fat by social media, and was even put in handcuffs at a Las Vegas music festival. And just when everyone thought football returning would help, there?s still a chance the 24-year-old sits out until he gets the money he wants.
Before Elliott even played a single down in the NFL, he signed a rookie contract worth $24.9 million with a $16.3 million signing bonus. That?s obviously a big contract for the former first round pick (No. 4) overall in the 2016 NFL Draft, but the 6-foot, 225-pound superstar feels he has backed up his play enough to earn an even bigger payday.
That might mean not reporting this week when the Cowboys open their training camp, according to NFL Network Insider Ian Rapoport.
RELATED: Melvin Gordon to Chargers: Pay Me or Trade Me
The superstar many call Zeke will not be suspended for the Las Vegas incident, and he is not injured. However, contract negotiations could determine whether or not he reports to training camp with his teammate on Friday.
"From what I'm told, as recently as yesterday, all options are still on the table. (Elliott) still has not yet firmly decided whether or not he is going to hold out. If he does not hold out, that means contract talks are going in the right direction or at least he trusts the Cowboys to get a deal done.?

? NFL Network Insider Ian Rapoport on Good Morning Football
The Dallas Cowboys need a running back like Ezekiel Elliott. They also need a quarterback like Dak Prescott. Paying both players to a contract extension and long-term deal is exactly what owner Jerry Jones should want if his franchise wants to stay competitive in the NFC East for years to come, but the fact this might mean he doesn?t report to camp on time is a little alarming.
Ezekiel Elliott Contract
According to NFL.com, Elliott, the former Ohio State star, will earn $3.953 million in 2019 and a little over $9 million on a fifth-year option. That seems like a steal for a player with over 4,000 yards and 30 total touchdowns in just 40 career games, which is why he wants his money now.
The Los Angeles Rams gave star Todd Gurley a four-year deal last year. The New York Jets paid Le?Veon Bell his money during free agency. If there are still playoff hopes at AT&T Stadium, giving Elliott a new contract would be a wise idea so there is no holdout.
There?s still a lot of time before the start of the regular season, and it?s not uncommon for NFL players to sit out until a new deal is done, but obviously the sooner, the better.