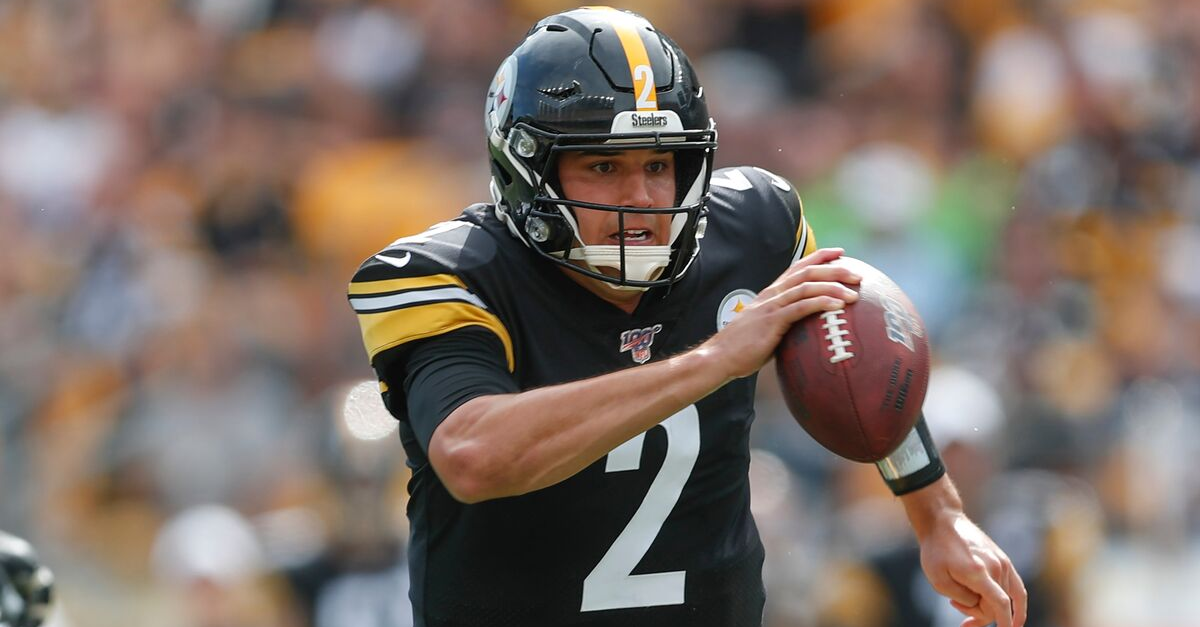 AP Photo/Don Wright
I watched Pittsburgh Steelers quarterback Ben Roethlisberger beat the Baltimore Ravens on a bum foot AND a broken nose. I saw a 24-year-old kid nearly kill himself in a motorcycle accident that left him with multiple facial fractures, plus a broken upper and lower jaw, yet he returned for the NFL season. I've seen the greatest statistical QB in franchise history (Sorry, Terry.) limp around the field time-and-time again, leading Pittsburgh to over 140 wins and two Super Bowl titles.
But when I watched the ironman stand idle on the sidelines with a right elbow injury, I couldn't get over the feeling that his career was over in that moment.
Roethlisberger received treatment on his throwing elbow prior to Sunday's game against the Seattle Seahawks, but he just wasn't himself. It was later revealed that the 37-year-old future Hall-of-Fame quarterback needed season-ending elbow surgery. For many in Steeler Nation, this sounded like the end of the road after only two weeks, both losses to Seattle and the New England Patriots.
However, one man has awaited this opportunity. His name is Mason Rudolph, and he's the future of the Pittsburgh Steelers.
Mason Rudolph's College Stats
During the 2018 NFL Draft, Pittsburgh traded two picks to move up and select the former Oklahoma State Cowboy with its third-round pick at No. 76 overall. Rudolph was the sixth quarterback taken in that draft behind Baker Mayfield (1st overall), Sam Darnold (3rd), Josh Allen (7th), Josh Rosen (10th) and Lamar Jackson (32nd). Despite winning the Johnny Unitas Golden Arm Award as college football's top senior QB in 2017, many didn't believe in the All-American.
But why didn't they? Rudolph set Oklahoma State career records for passing yards (13,618; 11th-most in CFB history), touchdown passes (92), total offense (13,606) and total touchdowns (109). He also set single-season marks for passing yards and touchdowns, plus the single-game record for passing yards with 542 against Pittsburgh in 2016.
This man set no fewer than 54 school records for crying out loud.
Rudolph is 6-foot-5 and 235 pounds, and he has a rocket launcher attached to his shoulder. His father, Brett, was a college football player at North Carolina. His brother is a starting defensive end for the Clemson Tigers. Football is in his blood, but still, NFL scouts weren't convinced.
"I saw him get better with pressure coming at him. He's not ready-made by any means, but he's got some tools to work with," an anonymous scouting director said during Rudolph's pre-draft evaluation. "You need to rewire him just a little, but he's got a good build, good experience and he talks like a leader should talk."
After a full season sitting and watching a Hall-of-Fame quarterback like Big Ben, I believe in Mason Rudolph in 2019.
Mason Rudolph's Pittsburgh Steelers
RELATED: Steelers' James Conner on Cancer Diagnosis: 'I Had a Week to Live'
This kid is a stud in the making. He played so well this preseason that Pittsburgh traded away his only competition in backup quarterback Josh Dobbs. Coming in cold against Seattle's defense, Rudolph finished 12-of-19 for 112 yards and two touchdowns. His lone interception sailed right through Donte Moncrief's wide-open hands, bounced high into the air, and was picked off.
When you hear what other Steelers say about him, it sounds like this 24-year-old kid has been a professional for years.
"He wants this," offensive lineman Ramon Foster said.
"He is going to throw the ball and make his reads," tight end Vance McDonald said. "I think he is very deliberate about that and that is something we can look forward to on offense."
"I think one of the things that really attracted us to him was that level of aggression, the way that he attacked defenses vertically and threw the ball," head coach Mike Tomlin said back in August. "I know that's his style, that's his demeanor and it's showing more and more consistently."
To say the Steelers' 2019 season is done after two weeks simply wouldn't be true. To say that Big Ben's loss at starting quarterback is easily replaceable also wouldn't be true. All I'm saying is that before everyone closes the book on Pittsburgh, take five big steps backwards and look at the facts.
Rudolph is a legit NFL prospect. His go-to wide receiver in college, James Washington, plays for Pittsburgh opposite Pro Bowl pass catcher JuJu Smith-Schuster. This team is young and motivated, and now, they're playing with a purpose.
I believe in Mason Rudolph. It's time you did, too.