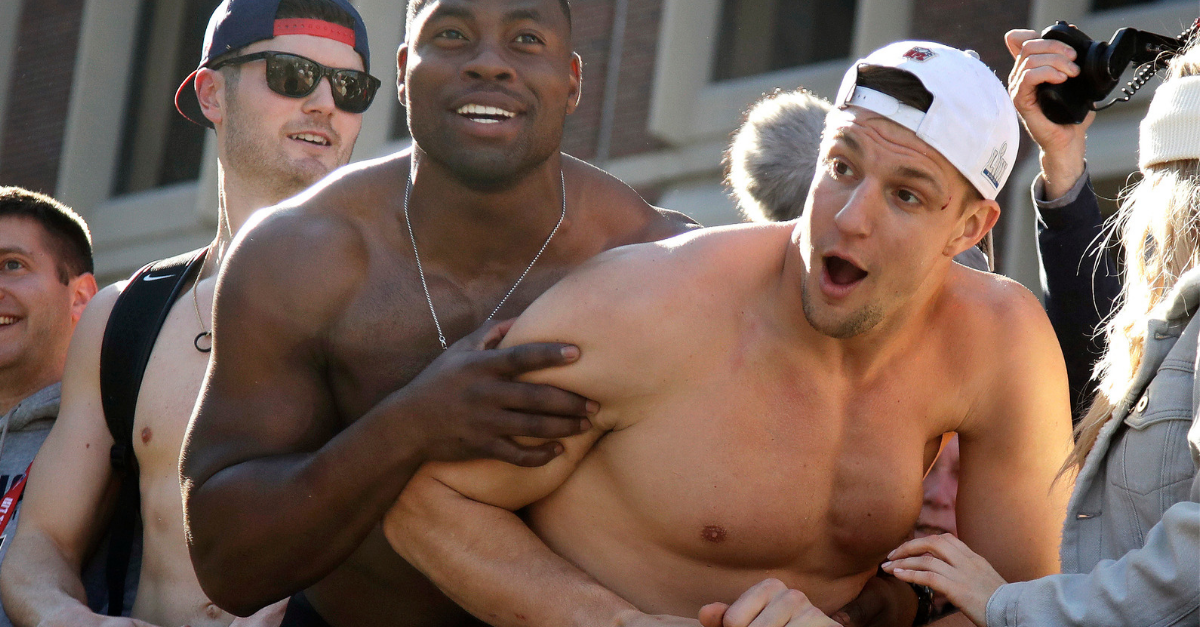 AP Photo/Elise Amendola
Former New England Patriots tight end Rob Gronkowski has never been mistaken for a genius. One of the greatest physical specimens in NFL history has a God-given ability that anyone would love to have, but he pairs it nicely with a dash of stupidity and only a handful of common sense. It's always just "Gronk being Gronk," but sometimes Gronk doesn't know when to stop.
New England was honored at the Boston Red Sox's home opener at Fenway Park. While the Sox received their World Series rings on Opening Day, several Patriots players waited in a nearby tent before throwing out the ceremonial first pitch. A few players, including Super Bowl MVP Julian Edelman, began tossing some warmup pitches. When there's action around, you know that No. 87 won't be far behind.
Naturally, Gronk hammed it up and made sure to throw a pitch so hard that it ripped the tent's wall. Then, he took it one step further, grabbed the sacred Lombardi Trophy, and "stepped up to the plate."
"Gronk thought of a great idea," defensive back Jason McCourty said. "He'd play around and get a swing in. So he's lined up, [Julian Edelman] is the pitcher. Gronk's standing there, and I think we're all under the impression, 'No way is he going to swing a Lombardi Trophy.'"
Oh, Jason. It's like you don't know Rob Gronkowski at all.
RELATED: Jay Cutler ?Sucked Harder Than He?s Ever Sucked? to Unclog Wife?s Milk Ducts
At the last second, Gronk squared up and bunted the baseball, leaving a perfectly-round dent right on the back of the New England franchise's sixth Lombardi Trophy. Consider it a parting gift for his years of service.
"If anybody could do it and get away with it, it'd be Mr. Gronkowski himself," defensive back Duron Harmon said. "He has now left an everlasting mark so that people will never forget that he was a part of that championship team."
Of course it's funny that Gronkowski used the Super Bowl Trophy as a baseball bat. I mean, he's gotten away with so much worse in the past that using the Lombardi Trophy ? the goal for millions of players who won't ever see it ? like a toy is just another notch his belt of stupid ideas.
Tom Brady and company may have lost Gronkowski to retirement after their Super Bowl LIII victory, but now Robert Kraft's organization must move on without arguably their best player and biggest headache on the team.