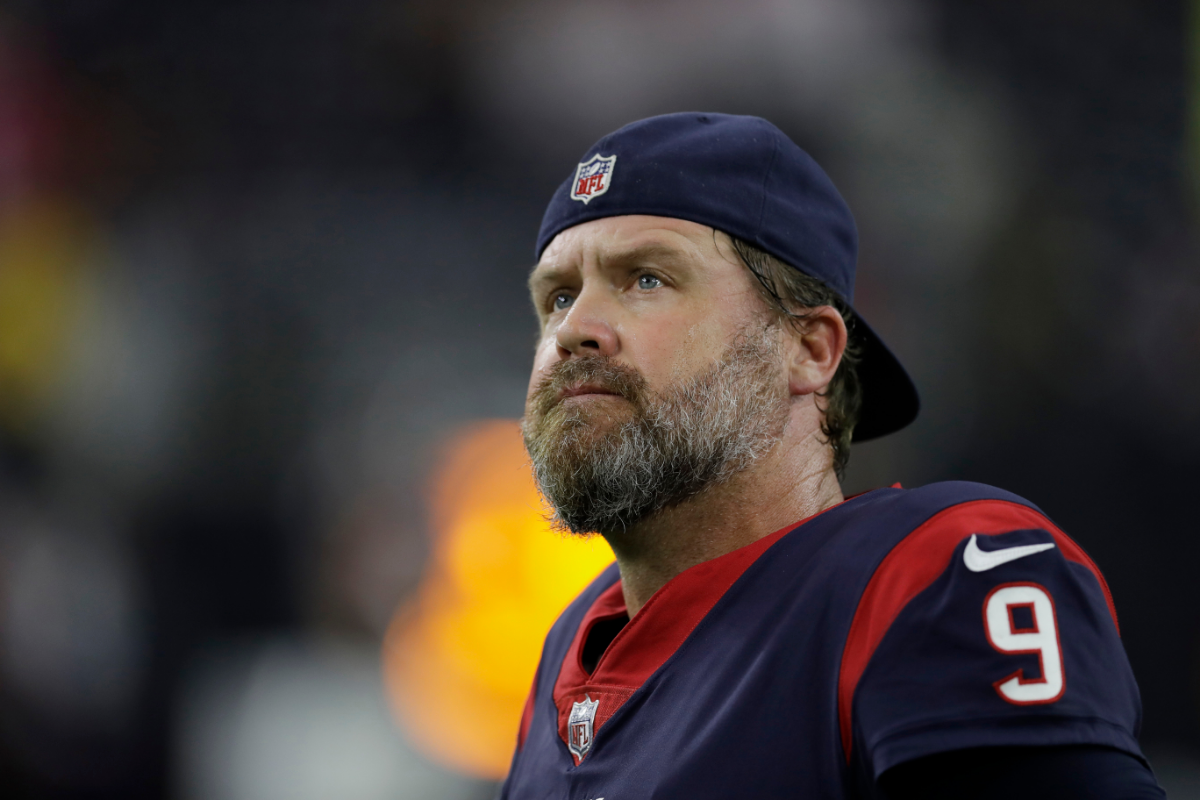 AP Photo/David J. Phillip
Special teams players typically don't get the recognition that they deserve. Some kickers, like Sebastian Janikowski, are beloved to fans because of their clutchness and longevity. Others, like Cody Parkey, miss important kicks and receive death threats.
Punters are a completely different story. They oftentimes go unnoticed, unless they look like Miami's scary Australian punter or are as funny and entertaining as Pro-Bowler Pat McAfee.
These forgotten ball-booters can sometimes be a team's most potent weapon. Take, for example, Alabama coach Bear Bryant's strategy in Kenny Stabler's "Run in the Mud" Iron Bowl game. The Crimson Tide sometimes even punted on third down depending on the wind's direction.
That being said, I'm here to tell you who the greatest punter in football history is: longtime Oakland Raiders and Houston Texans punter Shane Lechler, the pride of Texas A&M University.
NFL analyst Gil Brandt named Lechler the greatest punter of all time, even ahead of Ray Guy, who has an award named after him. The greatest part is you were probably privileged enough to watch him pin back punt returners before he retired.
College Career at TAMU
RELATED: Johnny Manziel Hilariously Rooms With Roger Staubach in Heisman Commercial
Lechler wasn't your average goofy kicker or punter in high school. He was a four-sport star for East Bernard High School in East Bernard, Texas, where he played quarterback, punter and kicker.
Not only did he pass for 5,000 yards in his prep career, he averaged more than 40 yards per punt and even booted one 85 yards. All as a teenager.
What made Lechler such a weapon for the Aggies from 1996-99 was his versatility. He punted. He kicked off. He drilled the long field goals. He was even the team's emergency quarterback.
TAMU coach R.C. Slocum even called his gifted punter the football team's most valuable player during his time in Aggieland.
I mean, just look at this 80-yard bomb.
Lechler was a part of the Aggies' 1998 Big 12 Championship Game win over the Kansas State Wildcats, still TAMU's last conference championship.
The 6-foot-2, 240-pounder was known for his quick release and precision accuracy. In fact, he was only blocked once and returned for a touchdown once in his entire college football career.
Of course, Lechler racked up the awards in College Station. He was named a three-time First-Team All-Big 12 selection (1997-99), Associated Press First-Team All-American (1999) averaging 46.5 yards per punt and Sporting News All-American (1998) when he averaged 43.6 yards per punt.
Lechler would've undoubtedly won the Ray Guy Award for the NCAA's top punter had it existed when he played. It was first awarded in 2000 after his last season at TAMU.
When his time in Aggieland was up, Lechler finished holding numerous TAMU punting records and still holds the NCAA FBS record for most games with a 40-yard average or more (37). His career 44.69 average yards per punt is second in NCAA history.
NFL Career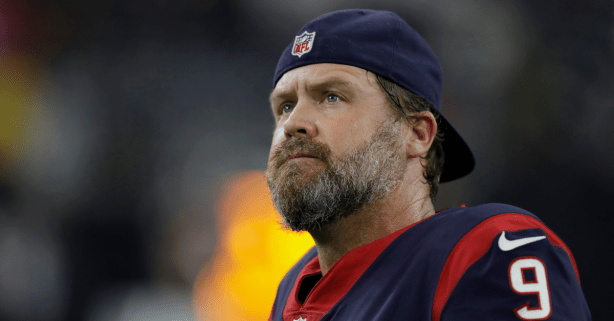 The Oakland Raiders took Lechler with their 5th round pick in the 2000 NFL Draft. In the same one, they selected Janikowski in the first round to form one of the most potent special teams lineups in the NFL.
Lechler's 18-year career included 13 seasons in Oakland before spending his last five back in his home state with the Houston Texans.
He punted more than 1,400 times in his professional career and is still the NFL's all-time leader for career punting average at 47.6.
As you might've guessed, Lechler's list of accomplishments in the NFL is impressive since making his rookie debut against the San Diego Chargers in 2000:
Seven-time Pro Bowl (2001, 2004, 2007?2011)
Six-time First-team All-Pro (2000, 2003, 2004, 2008?2010)
Three-time Second-team All-Pro (2001, 2007, 2011)
Four-time NFL Punting Yards Leader (2003, 2008, 2009, 2017)
Golden Toe Award (2009)
NFL 2000s All-Decade Team
NFL 2010s All-Decade Team
NFL 100th Anniversary All-Time Team
NFL career record of 47.6 average yards per punt
Lechler never won a Super Bowl, but he made the playoffs his first three years with the Raiders. They fell to the Ravens in the 2000 NFC Championship Game, the New England Patriots in the 2001 divisional round and the Tampa Bay Buccaneers in 2002's Super Bowl XXXVII after beating the Titans in the AFC Championship.
In February 2009, Lechler became the highest-paid punter in NFL history when he resigned with the Raiders on a four-year, $12 million deal contract extension.
When he left for Houston as a free agent, the Texans signed him for $5.5 million over three years. He would sign multiple one-year contracts with them until the Texans released him in 2018 after losing the job to Trevor Daniel in training camp.
He officially retired in the 2019 offseason at 42 years old.
According to Spotrac, Lechler made nearly $35 million over his career, which is the most ever for a punter.
Lechler has a great shot of donning that gold jacket and being enshrined in the Pro Football Hall of Fame after he's eligible in 2023, too. Ray Guy is the only other punter currently in Canton, but Lechler?s resume is clearly worthy.
Former teammate and Texans defensive end J.J. Watt seemed to think so, too.
As did McAfee, who couldn't make it to Lechler's retirement party but told a pretty good story involving the fellow punter.
Shane Lechler Wife & Retirement
Lechler retired in March 2019, so he may not have any immediate post-retirement career plans.
Maybe the 42-year-old is spending the time away from the gridiron with his family. Lechler, whose parents were both athletes at Baylor, is married to former All-American TAMU volleyball player Erin Gibson.
Punting must be in the Lechler blood, too, because his brother Derek was a punter for the Aggies as well.