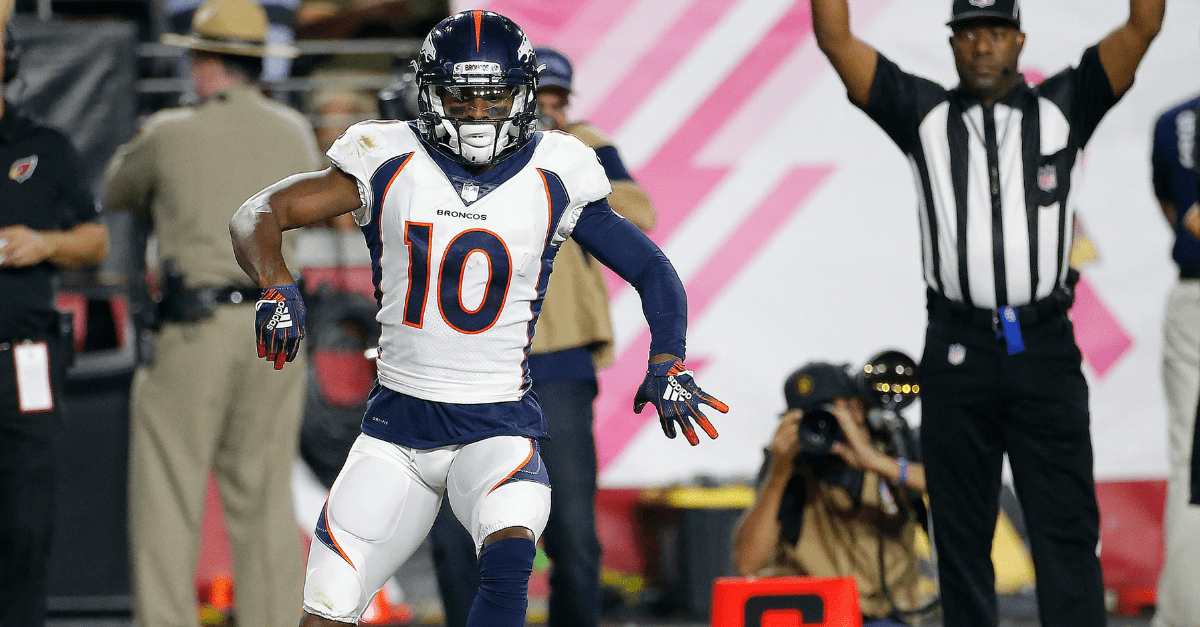 AP Photo/Rick Scuteri
AP Photo/Rick Scuteri
After NFL owners concluded their fall meetings without a new policy on the national anthem protests, it's finally back to what matters most: the actual football game. Week 7 of the NFL season kicked off on Thursday Night Football with two teams in need of a win to keep their season alive.
If you weren't able kept pace with everything happening on the "Sports Equinox," you probably missed Denver Broncos wide receiver Emmanuel Sanders post a stat line that no player wearing a Denver uniform has since 1986. The last player who Sanders matched on Thursday? That would be two-time Super Bowl champion and Hall of Fame quarterback John Elway.
In the first quarter, Sanders, a ninth-year pro who played college football for the SMU Mustangs, took a reverse from quarterback Case Keenum. Then, Sanders caught the Arizona Cardinals defense napping and launched a pass to rookie wide receiver Courtland Sutton, also a pass-catching product from SMU, who punctuated it with a diving catch for the trick-play TD.
RELATED: Iowa's Insane Formation Turned Into Ultimate Trick Play Touchdown
Early in the second quarter, Sanders caught a 64-yard touchdown from Keenum to officially become the first Broncos player with a TD pass and a receiving touchdown in the same game since Elway did it back in 1986 against the Oakland Raiders.
The two-time Pro Bowl selection also became only the sixth active NFL player to have a season in which he has thrown, rushed for, and caught touchdowns joining quarterbacks Andy Dalton, Marcus Mariota, Russell Wilson and Blake Bortles, and Chicago Bears running back Tarik Cohen, who was the only player to accomplish that feat last season.
Sanders finished his night with six catches for 102 yards and the lone touchdown grab in Denver's absolute rout of Arizona by the lopsided final score of 45-10, but no play was better than the trick play to start the night off with a bang.
Denver's defense returned two Josh Rosen interceptions for pick-six touchdowns on a night where they forced five turnovers and sacked the rookie Arizona Cardinals quarterback six times, two of them courtesy of All-Pro linebacker Von Miller.
Any time you do something that no one wearing the orange and navy blue has done since John Elway, that's going to give you bragging rights at Broncos Stadium in Mile High for a long time.