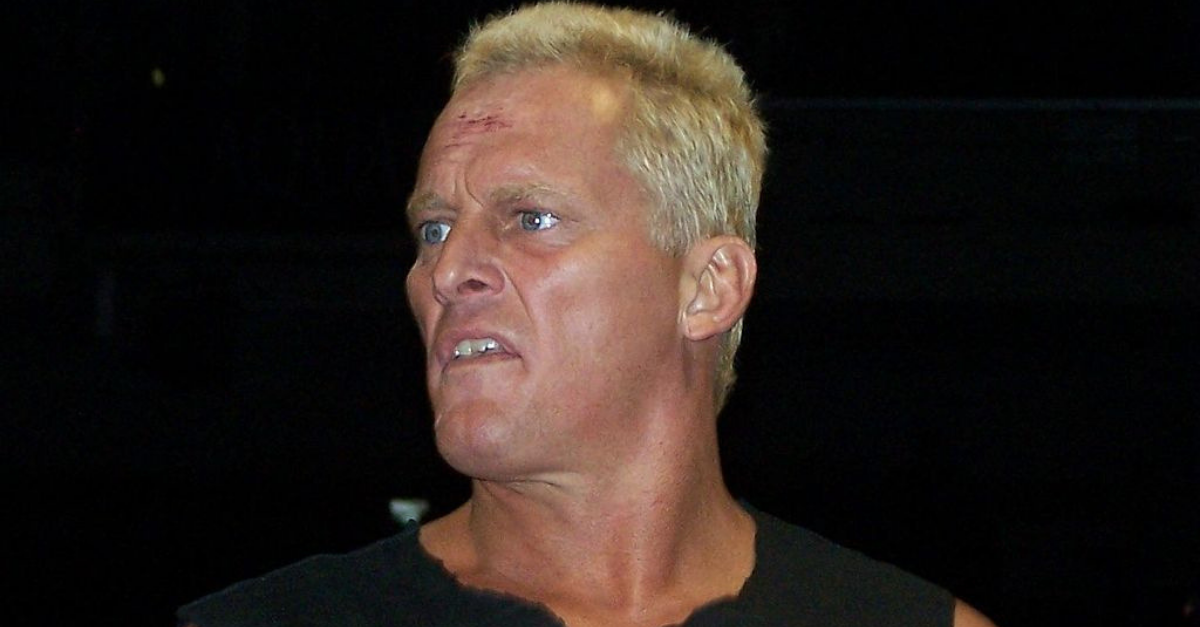 The Doppelgänger: Wikimedia Commons
During an evening in Milwaukee, Wisconsin, Tommy Dreamer was preparing for an Extreme Championship Wrestling event. All of a sudden, Rhino stormed in and told Dreamer that "The Sandman" Jim Fullington had injected Nubain and died in the car on the way to the show from a drug overdose.
However, he was revived, and competed the same night.
Tommy Dreamer stated in an interview with Steve Austin that manager Bill Alfonso got out of the car and took the drugs as Sandman was arriving to the emergency room to prevent any further investigation, and they dropped him off as if they did not know him.
RELATED: After 30 Years, Bruiser Brody?s Gruesome Death Remains a Mystery
Sandman would later call Dreamer to resume his duties for the night's wrestling show.
The Sandman's Drug Use
This is not the only documented time of Sandman's drug use. In an interview with fellow ECW alum Raven, Sandman talked about how he was with Raven, and he started "shooting" when he was previously "snorting", and received an $8,000 hospital as a result of drug use.
Aside from the Sandman overdose, several other pro wrestling stars of ECW were victims of drug use as well. Anthony Durante, who was known as Pitbull No. 2, was one of the top tag team ECW stars, died in 2003 from a drug overdose of Fentanyl.
In a shoot interview, Rob Van Dam called Sandman the ECW "in-house alcoholic", and stated that the drug scene was so heavy that someone had to pass a drug test to be in ECW, and "if you pass the drug test, you don't belong there."
While the history of ECW was filled with stories like this, Paul Heyman saw Sandman as one of his top competitors, as he won the ECW Championship on five different occasions.
The Sandman's Wrestling Career
Despite his drug and alcohol use, Sandman gained interest from World Championship Wrestling, and debuted as Hak in 1999. While primarily used in the hardcore division, he competed against pro wrestlers such as Bam Bam Bigelow, Raven, Brian Knobbs, Johnny Grunge, and others. After being released from WCW the same year he made his in-ring debut, he returned to ECW and remained there until its close in 2001.
In 2004, Sandman made his NWA-TNA debut, teaming with fellow ECW alumni Raven, Terry Funk, Tommy Dreamer, Mikey Whipwreck, and Balls Mahoney. This stint was short-lived, and he returned to the independent scene after just a month with the company.
When WWE launched its version of ECW in 2006, following the success of the One Night Stand PPV, Sandman was a staple name for the brand, defeating The Zombie on the first episode of ECW on Sci-Fi.
Sandman feuded with names such as Justin Credible, Test, and Mike Knox, even having an opportunity to win the ECW Heavyweight Championship for a sixth time against The Big Show. This stint with WWE/ECW even led to a huge victory at WrestleMania 23, teaming with Tommy Dreamer, Sabu, and RVD to defeat Elijah Burke, Marcus Cor Von, Kevin Thorn, and Matt Striker.
The Sandman was moved over from ECW to the Raw brand, and departed from WWE in 2007. Since then, Sandman remained competing in the Indies, with recent appearances in MLW, ROH, as well as a return to Impact Wrestling.
Despite his real-life issues, and allowing his kayfabe character to be heavily influential to who he was outside the ring, The Sandman is one of the most notable hardcore competitors of all time, and this was cemented with his induction to the former (now 2300 Arena) ECW Arena's Hardcore Hall of Fame in 2007.
This article was originally published July 30, 2019.