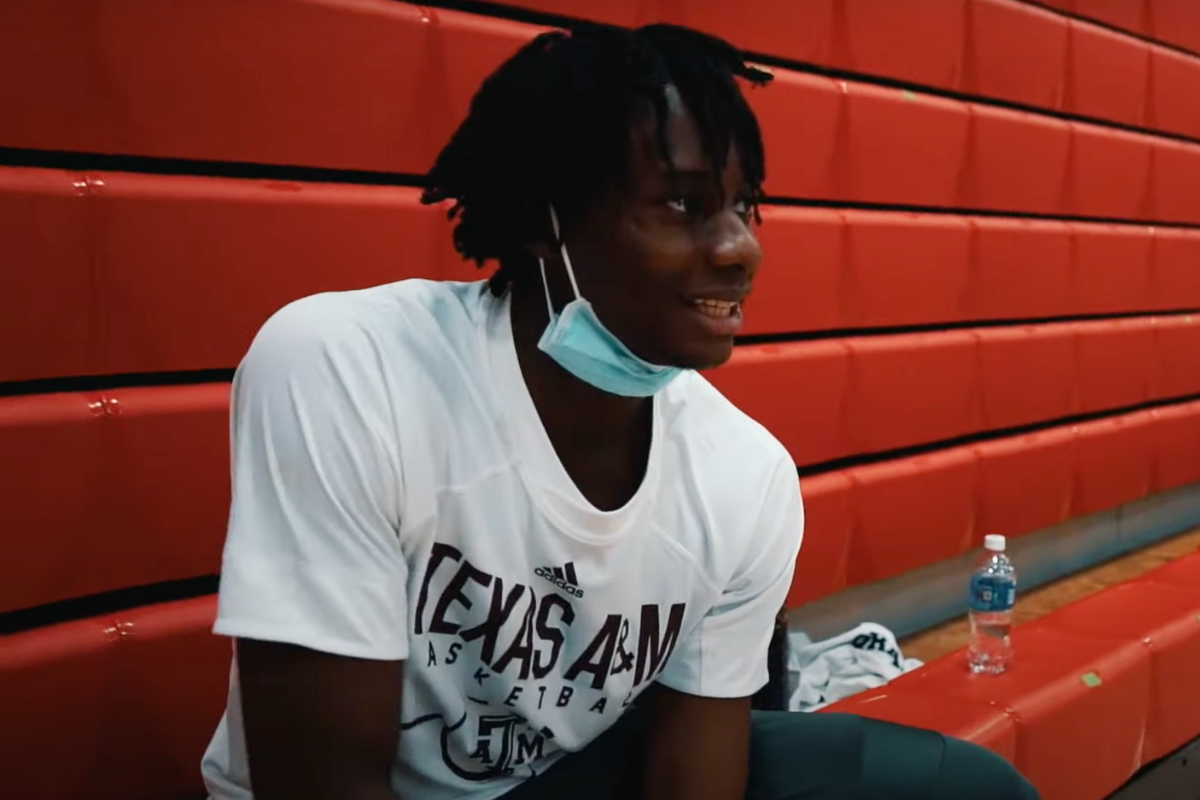 Screenshot from YouTube
Buzz Williams is creating a buzz in recruiting circles. The Texas A&M Aggies head coach is getting the program back on track by reeling in new talent.
The 2021 basketball recruiting class is fueled by star power in the name of Plano John Paul II High School combo guard Manny Obaseki.
The five-star southpaw will bring a nifty, offbeat game to College Station.
Manny Obaseki Highlights
RELATED: America?s Best Combo Guard May Take Over College Basketball Next Year
The Dallas-area signee tactfully picks his spots. He bursts to the lane and pulls-up for a jumper or side-steps his way to the rim. His shots around the basket possess soft touch. He can spin the ball in with either hand. His three-point shot has room to improve but isn't bad.
Buoyed by athleticism, Obaseki floats in the air to finish. He loves to run in transition and can score or find an open teammate filling the lane. His catcher's mitt hands provide a controlled handle on the ball.
At 6-foot-4, his long wingspan bothers opponents on the defensive end. He's patient and skies to block bigger shooters.
Manny Obaseki Commits to Texas A&M
The former Allen High School product is the 24th ranked player in the 2021 recruiting class, according to 247Sports Composite Rankings, and the 21st ranked player, according to Rivals.
He considered Oklahoma, Texas Tech, Alabama, Arkansas, TCU, Oklahoma State, SMU, and Baylor before committing to play college basketball at Texas A&M in March 2020.
The 2021 Aggie class is rounded out by four-star point guard Wade Taylor, three-star center Ashton Smith, and transfers Ethan Henderson and Javonte Brown-Ferguson.
Obaseki's high schol teammate Jaylon Tyson was the first commit of new Texas head coach Chris Beard after originally committing to him at Texas Tech.
The five-star shooting guard is on track for the NBA Draft. He draws comparisons to Los Angeles Clippers guard Patrick Beverly for his ability to burst into creases and play hard-nosed defense.
Obaseki could join recent Aggies that made the jump from the NCAA to the league such as Brooklyn Nets center DeAndre Jordan, Los Angeles Lakers guard Alex Caruso, and Houston Rockets forward Danuel House Jr.
The Sports Illustrated All-American candidate earned a first-team All-State selection last season.
It's a good sign for Texas A&M basketball fans that Williams is able to lock up top in-state recruits. His teams don't necessarily run on pure talent, they succeed by outworking everyone and playing a cohesive team game.
Manny Obaseki fits that mold and should hit the ground running when he arrives on campus.
This post was originally published on June 30, 2020.