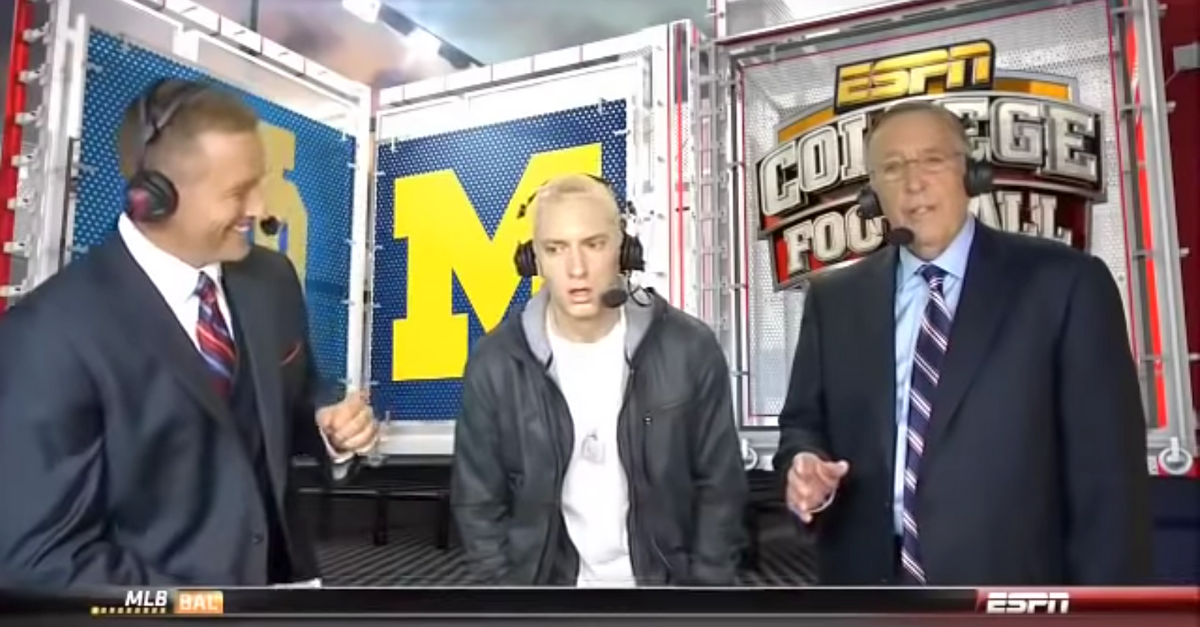 Screenshot from YouTube
My formative years included playing NCAA Football 2003 until 3 a.m. and listening to iconic albums like The College Dropout and The Blueprint. Video games offered an escape, while hip-hop taught me a culture and style that shaped who I am. A regular in my late-night rotation was anything and everything by rapper Eminem. I spent hours listening to The Marshall Mathers LP and The Eminem Show, getting lost in the wordplay of a lyrical genius.
Truthfully, Marshall Mathers and college football go together like oil and water. The odd couple makes sense when playing a video game and Eminem's music plays in the background, but putting them together in real life? "No way. Not possible," I thought.
Then came September 7, 2013.
ESPN's "Saturday Night Football" broadcast introduced the weekly telecast's new theme song by interviewing the man who released it on live TV. Eminem's "Berzerk" was the first single off of his eighth studio album, The Marshall Mathers LP 2. Produced by the notorious Rick Rubin, the song reached No. 3 on the Billboard Hot 100 and received multiple award nominations, included the Grammy Award for Best Rap Performance.
Eminem joined the broadcast team of Brent Musburger and Kirk Herbstreit during halftime of a heavyweight matchup between No. 14 Notre Dame and No. 17 Michigan to reveal a clip from the song's music video before its debut on ESPN's broadcast the following week.
The interview, however, was anything but normal. While it appeared like the Grammy-winning rapper was living in another dimension, the explanation is much more simple.
Feast your eyes on Eminem being Eminem at his finest.
Eminem's ESPN Interview at Michigan-Notre Dame
RELATED: Joe Namath's Infamous Drunk Interview: "I Wanna Kiss You
In truth, Mathers was nervous. Bill Bonnell, the executive producer of the ESPN broadcast, said (via Sports Business Daily) that the rapper was "legitimately nervous doing a live interview," something he's famous for rarely doing.
As Eminem played to his character, staring aimlessly into the abyss, Musburger kept his professionalism and asked for Mathers' take on the upcoming Detroit Lions football game. (The Detroit native and lifelong fan declined a prediction, fearing he'd jinx them.) Eventually, Em returned to a sense of "normalcy" and paid homage to the broadcasters on his "Fantasy Announcer Team," including Musburger, John Madden, Al Michaels, and "the late, great Pat Summerall" who died earlier that year.
The harmless interview ended by Musburger returning the favor, rattling off Eminem's long list of accomplishments and saying, "You, my friend, are the legend."
Eminem responded, "Yeah, I'm really uncomfortable right now."
The ESPN team burst into laughter, and Eminem's random appearance on college football's national stage lives on forever.