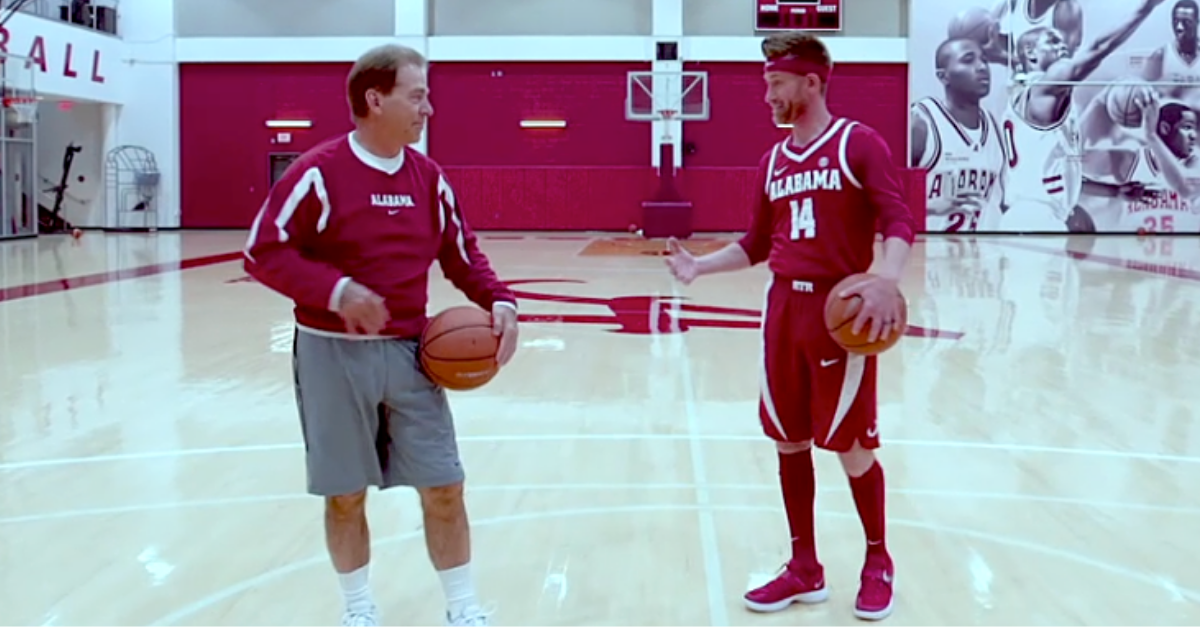 Screenshot from ESPN
Alabama Crimson Tide football coach Nick Saban takes his job very seriously. He recruits the best players in the country, demands excellence from his ever-changing coaching staff, and he apparently plays loves to get some shots up, too. When recruiting finishes up and real football being over until spring practices begin, the 68-year-old football coach lets loose on the basketball court, as long as it's under his rules.
It's called the N.B.A., but not exactly as you know it. The "Noontime Basketball Association" was created and is commissioned by Saban himself. What started as an offseason workout has turned into a secretive basketball federation known by only a few worthy coaches on Saban's Alabama football staff.
This footage, which surfaced back in 2016, is the only known footage of N.B.A. action. Wouldn't you know it, it features Saban hitting a Kobe Bryant-like fadeaway along the baseline for a bucket. Saban looks like your classic, veteran YMCA player who's going to hit that short corner shot if you give it to him every time.
Nick Saban Basketball
In an interview with ESPN's Marty Smith, Saban described the pickup basketball games as 4-on-4 matchups played to 11 points, but you must win by two. According to one of Saban's past teammates when the tradition started at LSU, former assistant coach Jimbo Fisher, the head coach's team would "never lose." Even former assistant Adam Gase, now the head coach of the New York Jets, knows the golden rule of the N.B.A.
"Make sure that Coach Saban's team always won," Gase said.
"It?s a great responsibility being the commissioner of a league. I control the tempo of the game ? whether you can call a timeout, who?s on what side… And then it?s also a chore for me to pick the guy who guards me because the guy who guards me has to let me score… It?s gotta be somebody that I can have success against. Look when you?re my age, you need to create advantages every way that you can."

? Nick Saban, via ESPN
RELATED: Tua Tagovailoa's Biggest Competition? That'd Be His Little Brother
After a testy interview with ESPN college football reporter Maria Taylor during the 2018 season, Saban hung out with her as a show of good faith. Together, they played a game of "G.O.A.T." and the national championship-winning football coach spilled on his basketball past. Growing up in West Virginia, he loved seeing NBA legend Jerry West play. As a point guard, Saban learned to see the "big picture" of a game, both in basketball and football, which helped him grow into a future Hall of Fame head coach.
Needless to say, Saban won this friendly competiton. Again.
So, if you're ever down in Tuscaloosa during college football's offseason and need to get some shots up, maybe stop over and see the University of Alabama football coach and ask if he needs another body for the N.B.A.
Just make sure you let Saban win.
This article was originally published February 8, 2019.