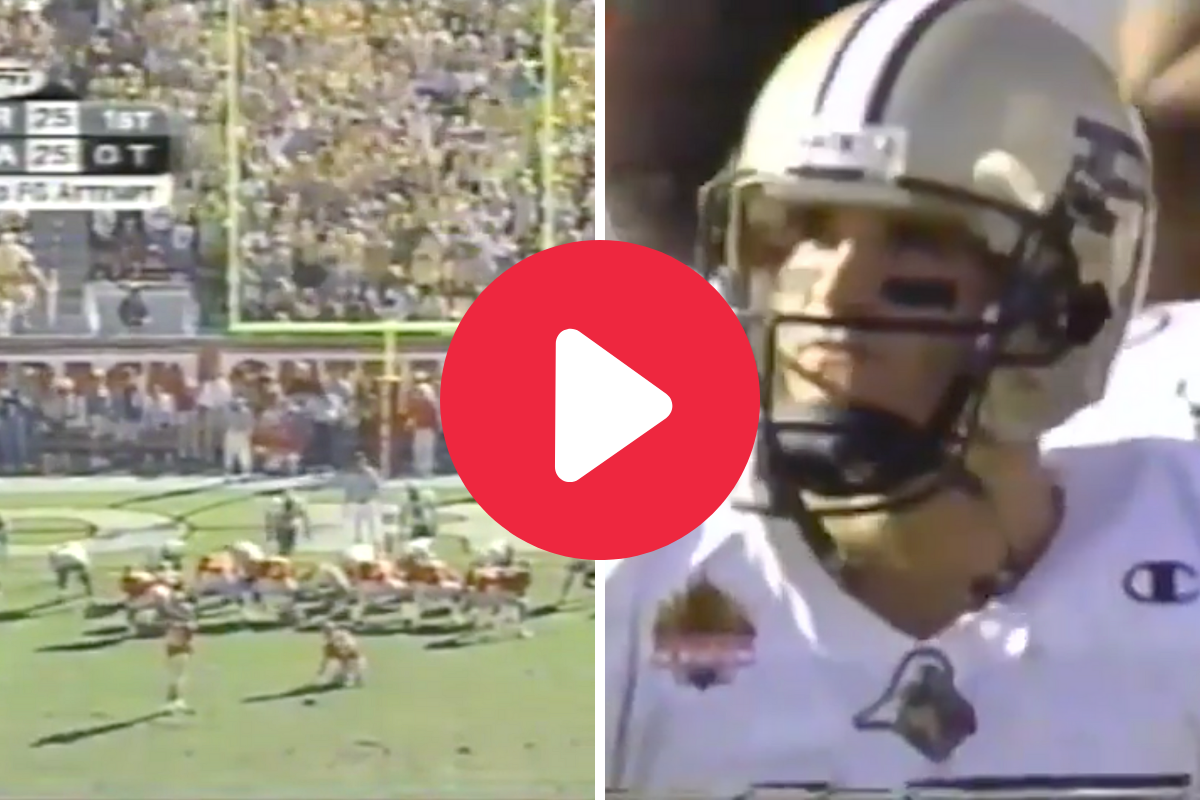 Screenshots from YouTube
You never know how good a college football player is going to be until they start producing in the NFL. That's why it's always awesome to look back on college games that feature star pro players before they ever made a name for themselves. Isn't that right, Hines Ward?
Patrick Mahomes and Baker Mayfield went head to head in a NCAA record-shattering game between Texas Tech and Oklahoma in 2016 in which the two stars combined for nearly 1,300 passing yards. A Freddie Kitchens-led Alabama team beat Tom Brady, Charles Woodson and the Michigan Wolverines in the 1996 Outback Bowl.
Four years later, the 2000 Outback Bowl would feature another future NFL Hall of Famer: Drew Brees. Only in this one, quarterback Quincy Carter and the Georgia Bulldogs took down Brees and the Boilermakers.
Georgia's 2000 Outback Bowl Comeback
RELATED: Georgia's "Appleby to Washington" Bamboozled Florida's Defense in 1975
It was dubbed the "First Sporting Event of the Millennium", and what better way to ring another 1,000 years than by completing an epic comeback and beating up on the NFL's eventual all-time leader in passing yards on New Year's Day?
Brees turned in a brilliant season that year. He threw for 3,900 yards and 25 touchdowns and finished fourth in Heisman Trophy voting behind Virginia Tech's Michael Vick. Brees was hoping for a win to cap off his legendary season.
Purdue was 7-4 entering the bowl game, but all four losses came at the hands of top 25 teams — Michigan, Ohio State, Penn State and Wisconsin. Under coach Joe Tiller, one of the innovators of the spread offense, Purdue averaged 32 points per game in 1999.
Georgia had high hopes after a red-hot 6-1 start that season, with its only loss to sixth-ranked Tennessee. The Bulldogs stumbled the rest of the way, though, dropping games against Florida, Auburn and Georgia Tech. They were led by head coach Jim Donnan, who once drove a steamroller into practice and said, "we're either going to be the steamroller or the pavement" before beating Mississippi State 47-0.
Georgia looked like the pavement in the first half against Purdue, though.
Brees tossed three first-quarter touchdowns — two to Chris Daniels and one to Vinny Sutherland — to put the Boilermakers up 19-0. Another Brees touchdown to Chris James early in the second quarter made it 25-0 in what was sure to be a blowout.
The Bulldogs weren't going to go down quietly at Raymond James Stadium in Tampa, Florida.
A Terrence Edwards 74-yard rushing touchdown and a field goal cut the score to 25-10 before halftime. In the third quarter, UGA quarterback Quincy Carter scored on an eight-yard rushing touchdown and completed the two-point conversion.
Carter linked up with Randy McMichael for an eight-yard touchdown pass in the fourth quarter to knot the game at 25-25. The pass was actually tipped by two defenders but somehow fell into McMichael's hands.
Part of Purdue's offensive stalling fell on kicker Travis Dorsch. He missed three field goals and one extra point, meaning the Boilermakers left 10 potential points on the field. If that's not leaving the door wide open for Georgia, I don't know what is.
Hap Hines' Game-Winning Field Goal
The game went to overtime, and Georgia escaped victorious following Hap Hines' 21-yard field goal.
The camera panned to Drew Brees, who looked completely stunned that Purdue had just allowed 28 unanswered points. I'm no lip-reader, but it looked like he may have mouthed a curse word there.
The final score: 28-25, Georgia.
Brees Wins MVP Despite Losing
The MVP of the game: Drew Brees. Huh?
Yeah, Brees was named the game's MVP despite his team losing. He finished with 378 passing yards and set or tied six Outback Bowl records.
Carter, Georgia's 6-foot-3 signal caller, finished the game with 243 yards and 41 rushing yards on 16 attempts. He put together a season worthy of Heisman consideration as well, compiling 2,700 passing yards and 17 touchdowns that year.
Brees may have been the MVP of the 2000 Outback Bowl, but Quincy Carter and the Bulldogs stole the show. Not only was it just the second time a bowl game went to overtime, but it was the largest comeback in bowl history at the time.
A year later, Georgia found itself in the Oahu Bowl and under the direction of incumbent coach Mark Richt. Purdue would go on to share the Big Ten Conference title in 2000 and lose to Washington in the 2001 Rose Bowl.
This post was originally published on October 29, 2019.