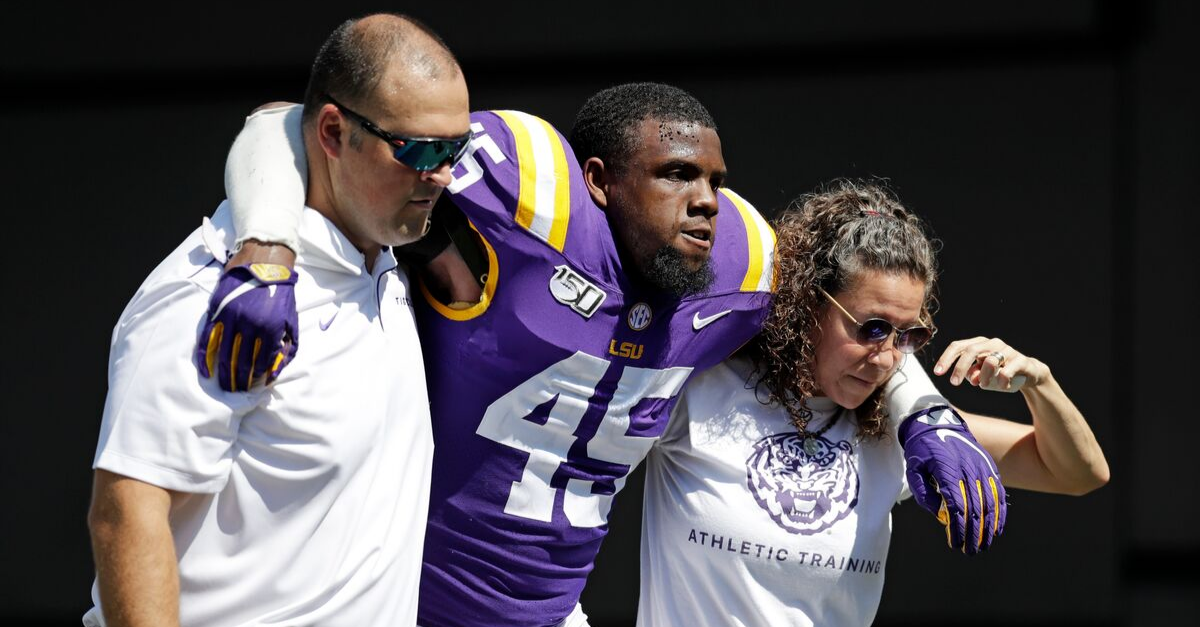 AP Photo/Mark Humphrey
As LSU Tigers senior linebacker Michael Divinity Jr. was helped off the Vanderbilt Stadium field last Saturday, fans all held their collective breath, hoping it wasn't too serious. The No. 4 team in college football has already suffered enough injuries, and losing another leader of the defense would have been disastrous before SEC play really gets going. Thankfully, things are way better than it looked.
During the first half of the 66-38 beatdown LSU put on the Vanderbilt in Nashville, Divinity suffered what looked like a lower leg injury while making a tackle. Was it his knee? Was it his ankle? Nobody obviously knew what the real problem was. Even after the game, head coach Ed Orgeron said the injury looked "pretty significant" but "no breaks or nothing like that."
Then, while making an appearance on 104.5 ESPN's "Off the Bench" program, Orgeron gave some promising news for his 6-foot-2, 241-pound linebacker.
"He's going to be OK," Coach O said. "Might be a couple of weeks, but it's not as bad as it looked on film."
RELATED: LSU Fans Drink Nashville Bar Out of Vodka Before 10 A.M.
A native of Marrero, Louisiana, Divinity had just moved from inside linebacker to outside linebacker to help fill in for injured linebacker K'Lavon Chaisson. LSU football already lost free safety Todd Harris for the season with a knee injury. Then, Divinity got hurt and needed trainers to help him off the field.
Whether Divinity will be back for LSU's next kickoff against Utah State on October 5 at Tiger Stadium in Baton Rouge is still up in the air, but this is better news than many expected initially.
Now, new attention is going toward the injuries to wide receivers Terrace Marshall, who fractured his foot, and Justin Jefferson, who tweaked his ankle.
The Tigers are also hoping for fast recoveries for Chaisson, defensive end Rahard Lawrence, and defensive end Glen Logan.
If LSU is going to make a run at the SEC West title this year, they need to be healthy. The news about Michael Divinity's injury certainly helps.