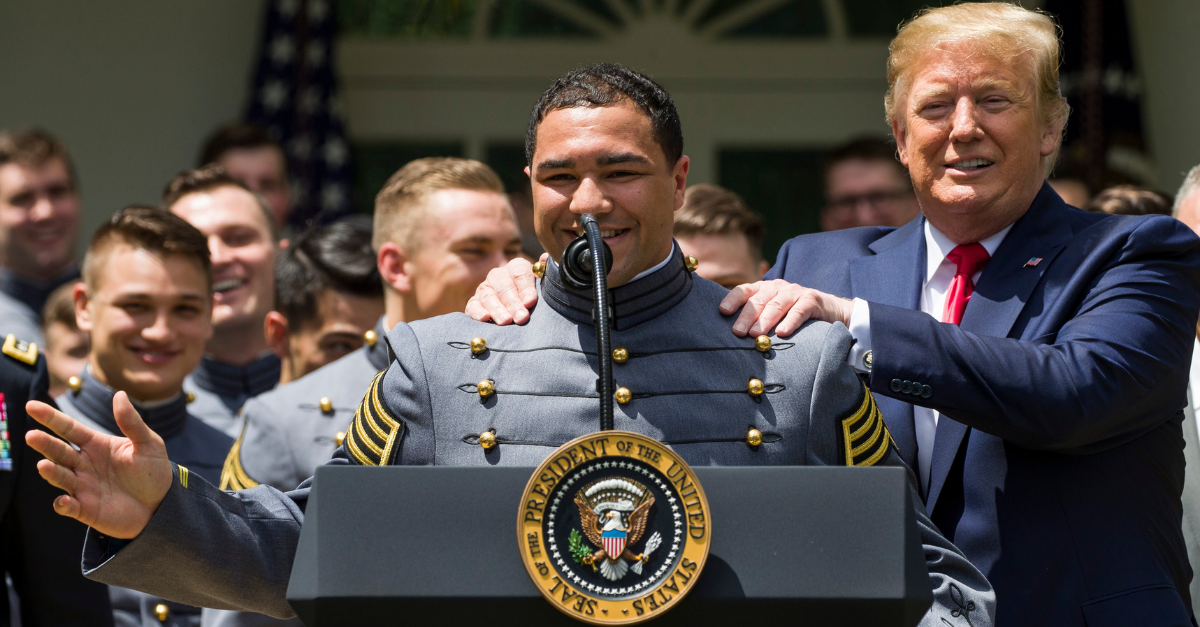 AP Photo/Alex Brandon
For the United States' military service academies, recruiting elite athletes is an afterthought. The current policy in place requires any athlete who attends a service academy to serve two years of active duty after graduation before they could get a waiver from the Pentagon to become a professional athlete. President Donald Trump floated an idea during a news conference at the White House Rose Garden that would change everything, though.
The president suggested allowing American service men and women to pursue their dreams of playing professional sports immediately after finishing school, and then serve their country as a member of the U.S. military afterwards.
"I'm going to look at doing a waiver for service-academy athletes who can get into the major leagues, like the NFL, hockey, baseball," Trump said. "And they'll serve their time after they're finished with professional sports."
In May, Trump made the declaration while awarding the Army Black Knights and head coach Jeff Monken with the Commander-In-Chief's Trophy, which is given to the service academy football team that wins the season series. The Naval Academy, Air Force Academy and United States Military Academy at West Point compete for the trophy every year.
For an administration that takes on more negative publicity than you ever thought was possible, this is an absolute home run, slam dunk, or whatever sports pun you want to use. That's especially true because it was Trump's own Defense Department, under then-Defense Secretary Jim Mattis, who put this current policy into effect back in 2017.
Recruiting really great high school players to service academies is basically impossible under the current two-year requirement for service. Young athletes with legitimate dreams to turn pro, but also have it in their hearts to serve their country, would actually be able to answer both callings with this policy.
This would especially be true for football players. The average length of an NFL player's career is about 3.3 years, according to information from Statista. This means that the two-year gap for an Army, Navy or Air Force football player, which are the prime years for a young kid turning pro, shrinks the chances they could reach the National Football League dramatically.
On the flip side, there have been plenty of military personnel who went on to successful professional careers after their service was completed.
RELATED: Spurs Surprise Army Soldier With the Ultimate Early Christmas Present
Pittsburgh Steelers left tackle Alejandro Villanueva was awarded the Bronze Star for saving wounded soldiers in battle, and after four years away from football serving as a Captain with the Army Rangers, he began pursing an NFL career.
He made his second-straight Pro Bowl following the 2018 NFL season and is considered one of the game's best offensive lineman.
Long before Villanueva, decorated Dallas Cowboys quarterback Roger Staubach played for the Navy Midshipmen in the 1960s, served overseas in Vietnam, then returned home to win two Super Bowl titles.
On the hardwood, David Robinson was an All-American at Navy, was drafted No. 1 overall by the San Antonio Spurs in 1987, completed his service requirement, then went on to win two NBA titles and was named NBA Most Valuable Player in 1995.
Though he only earned the rank of lieutenant, Robinson is forever known as "The Admiral."
While President Trump making this statement is great publicity, actually following through with it is another story. This could completely change the types of players that our United States military academies are able to recruit, plus it would give a huge opportunity to young men and women who want to serve their country, but still chase their sports dreams in the process.
In my book, I'd call that a win-win scenario.
UPDATE: President Trump signed a memorandum in late June 2019, which orders the Pentagon to create a new policy for college athletes to defer their military service after graduation and pursue a professional sports career.
Acting Secretary of Defense Mark Esper and Pentagon officials have 120 days to draft the new policy before it takes effect.
---
UPDATE: November 14, 2019
Mark Esper announced that new guidelines for military athletes who wish to turn pro in November of 2019.
According to the signed memo obtained by the Associated Press, athletes wanting to test the waters of sports must get special approval from the defense secretary. Then, according to AP's report, they "must eventually fulfill their military obligation or repay the cost of their college education."
This article was originally published on May 6, 2019. It was updated twice with information about the progress from President Trump's initial idea through Esper's signed memo in late 2019.