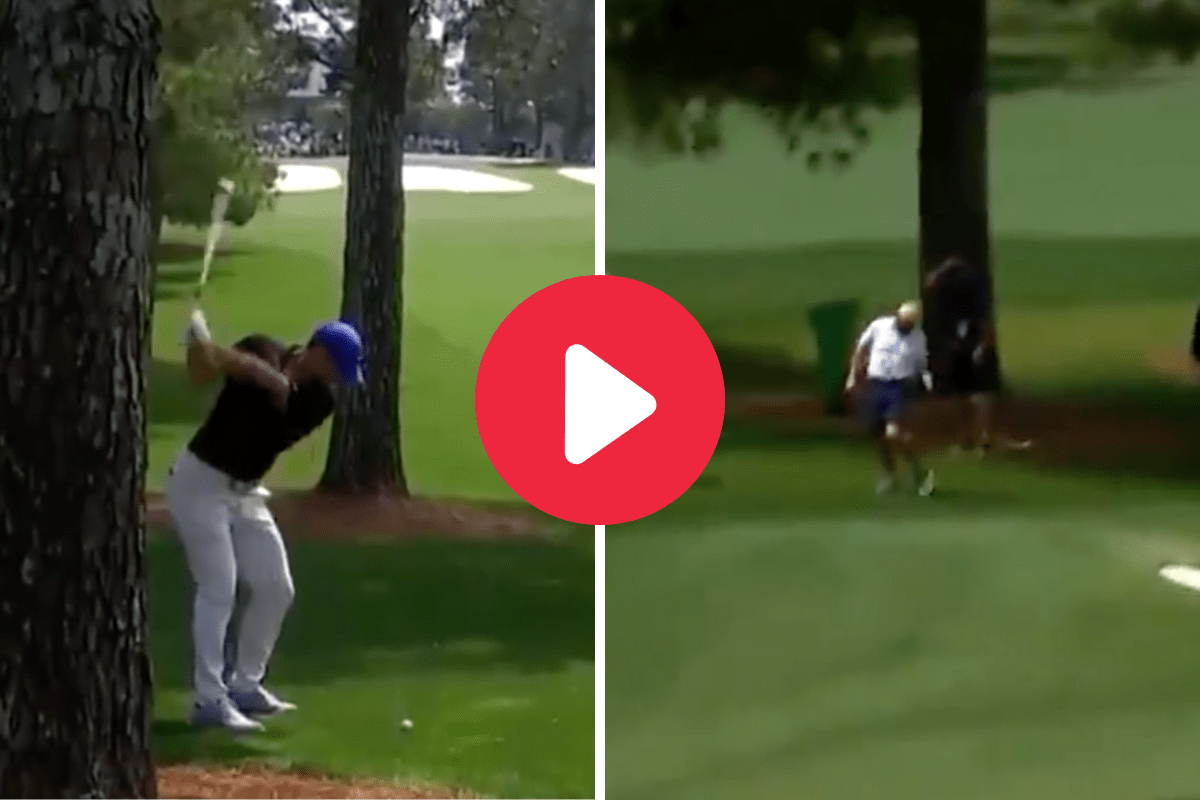 Screenshot from Twitter
Rory McIlroy is one of the greatest golfers in the world, which means most of the time he can strike a ball with pinpoint accuracy.
When the four-time Major Championship-winner lined up for an approach shot at the par-4 seventh hole at Augusta National Golf Club during the first round of The Masters on Thursday, he sent an errant shot toward spectators.
Of all people, it hit his father Gerry McIlroy.
Forget a hole-in-one. Rory nearly put a hole in his dad.
Rory McIlroy Hits Dad at The Masters
RELATED: Golfer Rips Massive Fart on Live TV After Tee Shot
It's only Round 1, but this has to be the shot of the tournament.
Rory immediately knew his shot was flaring to the right. He yelled out "fore!" to let fans know. His father, Gerry, was standing near a sand trap and must not have heard it.
That's when the white, dimpled golf ball struck him in the leg and probably left a welt.
Gerry was a good sport about his son drilling him. According to CBS Sports golf writer Kyle Porter, he limped away while laughing.
"I should ask for an autographed glove," McIlroy's dad said.
Tremendous. It looks like Rory might not be in too much trouble on the car ride home.
If this hilarious moment is any indication, the 2021 Masters Tournament will be a good one. The field includes stars like Brooks Koepka, Bryson DeChambeau, Dustin Johnson and Phil Mickelson. Tiger Woods miraculously won in 2019 and Johnson took home the green jacket in 2020.
McIlroy and his caddie will need to straighten out his shots on the golf course if he wants to win it all this year.
Who is Rory McIlory's Dad?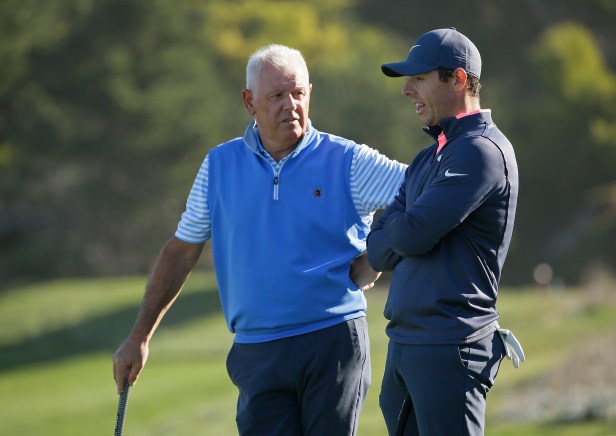 Rory McIlroy's parents are Gerry and Rosie McIlroy.
When Rory was younger, Gerry used to work two jobs to ensure his son could become a star golfer. He cleaned toilets at a rugby club in the morning and then worked at night as a bartender at Holywood Golf Club in Northern Ireland, according to Global Golf Post.
Gerry made headlines in 2014 when he cashed in on a 10-year-old bet he made. When Rory was 15, Gerry and a few friends bet 400 euros ($683) his 15-year-old son would win the British Open before turning 26. Rory won the 2014 British Open by two strokes. Gerry and his friends cashed in on the ticket for $342,000.
Rory McIlroy has won the PGA Championship twice (2012, 2014), the U.S. Open once (2011) and The Open Championship once (2014). He only need a win at The Masters to complete a career grand slam.
If he's the one wearing the Green Jacket after the final round on Sunday, I'm sure his dad will be the first one to congratulate him. Even if he has a bruised leg.