Amazon
Amazon
Admit it. You bring your phone into the bathroom. Ugh, so gross. That's the reason why I squirm a bit when someone hands me their phone. I don't want to touch that thing! Stop bringing your phone into the bathroom while you poop. Just read a shampoo bottle like a normal person, or play Toilet Golf.
Yep, I'd much rather someone admit they have a mini golf set in their bathroom than take their phone in there while taking care of business. Plus, practice is practice. You might as well practice your golfing skills if you're known for sitting on the toilet for a long time.

Great gift for golfers
Pricing: Under $20. Add to your wishlist today!
Gag gift/White Elephant gift

You can find this golf game on Amazon for only $16.75. This golf set comes with a putting green, two golf balls, a cup, flag, putter, a door hanger, and a "do not disturb" sign. It's the perfect gift for the golfer in your life who spends too much time at the golf club.
Next time your buddies notice you're getting better at golf, tell them about your new golf training aid. Your golf friends are going to laugh, but you're especially going to laugh until you cry once you take a look at these Amazon reviews.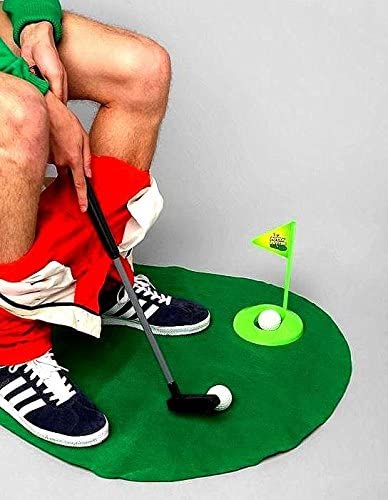 This review says:
"I've been so bored on the toilet my whole life. Id play on my phone, talk to people while muting in between flushes or contemplate life. Since I have recieved toilet golf the bathroom has a whole new meaning. Now I can make two holes at the same time, one on the grass and also in the bowl. What would I have gotten myself into without putter practice in the bathroom?"
I hate that he gave "hole in one' a whole new meaning. So gross, but so funny. Grab this funny gadget today, it's the best gift for golf fanatics or anyone who has read the back of their shampoo bottle at least 100 times already. It's time for some new bathroom entertainment.
Wife not excited about this sitting in the bathroom? No worries! Bring the golf course to the living room or office.