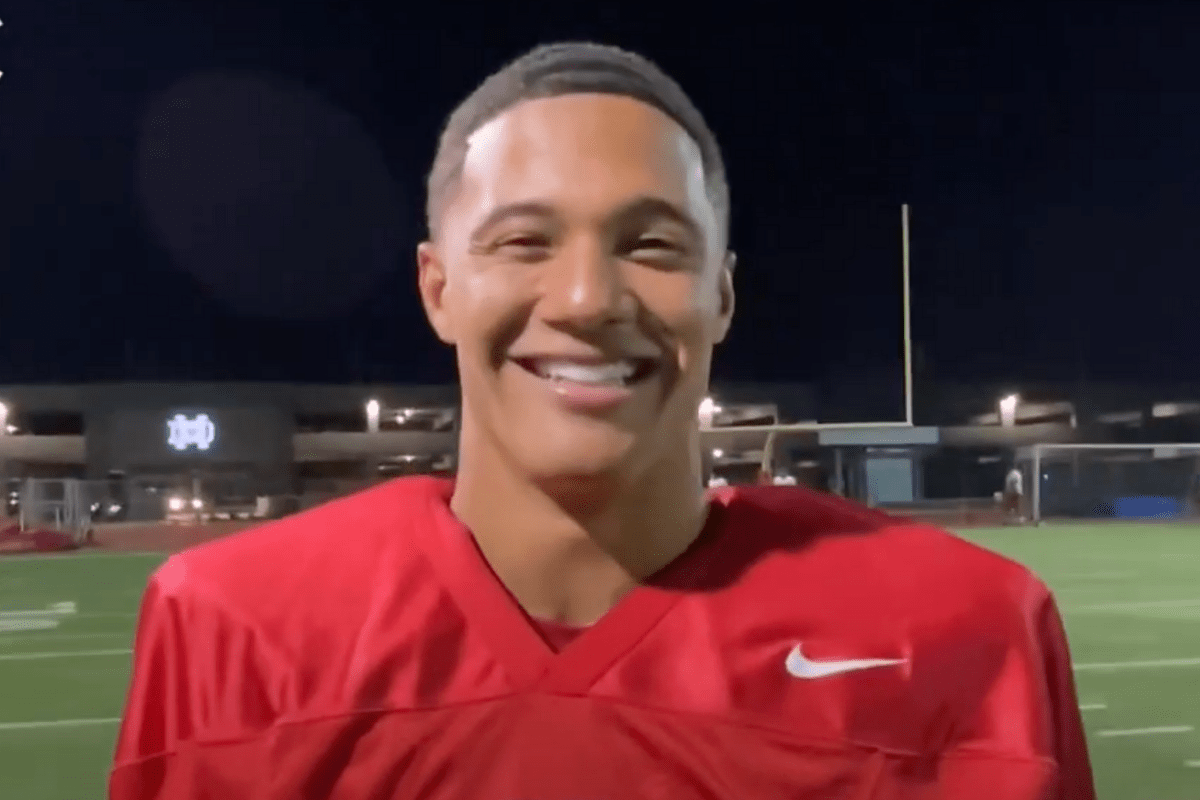 Screenshot from YouTube
California football breeds freak athletes. Defensive end Korey Foreman of Centennial High School (Corona, CA) was ranked as the No. 1 overall player of 2021 heading into his senior season. Bryce Young, a record-setting quarterback at Mater Dei High School (Santa Ana, CA), was the top overall prospect of 2020 before signing his National Letter of Intent to join the Alabama Crimson Tide.
Young's former teammate at Mater Dei, five-star cornerback Domani Jackson, flashes potential to become the best player in the Class of 2022.
Listed at 6-foot-1 and 185 pounds, Jackson already has the athleticism required of a lockdown defensive back. His highlight tape shows physicality at the line of scrimmage, plus sound footwork and great ball skills downfield. But most importantly, this kid can fly.
As a sophomore, Jackson ran a hand-timed 4.21 40-yard dash. Yes, a 16-year-old ran faster than most NFL Draft prospects.
Domani Jackson Recruiting
RELATED: 5-Star Defensive End Has Future All-American Talent
As of January 2021, five-star cornerback Domani Jackson was ranked by 247Sports as the No. 1 cornerback in the nation ahead of Florida State commit Travis Hunter. He was rated third overall regardless of position by the 247Sports Composite, a rating he's more than earned given how often he dominates wide receivers in California.
Jackson helped the Mater Dei Monarchs finish 12-1 in 2019, losing only to St. John Bosco in the CIF Southern Section Championship. After the playoffs, Mater Dei was ranked as the No. 2 team in the nation by MaxPreps.
In his sophomore campaign, Jackson replaced current LSU cornerback Elias Ricks as Mater Dei's varsity starter ? Ricks was the 14th-overall recruit of 2020 who transferred from Mater Dei to IMG Academy for his senior season. All Jackson did in his place was log 48 total tackles, nine passes defended, and return an interception for a touchdown on his way to MaxPreps All-American honors.
His junior season was delayed due to the COVID-19 outbreak.
On July 4, 2020, Jackson trimmed his list of 40 offers down to the following top 10 college football teams:
– Alabama Crimson Tide
– Arizona State Sun Devils
– Clemson Tigers
– LSU Tigers
– Georgia Bulldogs
– Michigan Wolverines
– Ohio State Buckeyes
– Oklahoma Sooners
– Texas Longhorns
– USC Trojans
Jackson, who admits he grew up rooting for Michigan, also holds offers from Arkansas, California, Colorado, Florida, Florida State, Georgia Tech, Kansas State, Miami, Nebraska, Notre Dame, Oregon, South Carolina, Tennessee, UCLA and Virginia Tech, among many others.
In late November 2020, Jackson trimmed his final list to six schools: Arizona State, Clemson, Michigan, Ohio State, Oklahoma, and USC.
Then, on January 23, Jackson committed to the USC Trojans. It's obviously a massive get for head coach Clay Helton's recruiting class, but the Pac-12 program is just getting warmed up for 2022. There are rumors fellow five-star defensive back Will Johnson will be joining USC as part of a package deal, too. Stay tuned.
CB Domani Jackson Highlights
There is a long road ahead before Domani Jackson straps up for a collegiate game, but when he does, get ready for an impact player as a true freshman that figures to be a can't-miss NFL prospect given his current trajectory.
This article was originally published July 10, 2020. It's been updated to track Domani Jackson's recruiting.