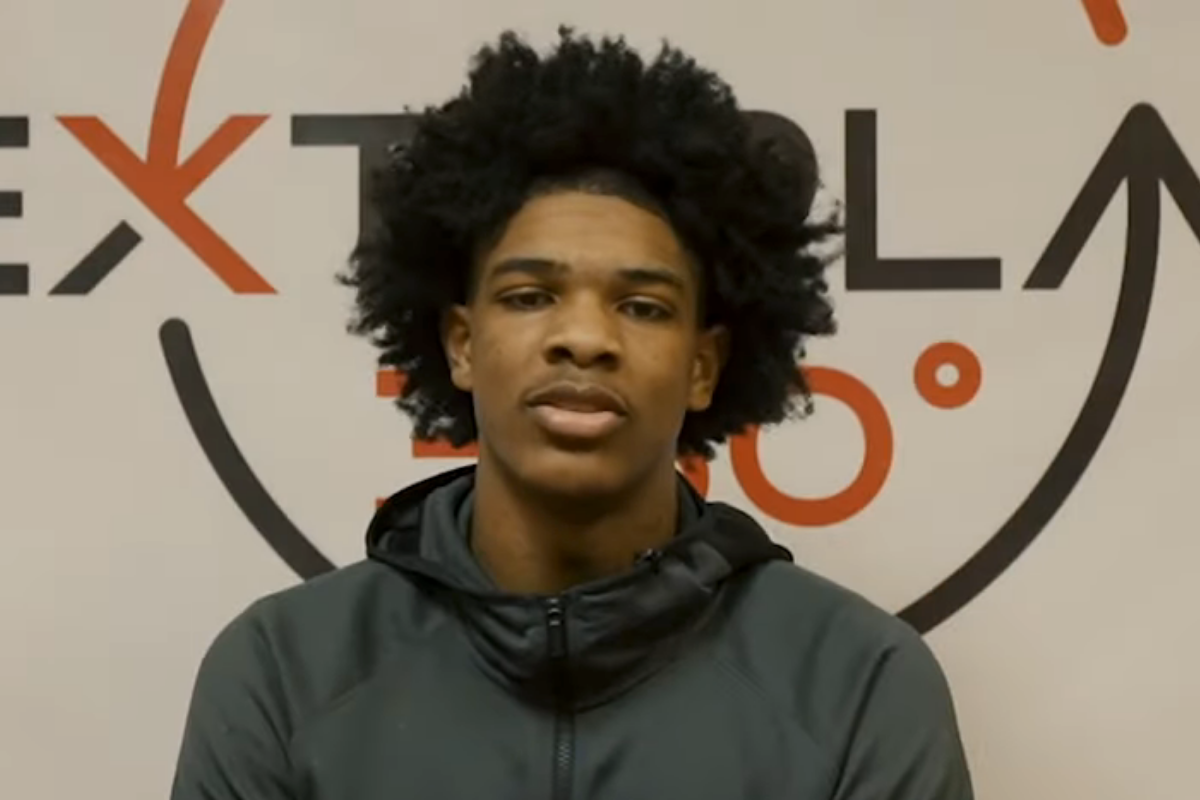 Screenshot from YouTube
Looking over the Kell High School basketball roster, there's one name that leaps off the page: Scoot Henderson.
At 6-foot-3 and 180 pounds, Henderson is a playmaking, physical point guard.
Following Cleveland Cavaliers guard Collin Sexton and Minnesota Timberwolves star Anthony Edwards, Henderson is the latest star to emerge from the Peach State.
He's also latest prospect to reclassify and jump straight to the G-League.
Scoot Henderson Highlights
Henderson wants to score the ball down your throat. His top-flight acceleration is a huge advantage on his way to the rim. In transition, he can fly ahead of the defense for a slam. In the half court, he combines explosive burst with a swift crossover to dust defenders.
Once Scoota is past the first line of the defense, the five-star recruit sets up rim attacks with a reliable mid-range game. He's capable from 3-point land, too. He creates more looks off the dribble, but is comfortable spotting up.
As the floor general, Henderson takes what the defense gives him. He'll drive and kick or find an open cutter. On the other end of the court, there's potential to be a staunch on-ball defender given his size and athleticism.
Scoota Henderson is a fan of Sexton. When talking about on the Crimson Tide during his recruitment, he mentioned the NBA guard. He gave Sexton an additional shoutout by retweeting his high school highlights.
Henderson plays with a similar bulldog mentality.
Scoot Henderson Basketball Recruiting
RELATED: America?s No. 1 HS Basketball Recruit Commits to College Powerhouse
The Marietta, Ga., native ? a suburb northwest of Atlanta ? is now the 9th-ranked overall player in the 2021 recruiting class, according to the 247Sports Composite Rankings. ESPN ranks him 26th nationally. However, they still list him in the class of 2022.
Henderson had college basketball offers from Alabama, Auburn, Arkansas, Florida, Florida State, Georgia, Georgia Tech, Louisville, Ole Miss, Tennessee, Texas Tech, Wake Forest, and Xavier. He was also drawing interest from Kentucky. Other bluebloods like Kansas and Duke evaluated, too.
The five-star point guard's exposure on the AAU circuit was limited due to the coronavirus pandemic and COVID-19 outbreak in 2020. He was able to get in some action with Game Elite.
Scoot Henderson Signs With G-League Ignite
UPDATE (May 21, 2021): To the dismay of several college coaches, the Sports Illustrated All-American is reclassifying to the class of 2021 and skipping the NCAA ranks entirely to sign with the G-League Ignite, he announced on Instagram.
Before he made the decision to turn pro, Auburn basketball head coach Bruce Pearl and assistant coach Wes Flanigan were heavily targeting Henderson. The Tigers were at the top of the list along with Georgia.
Henderson joins guard Jaden Hardy and forward Michael Foster as the latest prep players to make the jump to the pros.