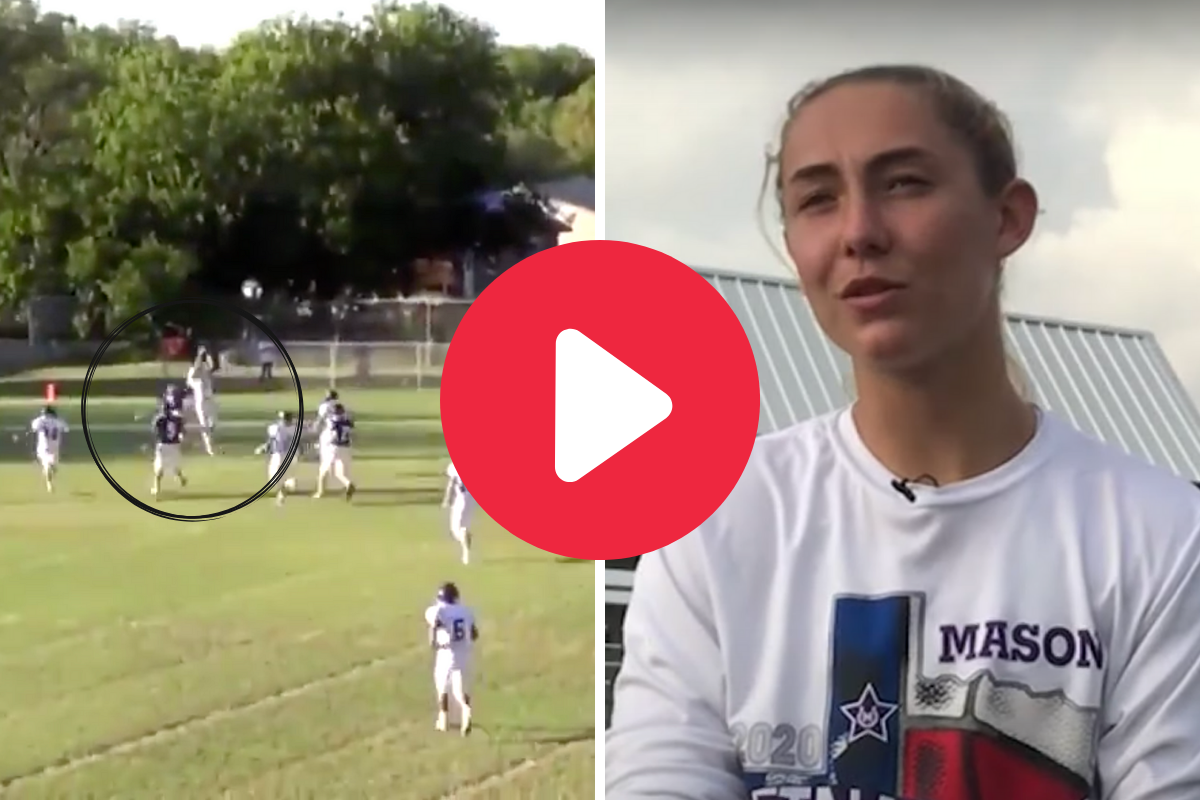 Screenshot from Twitter: Tristin Keller (left), Screenshot from YouTube (right)
Texas is home to some serious football talent. NFL superstars like Drew Brees, Patrick Mahomes, Von Miller and Adrian Peterson all hail from the Lone Star State.
Even they might not possess the heart and drive that Tristin Keller does. For those unfamiliar, Tristin Keller played cornerback for the Mason High School varsity football team. Oh, and Tristin Keller is a girl by the way.
Based on her interceptions and tackles, you'd never know it.
This female defensive back with a long pony tail has faced a ton of negative comments on social media saying she doesn't belong in football. She has a simple way of proving them wrong: by letting her tape speak for her.
Female Cornerback Tristin Keller
RELATED: Female Quarterback Throws 42-Yard TD on First Varsity Pass
In September 2020, Mason's Tristin Keller posted a simple photo of her on the football field accompanied by the caption "1st Varsity Football start."
The post went viral. More than 40,000 people "liked" it. Some sent congratulations and kudos her way. Many, though, responded with messages saying she didn't belong on the gridiron with the boys.
"A female wouldn?t last on a football [field] where I?m from," one wrote.
"I?d lay her a** out first play, even if it wasn?t my assignment," one said.
"Can?t wait till she gets rocked," another said.
The negative comments poured in. Tristin Keller barely said a word, instead simply responding with videos of interceptions. She let her film do the talking.
In one clip from her Hudl highlight reel, she stays with a wide receiver then jumps the route for the interception:
In another, she picks off a deep ball way down the field. Keller can also play wide receiver herself. She posted a clip of one of her catches, and she looks like the real deal.
Tristin Keller made waves during the 2020 season and is inspiring little girls across the country to pursue their favorite sport, even if it is male-dominated. In her first varsity start, which she earned after a player ahead of her became sick, she was nearly perfect.
On the first drive, she made two tackles, which included an unassisted stop on the very first play of the game.
?It was a perfect form tackle to bring down their starting running back,? Mason Punchers head coach Michael McLeod told TexasFootball.com.
Tristin Keller has played football since the third grade, but she chose to pursue a different sport in college. The 2022 graduate is committed to play women's basketball at Abilene Christian University.
In high school, she once sunk a game-winning three-pointer to send her team to the state tournament.
Keller's Committed to Abilene Christian University
As for the haters, naysayers and negative people out there, she has one message for them.
?Do what you want and what makes you happy,? she told TexasFootball.com. ?Don?t worry about what other people think. Some people say that ?Oh, she just wants to play football for attention.? It?s not true. Most girls don?t want to play football for attention. Most want to play because they love the game.?
Amen, Tristin. Keep following your heart.