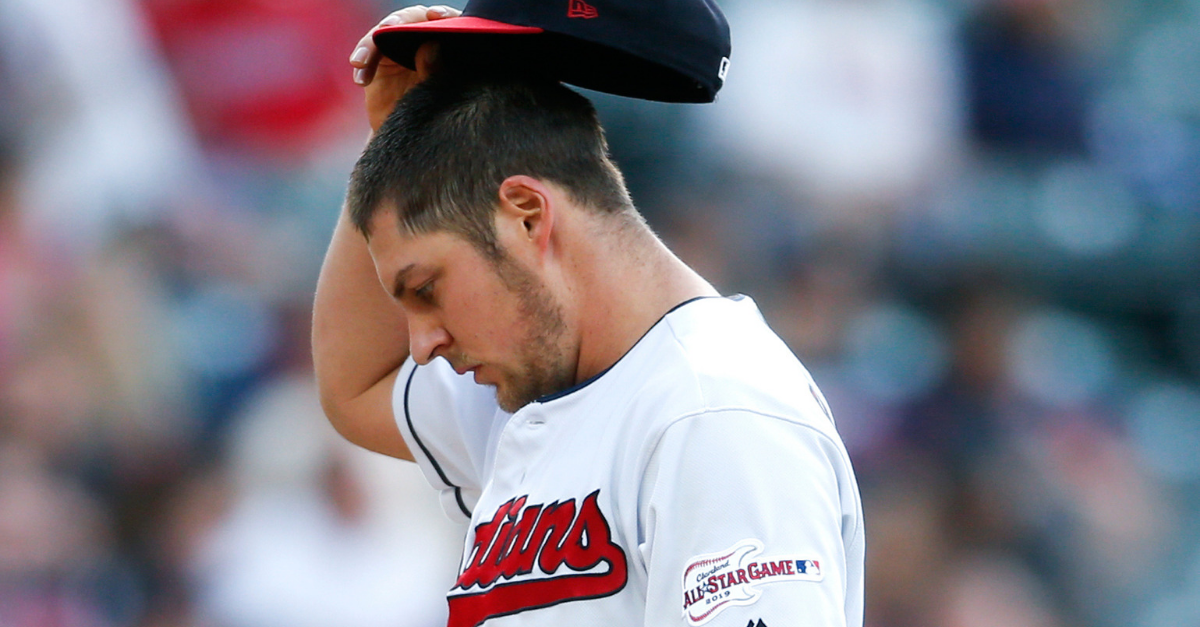 AP Photo/Ron Schwane
As a sports fan, you understand the "tribe mentality" that comes with loving your favorite sports team. Every single shot, pitch and pass is under fire, whether it's deserved or not. You won't find a single athlete or front office member in an organization ? collegiate or professional ? that hasn't had their name dragged through the mud by rabid fans. Sometimes, however, it goes way too far.
Cleveland Indians starting pitcher Trevor Bauer is entering the prime of his career. In 2018, Bauer earned his first All-Star bid after setting career-bests in strikeouts (221), hits allowed (134), and finished the season with a 2.21 ERA, which was third-best in all of Major League Baseball. Bauer is an AL Cy Young candidate once again this year, but some idiotic fans apparently don't give a damn about that.
Entering his start on May 6, the right-hander had allowed 4 or fewer earned runs in 60-straight games. That was the second-longest streak in the last 50 years aside from Hall of Famer Greg Maddux and his run of 106 consecutive games spanning from 1991 to 1994.
On Monday night against the rebuilding Chicago White Sox, Bauer was chased from the game after 5.0 innings in which he allowed 10 hits, eight runs (seven were earned), and two home runs. A two-run single in the sixth inning courtesy of Chicago's Tim Anderson, who Bauer was jokingly tweeting with before the game, ended his day.
He did strikeout seven batters, but that didn't make a difference in the end.
Bauer's rough start was incredibly rare for him in today's home-run-or-bust style of modern baseball, but for some reason, fans decided to threaten his family and send death threats over social media.
WARNING: The following includes NSFW and offensive language.
"Bro you're the biggest p**** I've ever seen. How do u let the white sox smack the s*** out of u. F****** f**."

"Leave the f****** team and die in hell you piece of s***"

"I really hope you and your family die in a car crash."

"Could you please kill yourself?"
RELATED: Meet Cody Parkey: The Kicker Whose Life, Family Are Getting Death Threats
Are we serious with this? Last time I checked, MLB games in May mean absolutely nothing in the long run. Not only that, but Cleveland is ahead of Chicago in the American League Central standings and will definitely finish with a better record when it's all said and done.
This is dumb. Because your kids are online and using social media, please have a conversation about this with them. I would stake my life savings (It's not much, but give me a break…) that none of these people would walk up to Trevor Bauer and say this to his face.
One important point to note: Bauer was criticized earlier this year for attacking a young girl on Twitter himself.
It's a serious cultural issue that this generation feels the need to use social media to attack and berate a person. Do you know what else online harassment like this does? It trickles down to personal relationships and creates division that we don't need.
Keep this B.S. off of social media, and when you see it, call out these cowards for their pointless yammering.