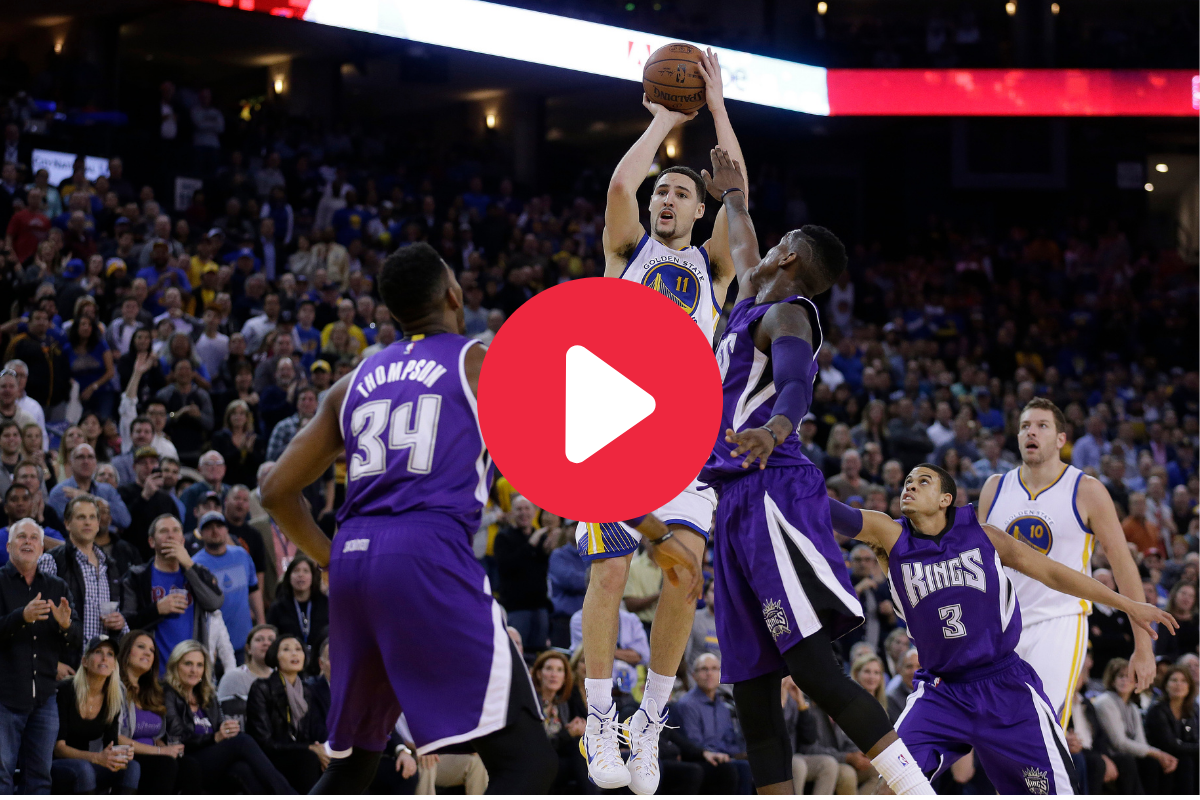 AP Photo/Ben Margot
The Golden State Warriors needed a jolt of energy coming out of halftime.
Up 56-51 on the Sacramento Kings, they couldn't afford to take their foot off the gas.
Klay Thompson floored it.
Klay Thompson's 37-Point Quarter
RELATED: Klay Thompson?s Achilles Injury Potentially Puts His Future in Jeopardy
Two minutes and 15 seconds into the third quarter, Thompson hit his first shot. Then he hit a pull-up 3-pointer, and another triple, finished an alley-oop dunk from Steph Curry, and another three, and another one.
By this point, head coach Steve Kerr made it the goal of the offense to find Klay at all costs. The shooting guard barely needed an inch to launch his shot. Oh, he made another one. You blinked? He just hit another three.
The Kings couldn't do anything to stop this man. The entire team could've tackled Thompson and the ball would've shot out of the dog pile and made its way into the hoop. He scored 19 consecutive points in one stretch that ended with him assisting Draymond Green on a layup.
With five seconds left in the quarter, the entire Oracle Arena crowd was on their feet and Klay was at the free-throw line. He knocked in his 36th and 37th point of the quarter. His monstrous performance gave the dubs a 97-73 advantage.
His third-quarter stat line is straight from NBA 2K with the sliders all the way up: 13-for-13 from the field, 9-for-9 from beyond the arc. 2-for-2 from the charity stripe. With the game well in hand, Thompson played two-and-a-half minutes in the fourth quarter before permanently exiting. He finished with a then career-high 52 points. The Warriors won 126-101.
It was one of the many highlights for the Bay Area team's season that included an MVP for Stephen Curry, the first All-Star nod for Thompson, and an NBA Finals victory over the LeBron James-led Cleveland Cavaliers.
His 37 points are the NBA record for most in a quarter, surpassing George Gervin and Carmelo Anthony's 33. Cavs forward Kevin Love gave Thompson a run for his money a year later with 34 points.
Michael Jordan, Kevin Durant, and Kobe Bryant are three of the greatest scorers in NBA history. None can heat up quite like Klay. He only needs a hint of breathing room and to see the ball go in once before his skin is hot to the touch.
Beware Los Angeles Lakers, Los Angeles Clippers, Boston Celtics, and San Antonio Spurs, this man is highly combustible.
Klay needs to come back soon. The Chase Bank Center is getting a little chilly.