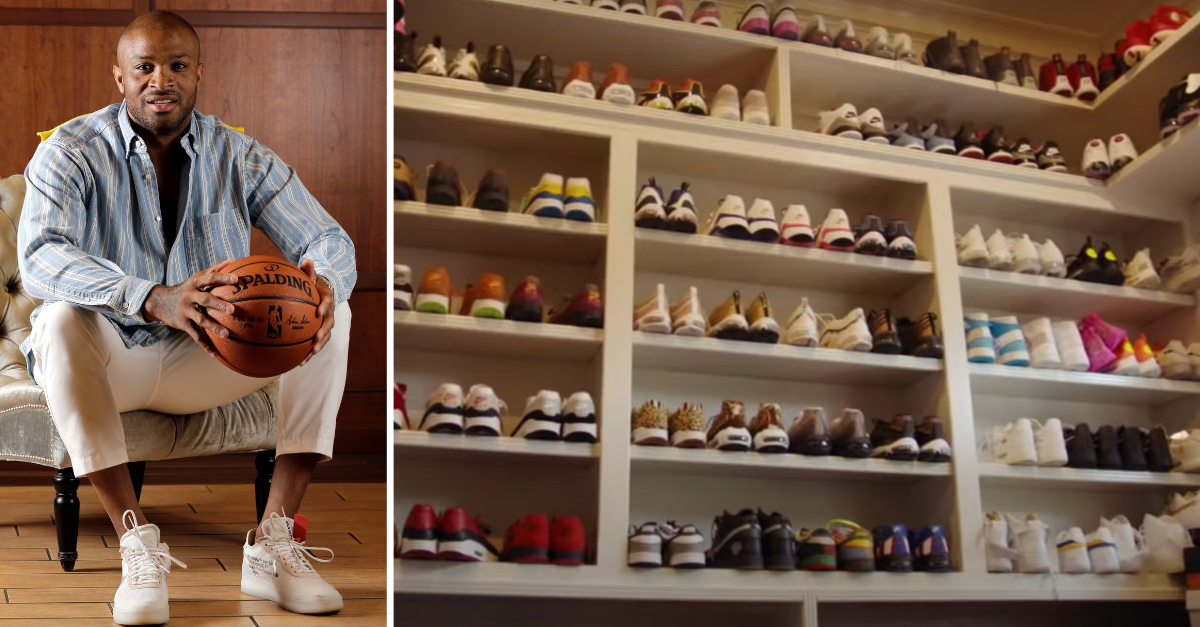 AP Photo/David J. Phillip (left), Screenshot from YouTube (right)
"It's gotta be the shoes," exclaims Mars Blackmon. It was the only explanation for Michael Jordan's success. Though, he would tell you differently.
For Houston Rockets forward P.J. Tucker, shoes don't directly attribute to his brick-wall, tough, corner-three shooting style of play. He fine-tuned those skills on his own.
Shoes are something more. They're an extension of his identity.
P.J. Tucker: The NBA's Sneaker Fiend

RELATED: Jimmy Butler Started a Coffee Shop in the NBA Bubble
P.J. Tucker is the resident sneakerhead of NBA players. It's a title he doesn't take lightly. Ever since he was a little kid, he's had an obsessive fascination with kicks.
Throughout the NBA season, Tucker claims he has a few thousand pairs of sneakers in his shoe collection at a time. The small-ball center, who's built like an NFL linebacker, carries a travel-shoe bag designated for an entire team when he hits the road. It's capable of holding 16 pairs. For one road trip.
Tucker will change footwear multiple times in a game just to mix it up, too, featuring everything from Nike Kobe 4s, Hyperdunks, off-white Air Jordan 4s and Travis Scott's Jordan Brand Cactus Jacks. He's a hunter of rare models, even finding a pair of friend Kevin Durant's signature shoe in a coveted colorway that the Brooklyn Nets forward doesn't own himself.
Since the coronavirus pandemic and COVID-19 outbreak, Tucker has doubled down on his shopping. He spends his free time scrounging social media and eBay for designs he hasn't found yet, averaging 3-4 hours of search time per day.
Once he entered the NBA Bubble on the Disney campus in Orlando, the trend continued with a few particular pairs at the top of his list. According to ESPN, they include the Nike Air Max CW (Chris Webber's own signature shoe), the Nike Vis Zoom Uptempo (a pair P.J. had in high school), the Nike Zoom Flightposite 1 TB, and the holy grail, the Nike Air Max 1 "Parra" Amsterdam.
The Rockets are in the midst of the NBA playoffs, and in the Western Conference semifinals against LeBron James and the Los Angeles Lakers. On the other side of the bracket, the Los Angeles Clippers and Denver Nuggets duke it out. In the East, Giannis Antetokounmpo and the Milwaukee Bucks lost to the Miami Heat, and the Boston Celtics are battling the Toronto Raptors.
No matter if he's at the All-Star Game, Slam Dunk Contest, or playing the Golden State Warriors, New York Knicks, Atlanta Hawks, Minnesota Timberwolves, Dallas Mavericks, Utah Jazz or Portland Trail Blazers, Tucker's sneakers will be the freshest in the gym.
The sneaker king can outwrestle bears for rebounds, and if he has a bad game, he can pick another one of his myriad pairs of shoes to shake the bad juju. He'd probably change them anyway.