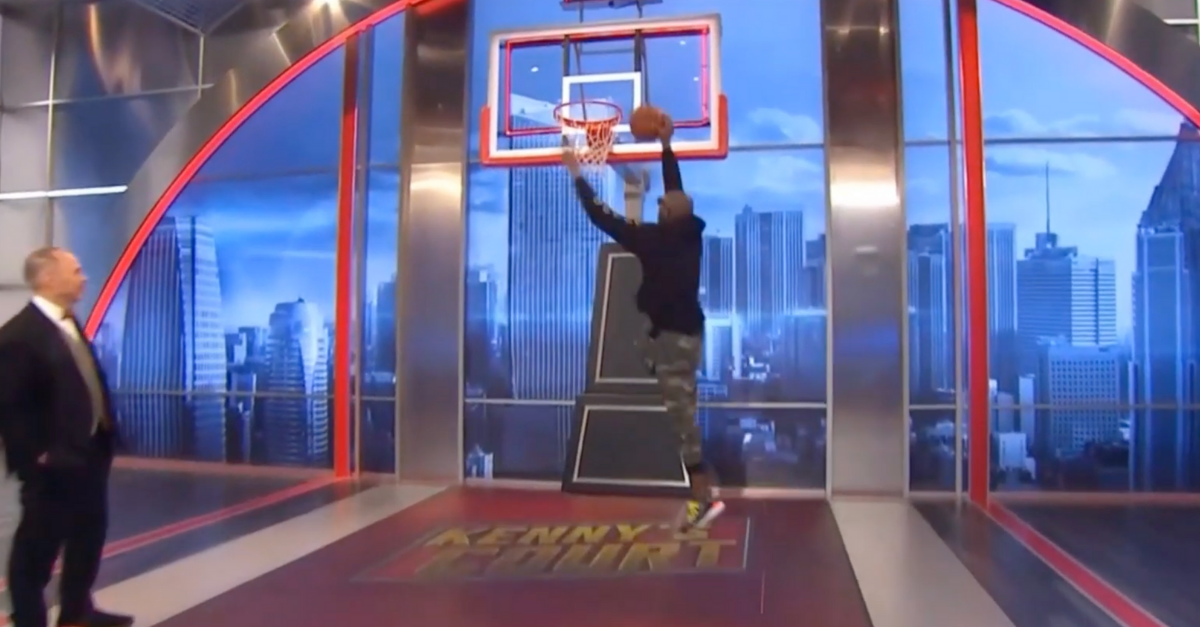 Twitter: @NBAonTNT
Inside the NBA is the greatest sports show on television. It?s not even close, either. How host Ernie Johnson seems to manage the bold personalities of Shaquille O?Neal, Kenny ?The Jet? Smith, and Charles Barkley each week is the stuff of legends. Well, things got even more interesting on Thursday night.
With the TNT Studio J in Atlanta, where Super Bowl LIII happens to be on Sunday, the hilarious foursome welcomed in even more characters to the show when former NFL stars Terrell Owens and Chad Ochocinco, and Washington Redskins defensive back Josh Norman stopped by. You can only imagine how many conversations were going on at one time. There was plenty of smack talk, too.
Naturally, the question of which is the best athlete of the three football players was asked. All three thought it was them. That, of course, prompted Shaq to bet T.O. a cool $1,000 to see if he could dunk an NBA ball on the spot.
Let?s find out what happened:
RELATED: Inside the NBA?s New ?Dear Inside? Segment is Downright Hysterical
In his prime, the 6-foot-3 Owens was one of the best athletes in all of sports. The Pro Football Hall of Fame wide receiver caught plenty of touchdowns and even threw down some big-time dunks in celebrity basketball games. Let?s just say he?s not as explosive as a 45-year-old retired football player.
At first, it didn?t look like T.O. would even get close. He couldn?t really explode off the ground and he even struggled palming the ball. Not to mention, everyone was pretty much rooting against him except for The Jet.
The first attempt was awful. So was the second and third. However, just when Shaq called the bet off, Owens, who was wearing sunglasses the entire time, took a couple of steps and slammed it home.
Here is the entire segment of how things escalated to that point:
Perhaps Owens just needed some time to get warmed up. Maybe he was just playing him the whole time. Regardless, he made it happen.
So in summary: Terrell Owens can still get up and dunk a basketball, and Shaq is $1,000 poorer.