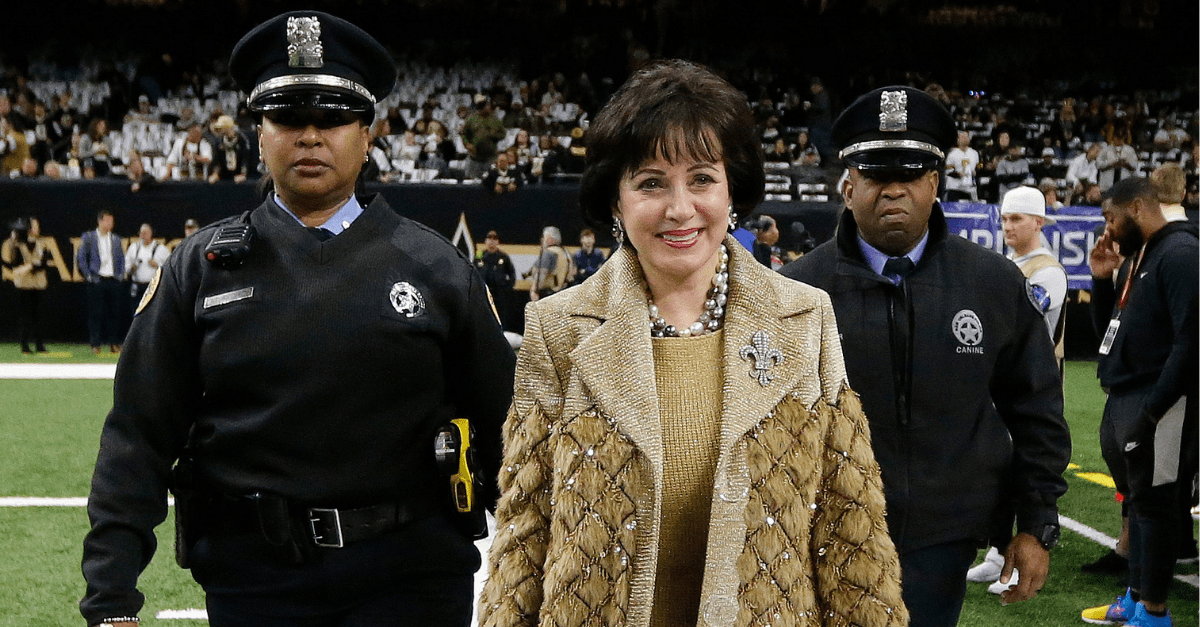 AP Photo/Gerald Herbert
Since taking over ownership of the New Orleans Saints and New Orleans Pelicans following the death of her husband, Gayle Benson has done some amazing things with the teams and in the community. The 72-year-old Louisiana native was the first woman to be the majority shareholder of both an NFL and NBA team, which was definitely not popular at the time, but she's done a job that late husband Tom Benson would likely be proud of.
Sure, having the likes of quarterback Drew Brees, superstar Anthony Davis, and now No. 1 pick Zion Williamson has helped the product on the football field and basketball court, but she has earned the respect of many in the sports industry. Gayle Benson is also willing to stick up for herself in a big-time way.
Despite criticism around the term "owner," something NBA commissioner Adam Silver is moving away from out of racial sensitivity, now preferring to call them "governors," Benson isn't going to change her title.
In fact, she told the New Orleans Advocate there are no plans to make the change.
RELATED: Dana White Interested in Buying NFL Team with Ex-UFC Owners
According to The Advocate, Benson sees herself less an "owner" and more "a caretaker of incredible assets" at the Mercedes-Benz Superdome and Smoothie King Center.
"As with any word, phrase or expression, interpretations can be perceived differently. That is in many ways why diversity, inclusion and openness is so important to companies and society. As with any expression, my intention and the intentions of the organization I am responsible for is never to be insensitive or insulting.

"I truly believe daily actions speak very loudly, and it is my sincere hope that the players and staff know how much I care for them and their families. I sincerely hope no term that attempts to define my corporate standing would in any negative way suggest a lack of caring, respect or admiration for that they accomplish every day – leaders, teammates, colleagues, parents, mentors, citizens."

— New Orleans Saints Owner and Pelicans Owner Gayle Benson, via The Advocate
Gayle Benson is the owner of the teams, which are businesses, and not the players who work for the business, which has created a pretty unnecessary uproar.
The focus should be on the Saints winning in the playoffs and getting another Super Bowl, and the Pelicans going into free agency with a plan. Not a title change. Billionaire Gayle Benson gets it.