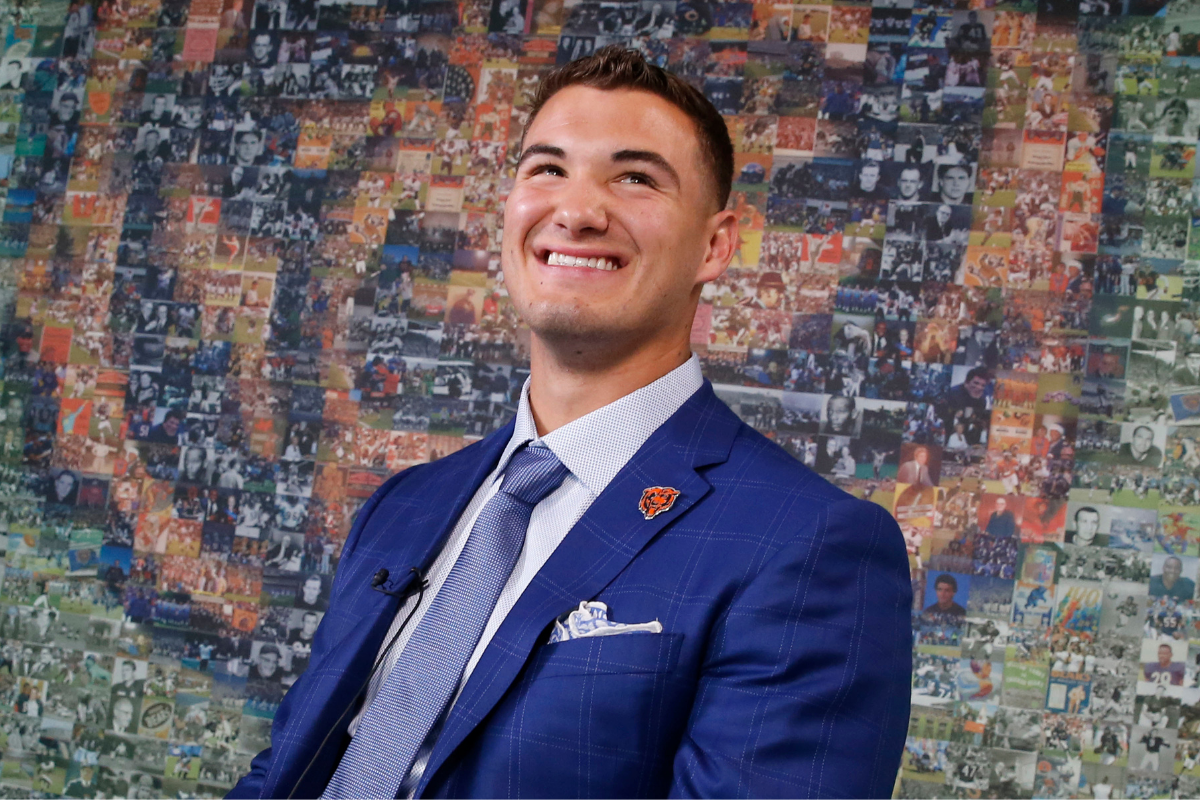 AP Photo/Charles Rex Arbogast
Call him Mitch Trubisky or call him Mitchell Trubisky, although Chicago Bears fans are probably happy to simply call him "No longer our quarterback."
The next time Trubisky visits Soldier Field he will be doing it as the visiting quarterback, but the signal-caller is still early in his NFL career.
There's still time for Trubisky to turn things around on the field, but he seems to be doing just fine in his personal life.
Trubisky is now engaged; but who is the lady in his life?
Mitchell Trubisky's Career
RELATED: Drew Lock Fell in Love With a Social Media Star
Mitch Trubisky only spent one year as a starter at North Carolina, but he did well enough to intrigue the Chicago Bears.
In the 2017 NFL Draft, the Bears decided to trade up one spot to make Trubisky the second-overall pick. Later in that same NFL Draft, Patrick Mahomes and Deshaun Watson were both drafted. Sorry to rub it in, Bears fans.
Trubisky was installed as the starting Chicago bears quarterback only four games into his rookie season, as Mike Glennon shockingly didn't work out. The Bears hoped to have their own Aaron Rodgers to compete with the Packers.
Instead, they were left with a quarterback who couldn't even fend off Nick Foles in 2020. While Chicago somehow managed to make the playoffs in the 2020 season, Trubisky only threw for 199 yards in a loss to the Saints, and that would be the quarterback's final start with the Bears.
The second-overall pick became a free agent in the 2021 offseason, signing on with the Buffalo Bills to back up Josh Allen for the upcoming NFL season. Meanwhile, the Bears have moved on, trading up in the draft (again) to take a quarterback, this time Justin Fields.
Considering that the best thing to happen to the Bears, quarterback-wise, since Sid Luckman is the Jay Cutler era, we are wishing them the best. Hey, Rex Grossman once got you to a Super Bowl. Plus, you still have had better luck than the Lions!
Who is Mitch Trubisky's Fiancee?
We can't be too bummed for Trubisky. Not only is he a well-compensated professional athlete, but he's also recently engaged.
In January 2021, Trubisky and his longtime girlfriend Hillary Gallagher announced they were engaged.
Gallagher, a private pilates instructor who is active on social media, posted the breaking news on her Instagram. She shared a post from The Breakers in Palm Beach, Florida, saying she "Can't wait to spend forever with my soulmate."
Trubisky has long been a staple of Gallagher's social media posts, be it a trip to Turks and Caicos or photos from another couple's wedding.
Mitch Trubisky may be en route to a career as a backup NFL quarterback, but he and Hillary Gallagher seemed headed toward a happy marriage.
Even Bears fans can root for them. OK, most Bears fans.