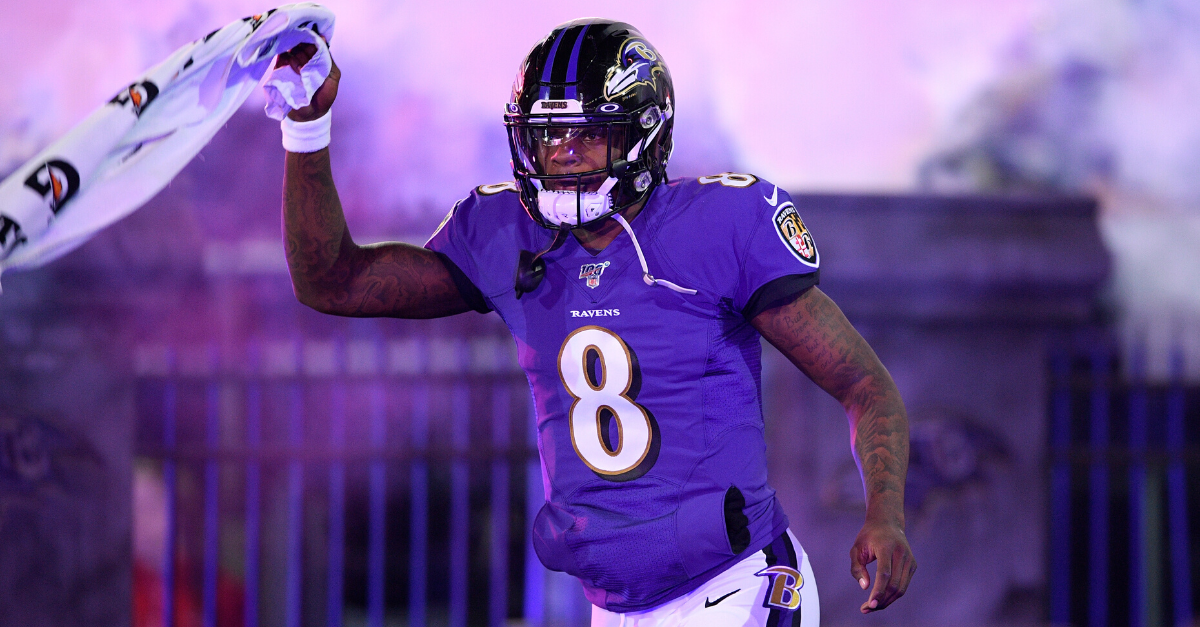 AP Photo/Nick Wass
When the music comes on, every National Football League fan knows what time it is. Monday Night Football on ESPN is a weekly holiday, and it comes like clockwork to put an exclamation point on the week's action-packed schedule.
Whether it is an AFC rivalry game or a big-time NFC showdown, MNF generally brings the heat for its primetime games. There are some marquee matchups for 2020, including a doubleheader in Week 1, but it lacks its usual pop.
With so many games scattered between Thursday Night Football, FOX, CBS, NBC's Sunday Night Football, and ESPN's Monday night games during the regular season, the NFL schedule is tough to put together.
Only 25 of the league's 32 teams are set for kickoff on the big stage this year. Don't worry, though. Tom Brady is on the slate twice with his new team. Reigning MVP Lamar Jackson is also on the docket twice with his AFC North squad.
2020 Monday Night Football Schedule
Week 1, September 14: New York Giants at Pittsburgh Steelers, Tennessee Titans at Denver Broncos
Week 2, September 21: New Orleans Saints at Las Vegas Raiders
Week 3, September 28: Kansas City Chiefs at Baltimore Ravens
Week 4, October 5: Atlanta Falcons at Green Bay Packers
Week 5, October 12: Los Angeles Chargers at New Orleans Saints
Week 6, October 19: Arizona Cardinals at Dallas Cowboys
Week 7, October 26: Chicago Bears at Los Angeles Rams
Week 8, November 2: Tampa Bay Buccaneers at New York Giants
Week 9, November 9: New England Patriots at New York Jets
Week 10, November 16: Minnesota Vikings at Chicago Bears
Week 11, November 23: Los Angeles Rams at Tampa Bay Buccaneers
Week 12, November 30: Seattle Seahawks at Philadelphia Eagles
Week 13, December 7: Buffalo Bills at San Francisco 49ers
Week 14, December 14: Baltimore Ravens at Cleveland Browns
Week 15, December 21: Pittsburgh Steelers at Cincinnati Bengals
Week 16, December 28: Buffalo Bills at New England Patriots
Teams Without Monday Night Football Games
RELATED: ESPN Picks New 'Monday Night Football' Announcers
The road to the playoffs and Super Bowl doesn't go through Monday Night Football, but some teams have been left out of the spotlight. The Carolina Panthers, Detroit Lions, Houston Texans, Indianapolis Colts, Jacksonville Jaguars, Miami Dolphins, and Washington Football Team were all snubbed this year and will look to be on the schedule for the 2021 NFL season.
How To Watch Monday Night Football
Every Monday Night Football game is broadcast nationally on ESPN.
In 2019, the network also made MNF games to subscribers on the ESPN app, ESPN.com, and ESPN apps on Apple TV, Google Chromecast, Amazon Fire TV, Roku, Xbox One, and Playstation 4 as well as iPad and Android tablets.
At the moment, Monday Night Football is not available with ESPN+ or Disney+ subscriptions.
This post was originally published on May 8, 2020 and updating during the coronavirus pandemic and COVID-19 outbreak.