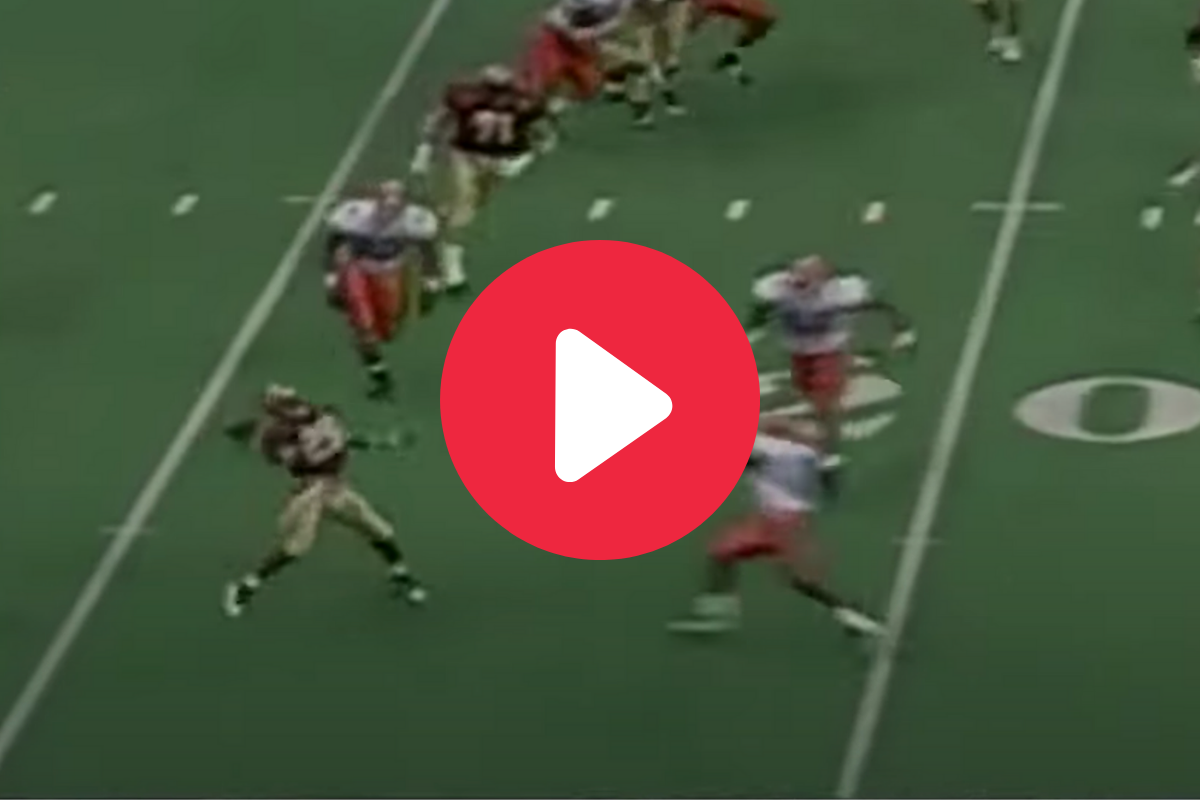 Screenshot from YouTube
The Florida State Seminoles' glory years have nothing to do with anyone named Willie Taggart or Mike Norvell (at least not yet). Those belong to Bobby Bowden and the 1990s, during which FSU finished in the top-five every single year and played in five of eight national championship games from 1993-2000.
At the same time, Steve Spurrier's Florida Gators down the road were becoming a formidable opponent. Florida State won a national title in 1993 and Florida did the same three years later during the 1996 season. The ACC and SEC powers went head-to-head every year in what often times became nasty football games that even featured brawls.
Florida and Florida State tied during their 1994 regular season matchup in what is famously referred to as the "Choke at Doak." When the two met again in the 1995 Sugar Bowl, it was Bowden and the 'Noles who found themselves on top.
One play in particular might have been the reason.
Warrick Dunn's Trick Play In 1995 Sugar Bowl
RELATED: Florida State Won 1993 National Title on Scott Bentley?s Clutch Kick
The ?Fifth Quarter in the French Quarter? at the Louisiana Superdome in New Orleans was one for the books.
Each team kicked a field goal in the first quarter before FSU broke out some serious trickery using their First-Team All-ACC running back in Warrick Dunn.
FSU quarterback Danny Kanell dropped back out of the shotgun and threw what looked to be a short screen pass to Dunn in the second quarter. Dunn, who posted more than 1,300 yards from scrimmage that season, then uncorked a 73-yard touchdown pass to wide receiver ?Omar Ellison. The ball rattled off a Florida defender and Ellison ran off with it into the end zone to give FSU the 10-3 lead.
By halftime, Florida State led, 20-10, and it was a lead it wouldn't relinquish. The 'Noles won 23-17 to settle the battle of the Sunshine State teams that season.
Dunn finished his college football career a legend in Tallahassee. He rushed for 1,000 yards every season and became the 12th overall pick in the 1997 NFL Draft. Dunn made three Pro Bowls and earned Walter Payton NFL Man of the Year honors in 2004.
Dunn had numerous memorable plays in the garnet and gold, including "Ward to Dunn" that helped FSU win a national championship. But his trick play touchdown pass ranks right up there next to it.