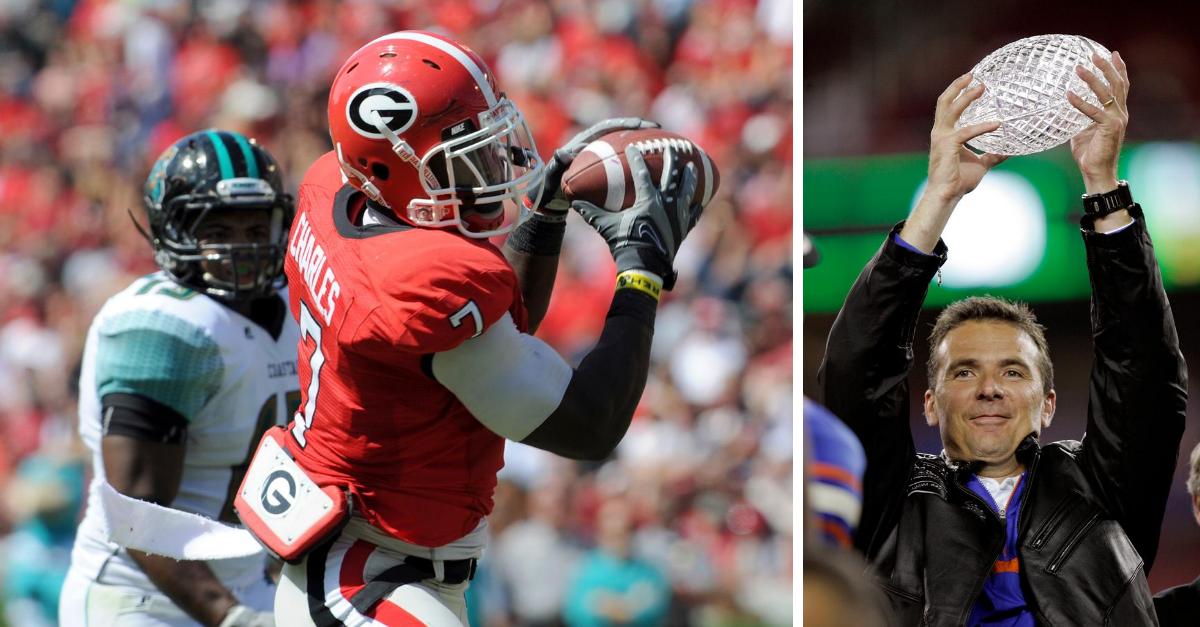 AP Photo/Erik S. Lesser (left), Mark J. Terrill (right)
The Florida Gators and Georgia Bulldogs are as heated of rivals as any two teams in the country. Every year they gather in Jacksonville, Florida, for what's been dubbed the World's Largest Outdoor Cocktail Party and the action on the field (and tailgating off the field) never disappoints.
The bad blood between these two SEC powers has gone strong since the 1920s. It's a hate for the other so deep that Georgia churches even preach disdain for the team from Gainesville. UF head coaches like Dan Mullen and Steve Spurrier have taken jabs at the red-and-black school, and there's no doubt Urban Meyer isn't a fan of the Dawgs judging from his response to the "Gator Stomp" stunt UGA pulled in 2007.
But what if I told you this rivalry was so embedded in the sport of college football that a Georgia Bulldogs star player once shattered Florida's 2006 BCS National Championship trophy on accident.
Or was it?
How Orson Charles Broke Florida's BCS Trophy
RELATED: Quincy Carter Once Had It All. What Happened To Him?
Before Orson Charles became a two-time All-SEC tight end at Georgia, he was a highly touted four-star recruit out of Plant High School in Tampa, Florida, in the class of 2009.
While on the Gainesville campus in April 2008 for a Nike sponsored camp, Charles accidentally knocked over the eight-pound Waterford crystal trophy sitting outside Meyer's office at the time. The $35,000 trophy shattered into a million pieces but thankfully was insured. Florida would go on to win another one in 2008 anyway.
An embarrassed Charles declined to talk to reporters about the incident, but he did call his then-high school teammate and future Georgia quarterback Aaron Murray to tell him what happened.
"He just, I guess, bumped into the table it was on. It just fell over and shattered everywhere. They just swept it up and just put it in the trash can. I think one of my coaches just grabbed a piece of it, and we kept it," Murray told 247Sports in 2010.

"I think Coach (Urban) Meyer was like, 'You better commit here and come win us another one if you're going to do that.' I think that Coach Meyer was pretty cool about it."
Charles did the opposite. He picked Florida's rival despite shattering the team's prized trophy and making it garbage. Read that again: A Georgia player turned Florida's national championship trophy into garbage. He should be celebrated as a hero in Athens.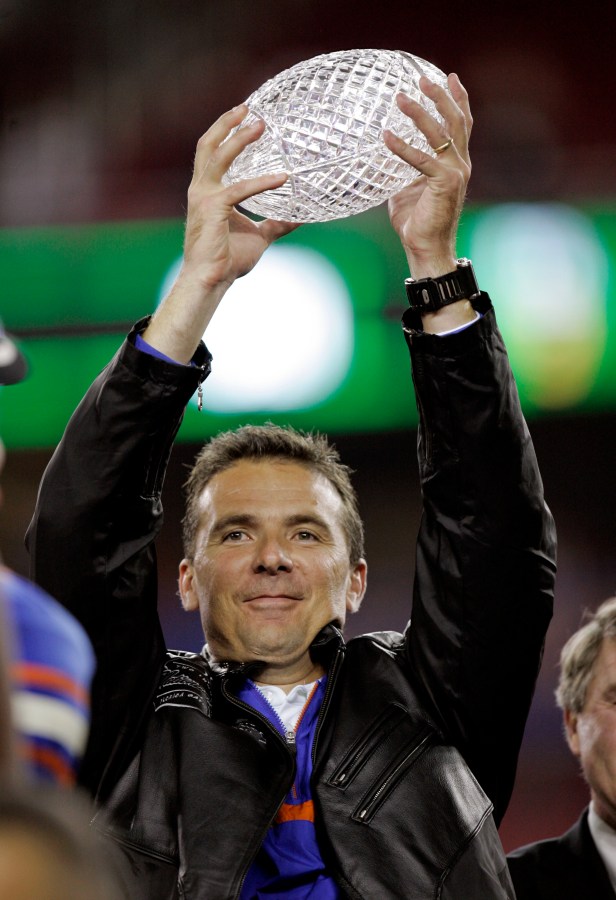 Charles told the Big 3 Roll Up podcast that no one said anything for a solid 10 minutes after he bumped the trophy onto the floor. Once Meyer shook his hand, he welcomed him to Gator Country.
"I didn't spike it, I bumped into it by accident," Charles told the Big 3 Roll Up podcast while laughing.

"Respectfully, I called Urban and I was like, 'hey thank you for everything and thank you for showing me everything, but I think I'm gonna go with Georgia.' He was like, 'well, all right if you wanna get beat every year then go ahead.'"
Meyer and the Gators beat the Bulldogs months later by a score of 49-10 en route to a second national title in three years. I guess he got the last laugh after all. Meyer left UF in 2010, a year before Charles and the Bulldogs beat Florida in 2011. Considering some dude named Aaron Hernandez was catching passes for the Gators at the time, maybe it's for the best Orson Charles wound up at UGA.
The Trophy Has Been Shattered Before
The BCS trophy was apparently much more fragile than the new College Football Playoff trophy. Charles' embarrassing moment wasn't the only of its kind.
Back in 2012, the father of an Alabama Crimson Tide long snapper dropped and broke the crystal football after Alabama beat LSU in the BCS national title game. Alabama auctioned it off for more than $100,000 anyway.
See, Florida? That's how you turn a negative into a positive.
Orson Charles' Georgia & NFL Career
Charles grew into a reliable pass-catcher for Murray at Georgia. The conference standout caught 94 passes for 1,370 receiving yards and 10 touchdowns in three seasons, earning All-SEC First Team honors in 2011.
The Cincinnati Bengals drafted him with their fourth-round pick in the 2012 NFL Draft, and he's played tight end and fullback on the practice squads for the Tennessee Titans, New Orleans Saints, Detroit Lions, Kansas City Chiefs, Cleveland Browns and Denver Broncos since then. The free agent was drafted by the DC Defenders in the 2020 XFL Draft.
The 29-year-old may be out of a job for now, but never forget the time he broke UF's trophy and then fans' hearts by choosing Georgia.