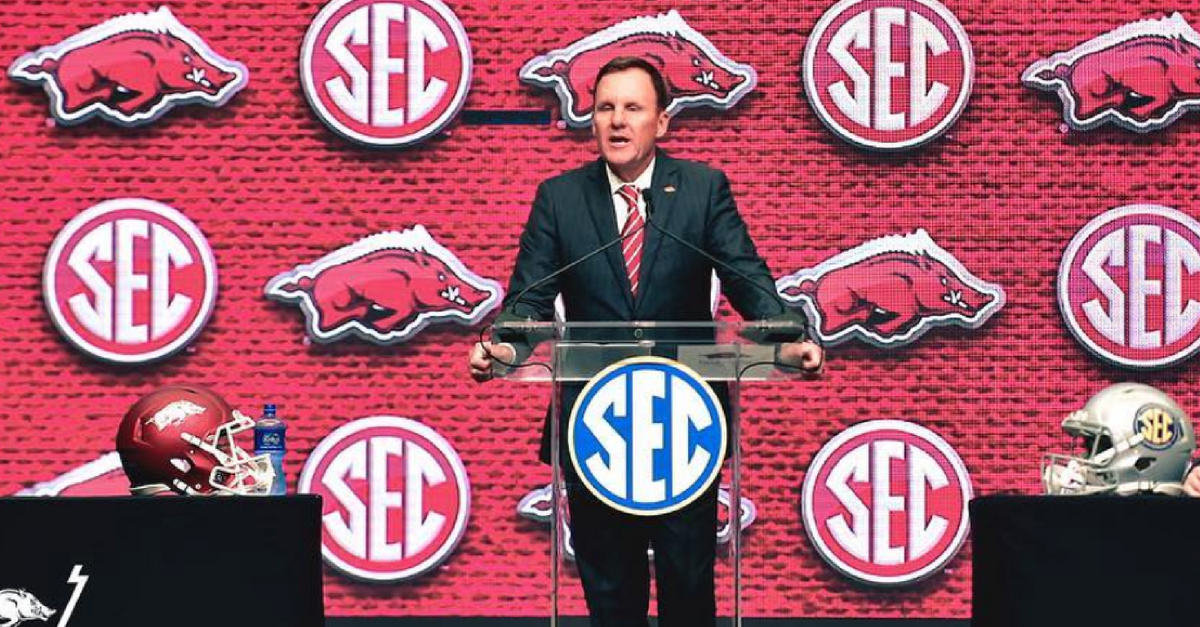 Instagram: @razorbackfb
There were several fresh faces at SEC Media Days this year. With six new head coaches, which is crazy for the most powerful conference in the country, there were more powerful declarations than in years past.
Some of the coaches have been in the SEC before. Others are completely new.
Arkansas hired Chad Morris from SMU to replace Bret Bielema.  Dan Mullen was hired at Florida to replace Jim McElwain. Mississippi State grabbed former Penn State offensive coordinator Joe Moorhead to replace Dan Mullen. Ole Miss pulled the interim tag off Matt Luke to officially replace Huge Freeze. Former Alabama defensive coordinator Jeremy Pruitt is now the coach at Tennessee. Jimbo Fisher is now at the helm of Texas A&M instead of Kevin Sumlin.
Regardless of the pedigree of each coach, all were trying to sell themselves as the right fit during their opening statements.
Here are the best declarations from each new coach at the annual event at the College Football Hall of Fame in Atlanta:
Arkansas Coach Chad Morris
"Arkansas football has had a storied past. And we're going to work daily with the National Championship of 1964, we're going to work daily to build on and restore the traditions for the Razorbacks of the past, the Razorbacks of the present, and the Razorbacks of the future."
Florida Coach Dan Mullen
"We're going to come back and have an exciting football team, create the energy, create the excitement that I know The Swamp to be as one of the most intimidating stadiums in all of America. And I'm excited to get this program back on top."
Mississippi State Coach Joe Moorhead
"…Our goals for the season, certainly we want to perform at a championship standard every single day on the field, in the classroom and in the community. Our goal is to be the best Power Five team in the state, to be the best team in the SEC conference, and ultimately compete to be the best team in the country."
Ole Miss Coach Matt Luke
"Our receiving corps is one of the best in the country. Everybody — the NWO, the nasty wideouts, is very well documented, and rightfully so. Those guys very competitive. They push each other every day to be better, but they're also unselfish. Really fortunate to have those guys."
Tennessee Coach Jeremy Pruitt
"If you're going to win championships, you got to have guys that are winners, guys that have been there that understand it and know what it takes to do that. With 11 guys on our staff, 13 times some member on our staff has been on a national championship staff. To me, that's pretty impressive."
Texas A&M Coach Jimbo Fisher
"As some of you all know, this is the conference in which I cut my teeth on. I understand a lot of about it and know a lot about it. In our short time in A&M, we've been there since December, I've been very busy trying to establish the things and put the culture in place in which we think we have to have to be successful in this league, as I know this is as good a league as there is in college football."